4th NovaTech FX fraud warning from Canada (Saskatchewan)

NovaTech FX has received a securities fraud notice from Saskatchewan's Financial and Consumer Affairs Authority.
In their December 13th alert, the FCAA identifies NovaTechFX as "an opportunity to invest and trade stocks, forex, and cryptocurrency".
This constitutes a securities offering, with the FCAA going on to confirm;
In Saskatchewan, individuals or companies need to be registered with the FCAA to trade or sell securities or derivatives.

None of the above named entities are registered to trade or sell securities or derivatives in Saskatchewan.
Entities cited in the FCAA's NovaTech FX securities fraud warning are:
NovaTech LTD (St. Vincent & Grenadines shell company)
NovaTech Advisors LLC (Florida company)
NovaPay LLC (Florida company)
NovaTrading OU (Estonian shell company)
Cynthia Petion (US-based NovaTech FX co-founder and CEO)
Eddy Petion (US-based NovaTech FX co-founder)
Ricardo Roy Sr. (US-based CTO of NovaTechFX)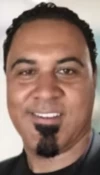 Cynthia and Eddy Petion have ties to New York and Florida.
Ricardo Roy Sr. (right) is based out of Florida.
On LinkedIn a Ricardo Roy Jr is also listed as a NovaTechFX "Account Manager".
The FCAA's NovaTech FX securities fraud warning follows similar warnings from Ontario, Alberta and British Columbia.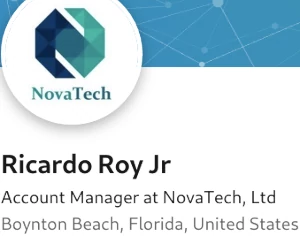 Outside of Canada NovaTech FX fraud warnings have been issued by California and Russia.
Instead of registering with financial regulators and operating legally, BehindMLM understands that NovaTech FX is offering investors refunds.
NovaTech FX refunds on purported trading have blown out to almost a month. NovaTech still pays recruitment commissions weekly.
Whether NovaTech FX is paying investor refunds on the trading or recruitment schedule is unclear.
NovaTech FX has also reportedly stopped responding to support tickets from investors.
Prior to founding NovaTech FX, Eddy and Cynthia Petion were "leaders" in the AWS Mining Ponzi scheme.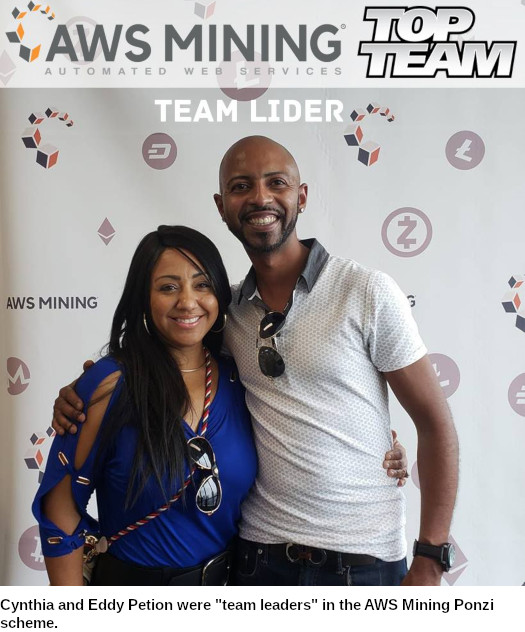 AWS Mining collapsed in April 2019. The Petions launched NovaTech FX in August 2019.
BehindMLM reviewed NovaTech FX the same month it launched;
No evidence of N-Tech existing, performing trades or external revenue being actually generated and used to pay affiliates is provided.

As it stands the only verifiable source of revenue entering NovaTech is new investment – which the company uses to pay recruitment commissions.

NovaTech is quite clearly offering a passive investment opportunity, which in the context of regulation is a securities offering.

I can confirm NovaTech the MLM opportunity is not registered with the SEC in the US. This means that irrespective of everything else, NovaTech is operating illegally in the US.

Given the otherwise fraudulent nature of NovaTech's business, it's highly likely the company is simply recycling newly invested funds to pay off existing investors.
Owing to increased regulatory attention, ongoing withdrawal delays, NovaTech FX being run by US nationals and having a majority US investor-base, BehindMLM suspects a federal US investigation into NovaTech FX is likely underway.