Wings Network ordered to surrender $26.9 million dollars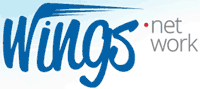 Under the ruse of cloud services, Wings Network operated your typical MLM pyramid scheme.
Affiliates bought in for between $249 and $1499, with commissions paid on subsequent affiliate recruitment.
Launched in late 2013, troubles for Wings Network began in mid 2014. Amidst speculation of a pending regulatory bust, Wings Network suspended US operations.
On May 15th, the day after the suspension, Massachusetts filed a pyramid scheme complaint against the company.
October 2014 saw Nevada issue their own Wings Network warning, with the SEC filing their own suit in February of this year.
Yesterday saw the SEC action concluded, with Wings Network ordered to cough up $26.9 million dollars.
The SEC's $23.5 million dollar lawsuit was filed against TropikGadget FZE, who the regulator claimed were behind Wings Network.
CompassWinner LDA and Happy SGPS SA, the two primary shell companies used to launder funds through, were also sued, with the SEC's complaint also naming a number of top Wings Network affiliates (based in the US and abroad).
In a decision handed down on November 12th, a federal court in Massachusetts
ordered Tropikgadget to pay disgorgement of $25,213,990, representing profits gained as a result of the conduct alleged by the Commission, plus prejudgment interest of $961,742, and a third-tier civil penalty of $725,000.

The court also entered judgments by default against Compasswinner LDA ("Compasswinner") and Happy SGPS SA ("Happy"), also of Portugal, relief defendants in the previously-filed enforcement action.

The judgments held Compasswinner liable for $8,125,235 and Happy liable for $1,102,711, representing the receipt or benefit from the use of the proceeds of violations of the federal securities laws without legitimate claim to the funds.
The case against Wings Network management and top affiliates, most of whom are based in the US, continues.