Binary options MLM? Demand to see SEC registration.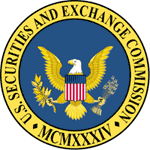 Over the past year or so I've seen an increase in financial service related MLM opportunities.
Typically these schemes are registered somewhere shady in Europe, however their primary source of investors is the US.
Back in 2013 the SEC took action against Banc de Binary Ltd., a non-MLM binary options company.
Although not MLM, Banc de Binary Ltd. is otherwise pretty similar to today's MLM binary options offerings.
Through YouTube videos, spam e-mails, and other Internet advertising, (Banc de Binary Ltd.) solicit(ed) U.S. customers.
The problem for Banc de Binary Ltd. is that they weren't registered with the SEC.
The case against the company has been playing out over the past three years, with news of a settlement breaking earlier today.As per a settlement reached on March 9th, Banc de Binary Ltd. will pay $11 million dollars 'to settle charges that it illegally sold binary options to U.S. investors.'
The $11 million settlement is made up of
$7.1 million in disgorgement and $1.95 million in penalties to the SEC as well as $2 million in penalties to the Commodity Futures Trading Commission (CFTC), which filed a parallel action.
Some of the recovered funds will be placed into a "Fair Fund", which will be used to "compensate harmed investors".
Anyway, getting back to binary options MLM companies… as an existing or potential investor in such schemes, if you're based in the US or know the company is soliciting business from US investors, you need to demand to see SEC registration.
No ifs or buts. A lot of these schemes are intentionally registered in regulatory backwaters, in the hope they might be looked.
Banc de Binary Ltd. claimed to be based out Cyprus (likely a PO Box registration), with at least one other affiliated company registered in Seychelles.
None of that helped them when the SEC came knocking and subsequent regulatory enforcement was filed in Nevada.
Within a broader MLM context, I'd expand SEC registration to any MLM opportunity that deals with money – with a particular emphasis on passive income potential.
Shady operators of forex-based MLM opportunities in particular, love to set up shop with paper-thin corporate registrations in Europe.
Again, if you're in the US or aware the company is pitching to US affiliates without SEC registration, they're at risk of a regulatory shutdown.
For you as an investor that means either losing your money altogether, or waiting years to recoup funds if a regulator steps in before it's too late.
Hardly worth it for a quick buck, not to mention the hit your reputation in MLM circles will take.