Criminal charges filed against Belgian politician for promoting OneCoin

Laurent Loius was a member of the Belgian Chamber of Representatives from 2010 to 2014.
In 2014 Louis received a suspended sentence 'for slander relating to accusations of pedophilia he had made against public figures'.
In 2015 Louis was banned from running for office for six years.
Earlier this year Louis began promoting OneCoin, which eventually prompted a criminal investigation by Belgian authorities.
That investigation yesterday culminated in a criminal complaint filed against Louis.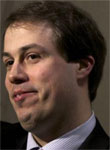 Laurent Louis (right) is suspected by authorities of being a major OneCoin promoter in Belgium.
Authorities estimate Louis has generated over 2 million Euros revenue for OneCoin. Personally Louis is believed to have pocketed 100,00 to 200,000 Euro in referral commissions.
The Public Prosecutor's Office alleges Louis created his OneCoin downline by pitching the scam to his electorate.
Louis has been formally charged with pyramid selling, fraud, money laundering and violation of common and banking laws.
In about 8 months Louis has scammed 2000 to 3000 locals. Some are reported to have handed over their life savings.
Earlier this year Belgium's Financial Services and Markets Authority regulator issued a warning against OneCoin. In the absence of victim complaints however, there was little else they could do.
The criminal investigation into Louis' involvement in OneCoin was initiated following a complaint filed by a victim. How much money the victim lost is unknown.
OneCoin has been unable to pay affiliates for months. Outside of sporadic ROI payouts, the only money OneCoin affiliates are making is via the recruitment of new affiliate investors.
Whether this will see a formal criminal investigation into OneCoin by Belgian regulators remains to be seen.
Lawyers representing the Belgian victim hope that their client's request means Belgian authorities 'will finally take notice of the issue of OneCoin in Belgium'.
It's really very urgent to put an end to this virtual scam given the extent it was able to spread across Belgium in these last few months.
An "impressive" amount of information was shared by the lawyers with Belgian authorities investigating the case.
Louis has not been taken into custody. He was scheduled to present a OneCoin promotional event today (Saturday).
What Louis' criminal complaint means for promotion of OneCoin in Belgium is unclear.