OneCoin's bungled US trademark application

As first uncovered by BehindMLM reader OzDelphi, on the 16th of April 2015 One Network Services Ltd. filed a US trademark application for "onecoin".
One Network Services Ltd., believed to be OneCoin's parent company, sought to trademark the OneCoin name 'without claim to any particular font, style, size, or color'.
Irina Dilkinska was the name on the application, cited as One Network Services Ltd.'s "Head of Legal and Compliance Department".
On July 24th, 2015, the United States Patent and Trademark Office (USPTO), responded to OneCoin's application with a notice of potential conflict.
At the time a pending trademark application existed for "One World One Coin". The USPTO wrote to OneCoin informing them that should One World One Coin be granted as a trademark, OneCoin application was likely to be refused because of 'a likelihood of confusion between the two marks'.
OneCoin was given 6 months to respond to the USPTO's concerns, however as of February 2016 they had failed to do so.
Here's where things get murky…
The "One World One Coin" trademark application was filed on January 5th, 2015 by an Illinois attorney representing Aurum Coin Ltd.
Aurum Coin is a standalone cryptocurency that has been in development for over a year. Originally intended to be developed via crowdfunding, in early 2015 OneCoin claimed to have "partnered" with the company.
As per the OneCoin website;
We partner with one of the hottest and newest hybrid crypto-currencies – the Aurum coin.

We offer our traders a one time opportunity to profit from holding the two of the hottest and most innovative products in the emerging crypto-currency market – OneCoins and Aurum Gold Coins.
The specifics of the relationship between OneCoin and Aurum coin have never been made public. Confusingly the Aurum coin Facebook page suggests plans to fund the development of the cryptocurrency via Indiegogo are still going ahead.
April 7th, 2016

Our indiegogo campaign is getting close.. AurumCoin needs your donations but above all it needs your attention and interest!
In any event, Aurum Coin Ltd. was issued a Notice of Allowance on December 29th, 2015. The company has yet to file a Statement of Use, confirming that they are using the trademark in a commercial application.
Getting back to OneCoin's trademark application, on February 19th, 2016, the USPTO filed a notice of abandonment.
No response to the office action mailed on 07/24/2015 was received in the United States Patent And Trademark Office. within the six-month response period.
Standard procedure sees OneCoin permitted to request reinstatement of the application within two months (April 19th, 2016).
At the time of publication OneCoin have yet to file a reinstatement request. The company did however file a Revocation of Attorney notice on March 25th.
In place of Irina Dilkinska, OneCoin are now represented by a US-based attorney in Florida. Whether anything further comes of it remains to be seen.
Of note is OneCoin's attorney notice was signed off on by Veska Ignatov. Last month Igantov was outed as OneCoin CEO Ruja Ignatova's mother.
According to the Finnish Broadcasting Company (Yle), Veska Ignatov heads a network of shell companies used to launder funds invested in OneCoin.
Another point of interest is how OneCoin described their business in their trademark application.
Pseudo-compliance sees the company and its investors claim to sell "educational packages". Yet here's how OneCoin identified their business to the USPTO:
Financial services, namely, providing electronic use, transfer and/or exchange of a virtual or cyrpto-currency by users in an on-line community via a global computer network and the Internet.
Through OneCoin's offered financial services, the company solicits investment of real money which it converts into virtual points (OneCoins). OneCoin themselves set the value of OneCoins, which investors convert back into funds sourced from subsequent investment.
There is no mention of educational packages anywhere in OneCoin's trademark application.
To be honest I'm not really sure what the driving force of OneCoin's trademark application is. The company clearly can't operate in the US legally as it's a blatant Ponzi scheme.
This was evidenced back in late 2015, where rather than register with the SEC and provide detailed accounting, OneCoin instead chose to flee the US.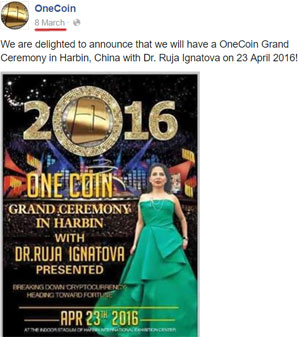 In related news, the status of OneCoin's scheduled event in Harbin, China is unclear.
OneCoin first announced the "grand ceremony" event on their Facebook page in early March.
Since then no updates about the event have been published.
Indications that something might be up were first observed a few weeks ago.
As per a since-deleted comment left on OneCoin's Facebook page on March 28th;
Hello, I was in China a Onecoin investors.

Why Does the company April 23 meeting in Harbin, China postponed.
I've been trying to source additional information about the event, speficially whether it has indeed been postponed (and if so, why).
Yesterday, BehindMLM reader Leo Wang provided us with an update:
China Harbin Meeting is just turned down by Government & Police. Recent News from China!P
Pending further information, the status of OneCoin's Harbin event remains unconfirmed. Ditto whether Chinese authorities are investigating the scheme.
In the meantime we'll keep an eye on whether OneCoin file a reinstatement application before the deadline next week. Stay tuned…
Footnote: The trademark filing numbers for One Network Services Ltd. and Aurum Coin's applications are 86600104 and 86494839 respectively.
For those wishing to conduct further research into the applications, both can be looked up via the USPTO website.