Ziggy Ads Review: Ziggy Pack ad-credits Ponzi scheme

There is no information on the Ziggy Ads website indicating who owns or runs the business.
The Ziggy Ads website domain ("ziggyads.com") was registered on the 29th of June 2015, however the domain registration is set to private.
As always, if an MLM company is not openly upfront about who is running or owns it, think long and hard about joining and/or handing over any money.
The Ziggy Ads Product Line
Ziggy Ads has no retailable products or services, with affiliates only able to market Ziggy Ads affiliate membership itself.
Once signed up, Ziggy Ads affiliates can then purchase $20 "Ziggy Packs". Bundled with each of Ziggy Pack are a series of advertising credits, which can be used to display advertising on the Ziggy Ads website itself.
The Ziggy Ads Compensation Plan
The Ziggy Ads compensation plan sees affiliates invest $20 under the guise of purchasing advertising credits, with an advertised $32 ROI payable on every $20 investment.
Each Ziggy Pack cost $20.00 and covers for 240 hours subscription whereby $1.00 is automatically released into purchase of Ziggy Ad Positions every 12 hours.
Referral commissions are paid out on investments made by recruited affiliates, paid out down three levels of recruiment (unilevel).
Investments made by personally recruited affiliates pay out 6%, any affiliates they recruit (level 2) pay out 4% and the final third level pays out 2%.
Joining Ziggy Ads
Affiliate membership with Ziggy Ads is free, however affiliates must invest in at least one $10 Ziggy Pack in order to participate in the Ziggy Ads income opportunity.
As such the defacto minimum cost of Ziggy Ads affiliate membership is $20 (the cost of one Ziggy Pack).
Conclusion
For those unfamiliar with the character, Ziggy
is a cartoon created by Tom Wilson.

Ziggy first appeared in the 1968 book collection When You're Not Around, published by American Greetings.

The newspaper strip began in June 1971. In 1987 the strip was taken over by his son, Tom Wilson II.
Needless to say it is unlikely Ziggy Ads have paid Tom Wilson II any royalties for use of Ziggy throughout the Ziggy Ads website.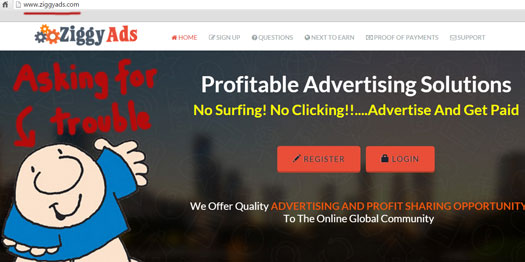 Depending on how stringent Wilson is about protecting the Ziggy brand, there's a good chance Ziggy Ads will find themselves in hot water.
And if that doesn't happen, then there's always the inevitable Ponzi collapse.
Rehashing the typical "ad pack" credit based Ponzi scheme, Ziggy Ads simply rename the packs "Ziggy Packs" and hope colorful cartoons will leave everybody none the wiser.
There's nothing being marketed to retail customers in Ziggy Ads, nor is there an external source of revenue – so simply put, all that happens is newly invested funds are shuffled around to pay off existing investors.
This qualifies Ziggy Ads as a Ponzi scheme.
The advertising credits serve as little more than a ruse to add a paper-thin layer of legitimacy to the Ponzi scheme, as evidenced by Ziggy Ads' "no refunds" refund policy:
Can I get a refund?

Absolutely not.
Logically if Ziggy Ads affiliates were purchasing advertising credits, unused credits would be refundable. What with Ziggy Ads using newly invested funds to pay off existing investors however, that's not possible.
As with all Ponzi schemes, once new affiliate investment runs out Ziggy Ads will find itself unable to meet its 12 hour ROI obligations.
Due to the total ROI being paid out over ten days, it's unlikely those who have invested will realize Ziggy has collapsed until they request a withdrawal of funds after the ten day maturity period.
This gives the anonymous admin(s) of the scheme plenty of time to do a runner, leaving everybody who didn't manage to steal more than they initially invested from subsequent investors, at a loss.