Quick Cash Ads Review: 133% ROI Ponzi scheme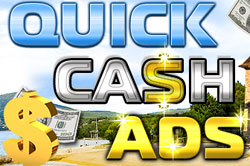 There is no information on the Quick Cash Ads website indicating who runs or owns the business.
The Quick Cash Ads website domain ('quickcashads.com') was registered on the 15th August 2012, however the domain registration information is set to private.
A Quick Cash Ads marketing video on YouTube is hosted by a 'David Lockwood'.
Lockwood appears to be linked with the serial promotion of several dubious income opportunities, including Daily Profit Always (250% ROI Ponzi scheme), Wealth 4 All Team (defunct 10 day ROI Ponzi scheme), Alert 2 Pay (30 day Ponzi scheme), Fast Cash Mega (Ponzi/pyramid scheme), Profit Clicking (Ponzi scheme), The Golden Path (defunct recruitment scam), and Unstoppable WhirlWind (defunct recruitment scam):

Curiously, someone who refers to themselves as "Tom" mentions elsewhere that they are the admin of Quick Cash Ads (ironically, complaining about being scammed by HYIP monitor site admins):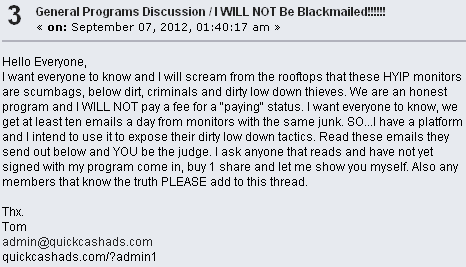 In a later post in the same thread, Tom goes into some detail about his dodgy income opportunity activities:
I am FOR REAL and not one of the many scammers out there.

I am currently a member of DPA, LTP and LDI. I just wanted to get that out of the way so everyone that reads this knows exactly where I am coming from.

I currently have close to $3,900 worth of withdrawals in DPA, $27,000 in LTP and $1000 in LDI. I am unloading my dirty laundry just so you know that I feel your pain and that I am one of you.
Referring to his scam site losses as "dirty laundry", Tom then divulges how Quick Cash Ads came about:
I was sitting around with a buddy of mine and we were talking about all the money we had coming to us.

Also we were talking about if we owned a program…how we would run it, how we would treat our members, how we liked speedy admin response and NO lengthy pending withdrawals.
Putting two and two together, after suffering heavy losses in multiple scam opportunities, Tom and his "buddy" have launched Quick Cash Ads with the intention of making some of that money back.
The problem?
Despite losing thousands of dollars, it appears Tom hasn't really learnt anything from his experience. Well, except perhaps that money wise it's much better to be running scams than participating in them.
The Quick Cash Ads Product Line
The Quick Cash Ads income opportunity has no retailable products or services, with Quick Cash Ads only able to market membership to the company itself.
Once joining Quick Cash Ads, members are then able to make investments with the company (referred to as "shares") at $1.50 a pop. Quick Cash Ads claim their purchaseable shares are 'a divided up unit of the value of a company'.
Bundled with each investment are a series of advertising credits, which can be used to advertise websites on an inhouse advertising network that features on the Quick Cash Ads website.
The Quick Cash Ads Compensation Plan
With each $1.50 share purchased from the company, Quick Cash Ads guarantee a $2.00 return over time (133% ROI).
There is no guarantee on the time it might take a Quick Cash Ads share to pay out the return, nor is there a limit on the amount of shares a Quick Cash Ads member can invest in.
Quick Cash Ads also offer referral commissions on investments made by an affiliates downline, paid out down five levels:
Level 1 – 5%
Level 2 – 4%
Level 3 – 3%
Level 2 – 2%
Level 1 – 1%
Joining Quick Cash Ads
Membership to Quick Cash Ads is free, however members must invest in shares if they wish to earn anything with the company.
Free members are able to recruit new investors and earn referral commissions, however they must make an investment in shares before they are able to withdraw any earnt money.
Conclusion
Q – Is this a HYIP site?

A – Emphatic NO, we do not "invest" money.

-Quick Cash Ads FAQ
As above, Quick Cash Ads claim not to be an investment scheme however functionally they obviously operate as one.
Members join the scheme, make investments in $1.50 allotments and then earn a 133% ROI.
Where do these ROIs come from?
The company claims that out of each $1.50 investment, the admin keeps 8 cents and '$1.42 is split between the next 100 positions in the system and referral sponsors'.
Or in other words, when an affiliate makes a new investment that investment is used to pay off ROI liabilities owed to existing investors. Note the verbiage sounds as if the money is used to pay off future ROIs, however "100 positions" simply refers to the most recent 100 investments made in the system.
As with all Ponzi schemes, sustainability issues arise when new investments dry up and existing members stop re-investing. Quick Cash Ads themselves acknowledge this in the company FAQ:
Q – Is there a risk of losing money?

A – Absolutely not, as long as our program is making sales (usually 2 shares sold per minute) there is NO risk of losing money.
With "making sales" mechanically equating to "new investments coming in", Quick Cash Ads amounts to nothing more than a 133% ROI member funded Ponzi scheme.
As with the countless programs before it that "Tom" has lost money in, eventually Quick Cash Ads will collapse, leaving those who invest last or re-invested holding the bag.
Trying to recover thousands of lost dollars playing money games  8 cent increments might sound like a slow and tedious process but as long as people keep investing in Ponzi schemes like Quick Cash Ads, serial scam promoters like Tom will never learn.