Your Life Ads Review: Random $6 matrix position placements

There is no information on the Your Life Ads website indicating who owns or runs the business.
The Your Life Ads website domain ("yourlifeads.com") was first registered on the 17th of October 2013. The registration was last updated on the 14th of January 2015 (private), suggesting this is when the current owner(s) acquired it.
As always, if an MLM company is not openly upfront about who is running or owns it, think long and hard about joining and/or handing over any money.
The Your Life Ads Product Line
Your Life Ads has no retailable products or services, with affiliates only able to market affiliate membership with the company itself.
Bundled with Your Life Ads affiliate membership is access to an e-book and web graphics libraries, a "lifetime" banner ad placement on the Your Life Ads website and "other stuff".
The Your Life Ads Compensation Plan
When a Your Life Ads affiliate signs up, they are given a position in 2×10 matrix.
A 2×10 matrix places an affiliate at the top of the matrix, with two positions directly under them (level 1):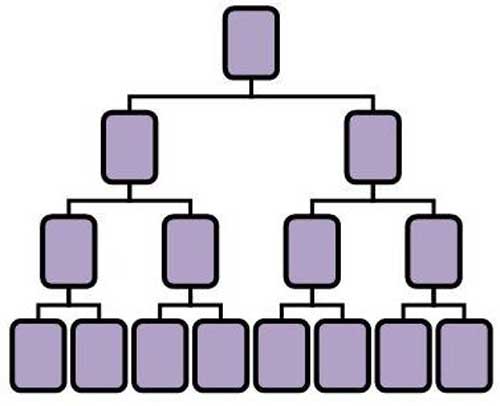 These two positions form the first level of the matrix and split into another two positions to make up the second level.
Level three of the matrix is generated by splitting level two positions into another two, and so on and so forth down a total of ten levels of recruitment.
Commissions are paid as positions in the matrix are filled via affiliate recruitment, with Your Life Ads claiming that positions are filled randomly:
When new members join the program their sponsor receives $3. But then the new member is placed at RANDOM in anyone's downline.
For each position randomly filled in a Your Life Ads affiliate's matrix, a 20 cent commission is paid out.
Joining Your Life Ads
Affiliate membership with Your Life Ads is $6.
Conclusion
Channeling the e-book library pyramid schemes of yesteryear, Your Life Ads offers up a random placement positioning twist to an otherwise familiar business model.
With nothing being marketed or sold to retail customers, all commissions are generated via recruitment of new affiliates. This, irrespective of what is bundled with Your Life Ads affiliate, qualifies Your Life Ads as a pyramid scheme.
The random placement of recruited affiliates is a bit strange, as it's inevitably going to disadvantage heavy recruiters as time goes on.
Effectively, it's entirely possible to recruit a bunch of people into Your Life Ads and have them show up on the other side of the company-wide matrix.
Given the recruitment-nature of Your Life Ads' business model, these big recruiters are obviously the life-blood of the business. Make the plan unattractive to them and this is pretty much dead in the water.
And if you're wondering how the anonymous Your Life Ads might have missed this, they sit at the top of the matrix and are unlikely to care.
Anybody recruited into Your Life Ads is placed into their matrix. Everybody else loses out.