WinNet Club Review: Portuguese 1:1 TelexFree clone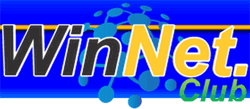 Although a bio appears for the WinNet Club founder on the website, his name is mysteriously absent.
A WinNet Club presentation however identifies the founder as "Wendell G. Santana":

The company claims Santana was born in Texas and founded "Globe Voice Company Inc." in 2007, who presumably provide the VOIP service (or access to) that Winnet Club markets.
Santana's current location, along with where WinNet Club is based out of is not provided.
The WinNet Club website domain ("winnet.club") lists a "Willie Santana" as the owner, with an address in the US state of Texas.
Whether WinNet Club is being run out of Texas though is doubtful. From a WinNet Club business presentation:
Our servers are located in Russia and two other servers will monitor the backups.

We are registered as Enterprise Communications and already operate in the USA since 2007.
Here's where things get a little interesting.
Santana also owns the domain "globo4x.com", which is currently billing itself as "winnet bank":

WinNet Bank is established in Belize and Hong Kong, providing financial services on behalf of WINNET BANK Financial Group S/A.

As a company with different services in corporate and investment bank, WinNet Bank provides new approaches on financial management with security and control, focused in market global expansion.

WinNet Bank is regulated by tax authority of the Republic of Panama. We offer economic products and services that meet different aims of different investors in the financial market.
Panama, Belize, Russia and Hong Kong?
It would seem some thought has gone into the creation of WinNet Club, with a mind towards safeguarding against regulatory safeguarding.
I wonder why that could be?
Read on for a full review of the WinNet Club MLM business opportunity.
The WinNet Club Product Line
WinNet Club market a $49.95 a month VOIP service. The service comes with 3000 minutes.
The WinNet Club Compensation Plan
The WinNet Club pays out retail commissions on the sale of VOIP packages, but primarily revolves around the recruitment of affiliates and their purchase of affiliate packages.
There are five affiliate packages on offer:
Partner – $50
Start – $150
Standard – $350
Master – $850
Senior – $1450
Note that the Partner package appears to be a retail only affiliate option. It does not qualify an affiliate to earn through the WinNet MLM compensation plan.
Retail Commissions
If a WinNet Club affiliate manages to sell the $49.95 VOIP service to a retail customer, they are paid a 10% commission ($4.95).
A 2% residual commissions are also available. WinNet Club affiliates are paid $1 when recruited affiliates sell the VOIP service to retail customers.
This residual commission is paid out down three levels of recruitment.
Recruitment Commissions
When a WinNet Club affiliate recruits a new affiliate, they are directly compensated as follows:
Start – $10
Standard – $20
Master – $40
Senior – $100
Binary Commissions
Residual recruitment commissions in WinNet Club are paid out using a binary compensation structure.
A binary compensation structure places an affiliate at the top of a binary team, with two positions directly under them: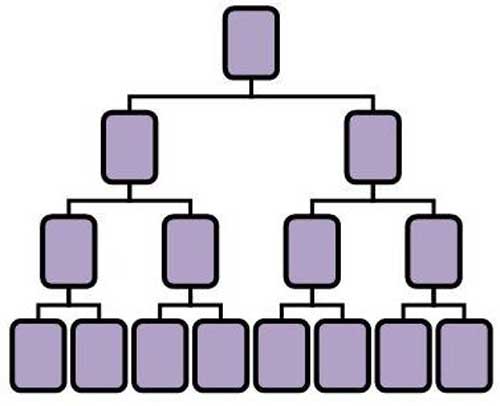 These two initial positions form the start of two binary sides, left and right.
Positions in both sides are filled via the recruitment of affiliates and their purchase of a WinNet Club affiliate package.
Each WinNet Club affiliate package has a corresponding point value assigned to it:
Start – 30 points
Standard – 100 points
Master – 250 points
Senior – 500 points
How exactly commissions are paid out through the binary is not clarified, however I believe it's a percentage of points matched on either side (with 1 point corresponding to $1).
Note that affiliates at the Start level are unable to earn binary commissions. Higher ranks also have daily binary earning caps:
Standard – $1000
Master – $2000
Senior – $15,000
Binary Bonuses
As a WinNet Club affiliate reaches certain binary point milestones on their weaker binary side, the company gifts them the following bonuses:
30,000 points – iPhone
100,000 points – iPad
250,000 points – 10 nights trip to Disney Resort in Orlando, Florida
500,000 points – a "BMW car"
Weekly ROI
WinNet Club pays you to display advertisements.

Just announce this sites seven days a week (and) WinNet Club pays you according to your package.
As above, WinNet Club pay their affiliates to spam the internet seven days a week.
How much of a weekly ROI is paid out is determined by how much an WinNet Club affiliate spent on their affiliate package:
Start – $5 a week
Standard – $15 a week
Master – $40 a week
Senior – $100 a week
Note that to qualify for weekly ROIs, a WinNet Club affiliate must themselves be spending $50 a month on a VOIP subscription and have recruited two affiliates who do the same.
Residual commissions are offered on wekly ROIs, paying out 2% down four levels of recruitment.
Dream Team Bonus
If a WinNet Club affiliate joins as a Senior affiliate and recruits ten other Senior affiliates, they qualify for the Dream Team Bonus.
The Dream Team Bonus pays out 2% of the company-wide income, with each Dream Team Bonus qualified affiliate receiving an equal share of the revenue.
Note that all ten recruited Senior affiliates must be spending $50 on a VOIP subscription and have recruited at least two affiliates themselves (can be any package rank).
The Dream Team Bonus is a monthly bonus, with the Senior affiliate recruitment requirement required to be maintained in order for an affiliate to qualify each month.
Joining WinNet Club
Affiliate membership with WinNet Club is tied to the purchase of an affiliate package.
There are five WinNet Club affiliate packages available:
Partner – $50
Start – $150
Standard – $350
Master – $850
Senior – $1450
Note that the Partner package only qualifies an affiliate to earn retail commissions.
Conclusion
A smoke and mirrors VOIP service, weekly ROIs for spamming the internet with useless ads, recruitment commissions… sound familiar?
What you're looking at with WinNet Club is a near identical 1:1 clone of TelexFree. Hell, it's almost as if WinNet Club founder Wendell Santana was a TelexFree affiliate and is now looking to run and profit of an identical scheme himself.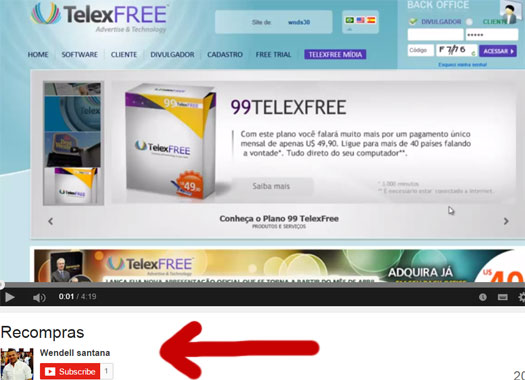 Oh, right.
TelexFree was a billion dollar Ponzi scheme that primarily targeted the US, Brazil and Portugal. After TelexFree was shut down by the SEC in April of this year, it was revealed that retail VOIP sales accounted for just $1.3 million in revenue.
This was calculated to be less than 0.1% of the required revenue to pay TelexFree's affiliate investors their advertised weekly ROIs.
Now comes WinNet Club, seeking to pick up where TelexFree left off.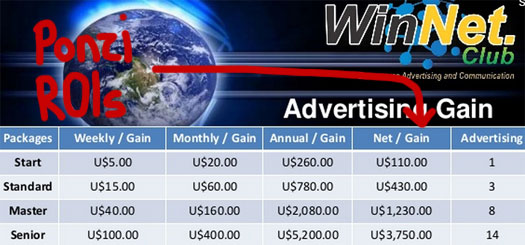 In their case against TelexFree, the SEC also debunked the myth that spamming the internet provided any advertising or marketing value to the company being spammed for:
TelexFree promises to pay promoters for placing duplicative TelexFree ads on internet sites – a process which, by itself, generates no revenue.
This is also true with WinNet Club, and indeed any MLM company that has affiliates spam the internet with supplied ad copy to qualify for commissions.
If Santana is operated WinNet Club from within the US, then he's most definitely playing with fire.
Most of the WinNet Club marketing material available is in Portuguese however, so I'm not sure if Santana is still in the US. As an affiliate of TelexFree he's no doubt well aware of what went down earlier this year.
Possibly hidey-holes for Santana are likely to be Brazil or Portugal. Alexa traffic analysis to the WinNet Club website indicates a strong following in both these countries, which combined make up an estimated 81% of all traffic to the company's website.
As to WinNet Club's compensation plan. The recruitment commissions serve to ensure the recruiting of new affiliates who pump new money into the scheme via package purchases.
This in turn is required to generate funds to pay out the weekly Ponzi ROIs. As with TelexFree, WinNet simply take new investor funds and use it to pay off existing investors.
At the end of 52 weeks, an affiliate package position matures and they need to re-invest in more packages to generate higher ongoing returns.
Regardless of whether the SEC had of stepped in and shut them down, TelexFree was hemorrhaging money and was well on the path to collapse. Weekly ROIs far exceeded new funds coming in and things had spiralled out of control months before the SEC shut it all down in April.
WinNet Club, with its identical business model and VOIP ruse, is not going to be any different.
And, just like TelexFree, this isn't going to end well.