We Grow Bitcoins Review: Three-tier bitcoin gifting

We Grow Bitcoins provide no information on their website about who owns or runs the company.
The We Grow Bitcoins website domain ("wegrowbitcoins.com") was privately registered on January 21st, 2017.
Further research reveals the official We Grow Bitcoins Facebook page shares multiple marketing videos from Cory Holliman.
Perusal of Cory Holliman's own Facebook profile reveals him sharing screenshots of the We Grow Bitcoins admin backoffice: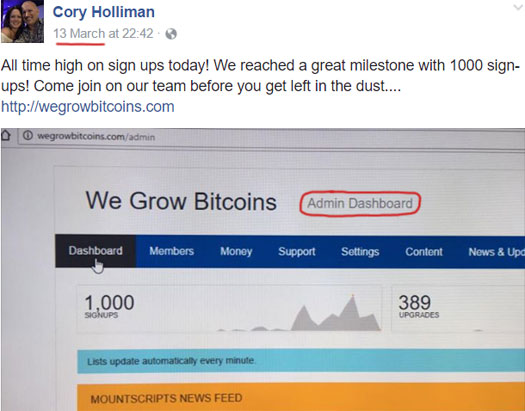 This strongly suggests Holliman is the owner of We Grow Bitcoins.
Read on for a full review of the We Grow Bitcoins MLM opportunity.
We Grow Bitcoins Products
We Grow Bitcoins has no retailable products or services, with affiliates only able to market We Grow Bitcoins affiliate membership.
The We Grow Bitcoins Compensation Plan
We Grow Bitcoins affiliates gift bitcoin to each other via a 5×3 matrix.
A 5×3 matrix places a We Grow Bitcoins affiliate at the top of a matrix, with five positions directly under them: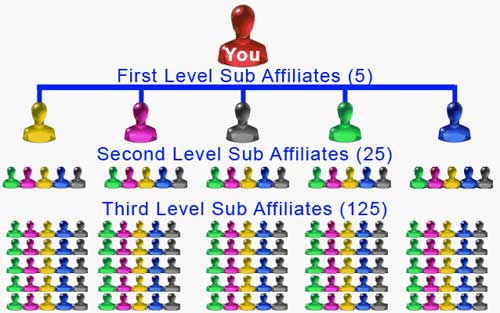 These five positions form the first level of the matrix. The second level of the matrix is generated by splitting these first five positions into another five positions each (25 positions).
The third level of the matrix is generated in the same manner and houses 125 positions (25 x 5).
A We Grow Bitcoins affiliate signs up and gifts 0.01 BTC to the affiliate who recruited them.
This payment in turn qualifies the affiliate to receive 0.01 BTC from five affiliates recruited into the first level of their matrix.
Levels two and three of the We Grow Bitcoins matrix operate in the same manner, the only difference being an increase in the amounts gifted.
level 1 – gift 0.01 BTC to the affiliate who recruited you and receive 0.01 BTC from five subsequently recruited affiliates
level 2 – gift 0.03 BTC and receive 0.03 BTC from twenty-five affiliates
level 3 – gift 0.5 BTC and receive 0.5 BTC from one hundred and twenty-five affiliates
Note that all gifting payments in We Grow Bitcoins are monthly recurring (both paid and received).
Joining We Grow Bitcoins
We Grow Bitcoins affiliate membership is tied to a 0.01 BTC gifting payment.
Conclusion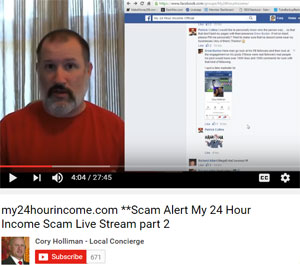 In a YouTube video titled "my24hourincome.com **Scam Alert My 24 Hour Income Scam Live Stream part 2", uploaded to an account bearing the name "Cory Holliman – Local Concierge" on July 22nd, 2016, Holliman claims
[3:47] When you see things such as "you get paid whether you refer someone or not", that's a red flag to me.

Any system out there, any network marketing company, any MLM company, any store, in order for there to be revenues, something has to be bought or sold.
Holliman appears to have thrown that philosophy out the window, with the We Grow Bitcoins website boasting there are no products to sell: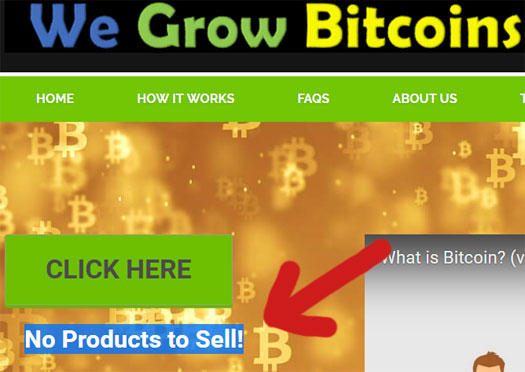 Under the guise of giving and receiving donations, We Grow Bitcoins operates as three-tier cash gifting scheme.
Legitimate donations are made with no expectation of future profit. Payment of a gifting fee in We Grow Bitcoins entitles the payee to collect funds from subsequently recruited affiliates who do the same.
This fundamental difference differentiates We Grow Bitcoins from a legitimate donation platform.
As with all gifting scams, once affiliate recruitment dies down so too will gifting payments. Being a monthly subscription model, this will see We Grow Bitcoins affiliates at the bottom of the matrix cease paying their monthly gifting fees.
This will see affiliates above them stop getting paid, which will eventually prompt them to also stop paying.
This effect trickles up the We Grow Bitcoins company-wide affiliate base until eventually an irreversible collapse is triggered.
Matrix-based bitcoin gifting schemes primarily benefit the admin(s) running them.
Through one or more preloaded positions and nature of passing up funds at each matrix level, the admins of the schemes receive the majority of deposited funds.
Mathematics guarantees that, other than  the admin and a few early adopters, the vast majority of affiliates in gifting schemes lose money.