VRDa1 Review: Ex LEO exec's Property Points Ponzi scheme

VRDa1 provides no information on its website about who owns or runs the company.
The only names attached to the company are a group VRDa1 refers to as its "league of legends"; Waqas Suhail, Mahfooz Elahi, Saikat Kumar, Hussain Al Lawati, Mohammad Othman and M. Faisal Suhail.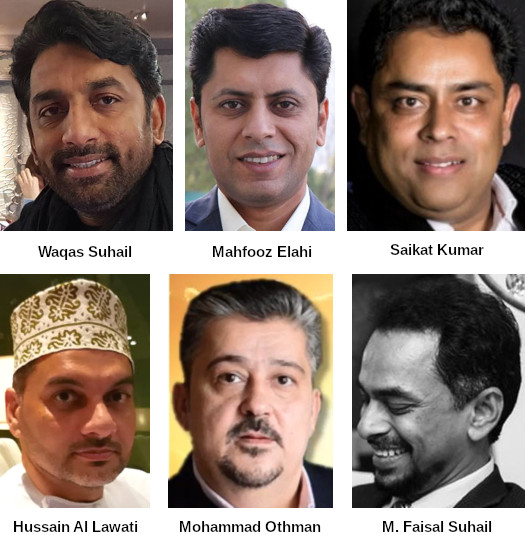 These individual's specific roles within VRDa1 is not disclosed on the company's website.
They are however involved in running the company.
Mohammad Othman, for example, is featured in VRDa1's official compensation videos. I was able to ascertain the remaining executive roles by cross-referencing social media profiles.
I ran an MLM related search on each of VRDa1's "legends". Here's what I found:
Waqas Suhail is from Pakistan and hiding out in Dubai. He is VRDa1's founder and CEO.
Prior to VRDa1 Suhail worked as the LEO's General Manager for the Dubai region.
LEO was a Ponzi scheme run by Dan Andersson that primarily targeted Pakistan and neighboring countries.
Mahfooz Elahi is from Pakistan and hosts VRDa1 promotional events. Elahi is also a former LEO Ponzi promoter.
Saikat Kumar is from India and lives in Dubai. He is a Director of VRDa1.
I wasn't able to ascertain Kumar's MLM history. His involvement in VRDa1 seems to be through his Skycap Investment Management company.
Hussain Al Lawati is a Director of VRDa1. I wasn't able to ascertain anything further.
Mohammad Othman shouts at people as a presenter of VRDa1 video presentations. I wasn't able to ascertain anything further.
Nothing comes up for M. Faisal Suhail outside of VRDa1. I'm assuming this is because of the intentional name obfuscation (possible relation to Waqas Suhail).
In any event, VRDa1 came about in late 2019, following the collapse of LEO.
Waqas Suhail's Facebook post reveals he left Humanitas Meritus FZ LLC in October 2019.

Humanitas Meritus FZ LLC was one of the many shell companies used to steal LEO investor funds through.
A few months after acknowledging leaving Humanitas Meritus (which collapsed earlier in 2020), Suhail announced VRDa1.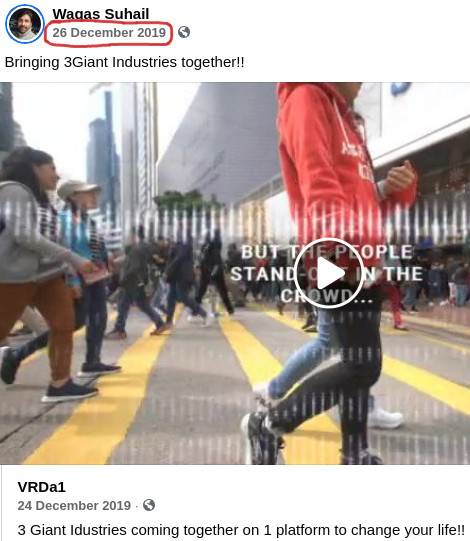 In a nutshell, VRDa1 is a bunch of LEO Ponzi scammers from the UAE, Pakistan and India, banding together to run their own scheme.
Read on for a full review of VRDa1's MLM opportunity.
VRDa1's Products
VRDa1 has no retailable products or services, with affiliates only able to market VRDa1 affiliate membership itself.
VRDa1's Compensation Plan
VRDa1 affiliates invest in Property Points on the promise of an annual 7% to 12% ROI.
Property Points are invested into at $350 each.
Packages are also available, bundling Property Points at a discount:
Package 1 – invest $1750 and receive 5 Property Points
Package 2 – invest $3500 and receive 12 Property Points
Package 3 – invest $5250 and receive 19 Property Points
Package 4 – invest $7000 and receive 26 Property Points
Package 5 – invest $8750 and receive 33 Property Points
Package 6 – invest $17,500 and receive 72 Property Points
Package 7 – invest $35,000 and receive 150 Property Points
Corresponding investment sales volume (BV) for each of the above packs are as follows:
Beginner Pack – 450 BV
Pro Pack – 850 BV
Package 1 – 750 BV
Package 2 – 1500 BV
Package 3 – 2250 BV
Package 4 – 3000 BV
Package 5 – 3750 BV
Package 6 – 7500 BV
Package 7 – 15,000 BV
VRDa1's compensation material also mentions a Beginner and Pro Pack.
I believe these packs come with property points however specific details are not disclosed.
Returns and commissions paid to VRDa1 affiliates are split 70% cash and 30% in new property points.
VRDa1's compensation plan pays commissions on recruitment of new affiliate investors.
Note that VRDa1 pays commissions based on BV, not actual amounts invested.
VRDa1 Affiliate Ranks
There are thirteen known ranks within VRDa1's compensation plan.
(undisclosed number of Associate ranks)
Star Executive
2 Star Executive
3 Star Executive
4 Star Executive
5 Star Executive
Director
Marketing Director
Regional Marketing Director
Global Marketing Director
Ambassador
Diamond Ambassador
Black Diamond Ambassador
Crown Ambassador
Unfortunately VRDa1 do not provide rank qualification in their compensation documentation.
Recruitment Commissions
VRDa1 pays recruitment commissions on funds invested by personally recruited affiliates.
Recruitment commissions are paid as 10% of sales volume (PV) generated by personally recruited affiliate investment.
A residual 10%  recruitment commission is also paid on the 30% Property Point split paid as commissions to personally recruited affiliates.
Residual Commissions
VRDa1 pays residual commissions via a binary compensation structure.
A binary compensation structure places an affiliate at the top of a binary team, split into two sides (left and right):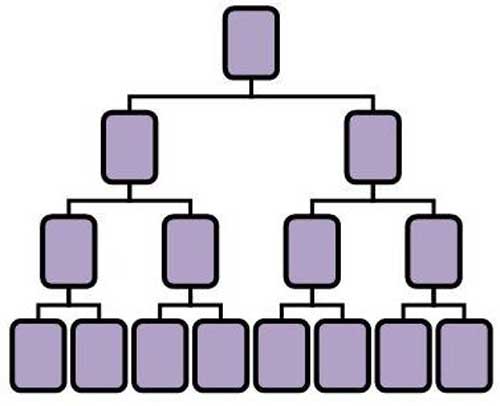 The first level of the binary team houses two positions. The second level of the binary team is generated by splitting these first two positions into another two positions each (4 positions).
Subsequent levels of the binary team are generated as required, with each new level housing twice as many positions as the previous level.
Positions in the binary team are filled via direct and indirect recruitment of affiliates. Note there is no limit to how deep a binary team can grow.
At the end of each day VRDa1 tallies up new investment sales volume on both sides of the binary team.
Investment sales volume amounts are provided above in "recruitment commissions".
Residual commissions are paid out as a percentage of investment sales volume generated on the weaker binary team side:
Associate ranked VRDa1 affiliates are paid a 12% residual commission rate
Executive and higher ranked VRDa1 affiliates are paid a 10% residual commission rate
Rank Achievement Bonus
VRDa1 rewards affiliates with a Rank Achievement Bonus, starting from the Star Executive rank:
qualify as a Star Executive and receive $1000
qualify as a 2 Star Executive and receive $2000
qualify as a 3 Star Executive and receive $5000
qualify as a 4 Star Executive and receive $8000
qualify as a 5 Star Executive and receive $10,000
qualify as a Director and receive $25,000
qualify as a Marketing Director and receive $50,000
qualify as a Regional Marketing Director and receive $65,000
qualify as a Global Marketing Director and receive $100,000
qualify as an Ambassador and receive $125,000
qualify as a Diamond Ambassador and receive $150,000
qualify as a Black Diamond Ambassador and receive $300,000
qualify as a Crown Ambassador and receive $1,000,000
Joining VRDa1
VRDa1 fails to provide affiliate membership costs on its website.
I believe the most basic joining options are the Beginner and Pro Packs.
Outside of that we know investment costs range from $1750 to $35,000 across Packages 1 to 7.
Conclusion
Likely hoping to recapture victims of the LEO Ponzi scheme, VRDa1 is the same Ponzi model with a different coat of paint.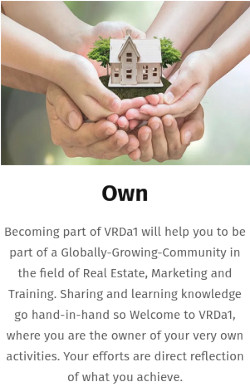 The ruse behind VRDa1's Property Points is that they are tied to real estate in Dubai.
So the ruse goes, one Property Point is the equivalent of 1 sq feet of property in Dubai.
This of course is purely on paper, holding no legal weight outside of VRDa1 itself.
Property Points are in effect Ponzi points, which VRDa1 pays a return on.
VRDa1 is not registered to offer securities in any jurisdiction, meaning the company at a minimum is committing securities fraud.
VRDa1 represents external revenue is generated through "rental yields", which is baloney without audited financial reports.
Without those reports, the only verifiable source of revenue entering VRDa1 is new investment.
Given Waqas Suhail's close involvement in scamming LEO investors, why VRDa1 chooses to commit securities fraud should be obvious.
Using newly invested funds to pay affiliates a return on invested Property Points makes VRDa1 a Ponzi scheme.
The rest of VRDa1's compensation plan is tied to recruitment, adding an additional pyramid layer to the scheme.
As with all MLM Ponzi schemes, once affiliate recruitment runs dry so too will new investment.
This will starve VRDa1 of ROI revenue, eventually prompting a collapse.
In much the way LEO affiliate investors were left bagholding LEO coins, VRDa1 investors will be left holding worthless Property Points.