Viral Crypto Review: 5-tier bitcoin cash gifting

Viral Crypto launched a week or so ago and name Randolph Taylor as admin of the company on their website.
Taylor is purportedly based out Italy, which is where Viral Crypto is being run from.
Taylor's Viral Crypto corporate bio reveals he has "many years" experience within the MLM underbelly;
As an online entrepreneur working in this field for last many years. I am very enthusiastic, cooperative passionate to help other for make them popular online worker. And these was the causes of my dream comes true in shape of Viral Crypto.

I had faced hard experiences in other online field like in Rev Shares, PH programs, Affiliate Marketing, Online hops, Forex selling online and a host of other different kind of opportunities.

I would say here I was looking and finally I found it but still I was not satisfied and made lot of changes and amendments and I think I have created this what was people looking for last many years.
Beyond what is published on the Viral Crypto website, I was unable to independently verify if Randolph Taylor actually exists.
Alexa currently estimate that India is the largest source of traffic to the Viral Crypto website (46.8%).
Read on for a full review of the Viral Crypto MLM opportunity.
The Viral Crypto Product Line
Viral Crypto has no retailable products or services, with affiliates only able to market Viral Crypto affiliate membership itself.
The Viral Crypto Compensation Plan
The Viral Crypto compensation plan sees affiliates gift bitcoin to the existing Viral Crypto affiliates.
These gifting payments then qualify an affiliate to receive gifting payments from subsequently recruited affiliates.
Gifting payments in Viral Crypto are tracked through a 2×5 matrix.
A 2×5 matrix places an affiliate at the top of a matrix, with two positions directly under them: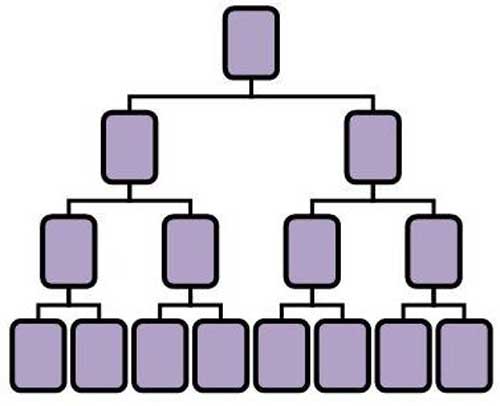 These two positions form the first level of the matrix. The second level of the matrix is generated by splitting each of the two positions into another two positions each (4 positions).
Levels three to five of the matrix are generated in the same manner, with a complete 2×5 matrix housing 62 positions.
Gifting payments within the Viral Crypto 2×5 matrix are as follows:
level 1 (gift 0.03263 BTC to the affiliate who recruited you) – receive 0.03263 BTC from two affiliates
level 2 (requires 0.05 BTC gifting payment) – receive 0.05 from four affiliates
level 3 (requires 0.1305 BTC gifting payment) – receive 0.1305 BTC from eight affiliates
level 4 (requires 0.6527 BTC gifting payment) – receive 0.6527 BTC from sixteen affiliates
level 5 (requires 3 BTC gifting payment) – receive 3 BTC from thirty-two affiliates
Note that the above gifting payments are all monthly recurring.
Joining Viral Crypto
Affiliate membership with Viral Crypto is free.
To participate in the attached MLM opportunity however a gifting payment of 0.03263 BTC is required.
Conclusion
After joining your level 1 up line's referral link, you pay your up line 0.03btc per month to be in a position to receive the same from each of your level 1 down lines.
Under the guise of giving and receiving donations, Viral Crypto presents a simple five-tier cash gifting scheme.
New affiliates gift funds to existing Viral Crypto affiliates, which qualifies them to receive gifting payments from subsequently recruited affiliates.
If Randolph Taylor actually exists (I don't believe he does), Viral Crypto appears to be the sum total of years of participation in similar scams.
As with all cash gifting schemes, once recruitment of new Viral Crypto affiliates dies out, so too will payments funneling into the company-wide matrix.
This will start with the largest affiliate group at the bottom of the matrix.
Unable to recruit new affiliates to scam, they will eventually stop making monthly payments to their upline.
If the upline affiliates can't recruit new victims to replace those that stop paying, they'll eventually stop paying their upline affiliates too.
Over time this spreads throughout the Viral Crypto company-wide matrix until eventually an irreversible collapse is triggered.
At that point anyone who hasn't recruited enough affiliates to cover their own gifting payments loses out. Mathematically this is guaranteed to be the majority of Viral Crypto affiliates at any given time.