Univia Review: Personal care + Instagram influencer marketing?

Univia operate in the personal care MLM niche and, according to the company's Policies and Procedures, are based out of Utah in the US.
The Florida address provided on the Univia website appears to be for product returns only.
Univia fails to provide any executive information on their website. The Univia website does have an "about section" but it only contains marketing information.
Further research reveals Kevin Hafen credited as Univia's CEO.
Hafen doesn't seem to have an MLM history as far as I can see. In fact besides a Facebook profile abandoned since 2016, Hafen doesn't seem to have any digital footprint whatsoever.
It's always a bit strange when a nobody suddenly pops up as the CEO of an MLM company, so I'm flagging this as somewhat suspicious.
As always, if an MLM company is not openly upfront about who is running or owns it, think long and hard about joining and/or handing over any money.
Univia Products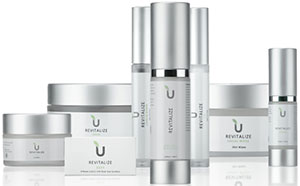 Univia market a range of personal care products.
We produce products that work!

Botanical and herbal extracts like Canadian willowherb and green tea are used in our product line and paired perfectly with multiple patented ingredients to give you results.

It's the best of nature with the power of science.
Revitalize Night – "a water-based intense gel moisturizer designed to work overnight to reduce the appearance of fine lines and wrinkles and to give your skin a youthful, more radiant look", retails at $98 for a 15 ml bottle
Revitalize Defy – "contains ingredients that work to deliver immediate results to improve appearance in the delicate skin around the eyes while working to reduce signs of aging", retails at $70 for a box of 15 dual-use sachets
Revitalize Mask – "detoxify, redefine pores and nourish the skin with essential minerals and antioxidants", retails at $89 for a 120 ml tub
Day Gel Cleanser – "cleans your skin, deep down, removing dirt, debris and makeup without irritation", retails at $39 for a 50 ml tub
Revitalize Day – " designed to moisturize, revitalize and rejuvenate your skin", retails at $94 for a 30 ml tub
Revitalize Lash & Brow – "strengthen the hair follicles of eyelashes and eyebrows, encouraging them to grow in thicker, fuller, and longer", retails at $65 a bottle
Revitalize Facial Wipes – "give your face that clean and fresh feeling with our revitalizing facial wipes", retails at $73 for a tub
Revitalize Lip –  "boosts lip volume, reducing fine lines and hydrating to create smoother fuller lips", retails at $56 a bottle
Univia products are also available through a Univia Beauty Box bundle.
Univia's marketing material states the products are manufactured in the USA via an undisclosed third-party manufacturer.
The Univia Compensation Plan
Univia's compensation plan combines retail and recruitment sales with a residual unilevel backend.
A Generation Bonus expands the standard unilevel team depth. Several performance-based bonuses are also available.
Univia Affiliate Ranks
There are ten known affiliate ranks within Univia's compensation plan:
Active Influencer
Premium Influencer
Senior Influencer
Elite Influencer
Master and Global Influencer
Royal Influencer
Bronze Icon
Silver Icon
Gold Icon
Platinum Icon
Note that Univia do not provide rank qualification criteria for any of their affiliate ranks.
Retail Commissions
Univia affiliates are paid a commission when they sell products to retail customers.
This includes preferred customers, who are retail customers on monthly autoship (in exchange for a discount).
Retail commissions are paid out as the difference between the retail/preferred customer cost and the wholesale cost of products ordered.
Enhanced Bonus
The Enhanced Bonus is a percentage bonus on sales volume generated by retail customers (includes preferred customers) and an affiliate's own orders.
generate 300 PV to 499 PV a month in personal purchases and retail orders and receive a 5% Enhanced Bonus
generate 500 to 999 PV a month in personal purchases and retail orders and receive a 10% Enhanced Bonus
generate at least 1000 PV a month in personal purchases and retail orders or 5000 GV in downline sales volume, and receive a 15% Enhanced Bonus
Recruitment Commissions
Univia affiliates are paid a recruitment commission when they recruit affiliates who sign up with an influencer pack.
The example provided in Univia's only available compensation plan documentation is $200 paid on a Prosperity Pack.
At the time of publication the Univia website details three influencer packs; Basic, Premium and Pro.
Presumably recruitment commissions are paid on these packs but Univia haven't updated their compensation plan material since October, 2018.
A 5% residual recruitment commission is paid on ongoing orders by recruited affiliates, paid down two levels of recruitment (unilevel).
Residual Commissions
Univia pays residual commissions via a unilevel compensation structure.
A unilevel compensation structure places an affiliate at the top of a unilevel team, with every personally recruited affiliate placed directly under them (level 1):

If any level 1 affiliates recruit new affiliates, they are placed on level 2 of the original affiliate's unilevel team.
If any level 2 affiliates recruit new affiliates, they are placed on level 3 and so on and so forth down a theoretical infinite number of levels.
Univia caps payable unilevel team levels at seven.
Residual commissions are paid out as a percentage of sales volume generated across these seven levels, based on rank:
Active Influencers earn 5% on level 1 (personally recruited affiliates)
Premium Influencers earn 5% on levels 1 and 2
Senior Influencers earn 5% on levels 1 to 3
Elite Influencers earn 5% on levels 1 to 4
Master and Global Influencers earn 5% on levels 1 to 5
Royal Influencers earn 5% on levels 1 to 6
Icons earn 5% on levels 1 to 7
Check Match
Elite Influencer and higher ranked Univia affiliates qualify for a Check Match on downline residual commission earnings.
The Check Match is paid between 5-20% on level 1 and 5-15% on level 2.
Other than the Check Match starting from the Elite Influencer rank, Univia don't provide specific percentages per rank.
Generation Bonus
The Generation Bonus allows a Univia affiliate to earn beyond the first seven levels of their unilevel team.
A generation is defined when an affiliate of specific rank is found in a unilevel team leg.
Note that Univia's compensation plan material fails to specify which rank triggers a generation.
In any event, when this ranked affiliate is found, they cap off the first generation for that unilevel team leg.
The second generation then begins immediately after them.
If no second ranked affiliate is found in the leg, the second generation extends down the full depth of the leg.
If a second ranked affiliate is found, they cap off the second generation and the third begins after them.
Using this generational structure, a Univia affiliate is able to earn on up to four generations per unilevel team leg:
Global Influencers earn 2% on up to two generations per leg
Royal Influencers earn 3% on up to three generations per leg
Icons earn 4% on up to four generations per leg
Icon Bonus
Univia take 1% of company-wide sales volume and place it into an Icon Bonus Pool.
The 1% pool is then split into four smaller pools, shared equally among Univia's Icon ranked affiliates:
Bronze Icons receive a share in a 20% pool
Silver Icons receive a share in a 20% pool
Gold Icons receive a share in a 20% pool
Platinum Icons receive a share in a 40% pool
Note that shares in previously earned shares are retained. I.e. a Platinum Icon maintains a share in all four pools.
Lifestyle Rewards
The Univia compensation plan refers to "trips, recognition and merch".
No specific details are provided.
Joining Univia
Basic Univia affiliate membership is $49.
New affiliates can also optionally sign up via the following "influencer packs":
Basic Influencer Pack – $297
Premium Influencer Pack – $497
Pro Influencer Pack – $797
The Premium and Pro Influencer Packs come bundled with mandatory $249 a month "Basic Beauty Box" autoship.
Despite the autoship being mandatory upon signing up, Univia states it can be "cancelled at any time".
Conclusion
My overall impression of Univia is that it's a pretty vanilla experience. Which doesn't really click with the company's whole "Instagram influencer" marketing strategy.
Univia's Founders bring their experience of building online brands and bridge the gap between successful social selling and the face-to-face approach many are used too.

With social media the way it is, there's no excuse to being able build your own empire!

We literally have the world at our finger tips, we have the power to take control of our own income, and our daily grind!

Are you ready to make that change? DM us if you are!
Yeah so if you're going to go with that marketing pitch, probably best to have at least some sort of social media presence to back it up.
Univia does have social media accounts, but they only came into existence a few months ago. Where is the social proof experience from "Univia's founders"?
The lack of executive information provided on Univia's website is telling. As is Kevin Hafen having no digital footprint.
How you going to be the CEO of a social media marketing MLM company and have zero social media presence?
On the compensation plan of things nothing particularly stood out except mandatory autoship on Premium and Pro Influencer Packs. Why?
Fair enough they can be cancelled by why force your affiliates onto them to begin with?
The rest of the plan is actually fairly well-balanced and does provide adequate incentive for retail sales. Without affiliate rank criteria however, I can't accurately gauge whether there's a strong enough retail focus or not.
Which brings me to my next point – why is there no compensation plan material on the Univia website?
The only official compensation material available are videos on Univia's YouTube channel, dating back from December 2018.
Y'all supposed to be social media rockstars, so why is there so little information out there even months out from launch?
Not good enough.
Pure conjecture on my part, but I get the sense Univia came about after someone was browsing Instagram and thought "maybe I can get a piece of that".
Kim Kardashian culture is rampant on social media and it's no secret that product promotion is big business – for the right people and the right brands.
Univia attaches products put together by who knows who, and has been let loose on Instagram. With minimal additional information provided, or any sense of a long-term game plan.
It comes across as more of a "what if?" business (for the owners) and as an MLM opportunity I'm just not seeing it stick long-term.