Two Bitcoin Review: 5% daily ROI cryptocurrency forex scheme

There is no information on the Two Bitcoin website indicating who owns or runs the business.
The Two Bitcoin website domain ("twobitcoin.com") was privately registered on July 11th, 2016.
An incomplete address in Russia is provided on the Two Bitcoin website, which is strange as the default language for the site is Spanish.

Further research reveals Two Bitcoin affiliates naming Jose Carlos Martins as founder and CEO of the company.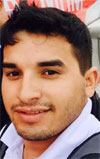 Martins (right) is purportedly based out of Brazil. In 2015 Martins was promoting Ares Perfumes & Cosmetics, a Brazilian MLM company.
From what I've been able to gather, Two Bitcoin is a company run under the brand "Two Company". It is part of a VOIP (Two VOIP) offering and a yet to launch pay to click (Two Clik) scheme.
Two Bitcoin seems to operate independently from these two entities and is reviewed here as a stand-alone offering.
Read on for a full review of the Two Bitcoin MLM opportunity.
The Two Bitcoin Product Line
Two Bitcoin has no retailable products or services, with affiliates only able to market Two Bitcoin affiliate membership itself.
The Two Bitcoin Compensation Plan
Two Bitcoin affiliates invest bitcoin on the promise of a 5% daily ROI capped at 200%.
Investment into Two Bitcoin is done via four packages:
Start – $150
Premium – $250
Master – $500
Executive – $1000
Recruitment Commissions
Two Bitcoin affiliates are paid a 10% direct recruitment commission on funds invested by personally recruited affiliates.
Residual Commissions
Residual commissions in Two Bitcoin are paid out via a binary compensation structure.
A binary compensation structure places an affiliate at the top of a binary team, split into two sides (left and right):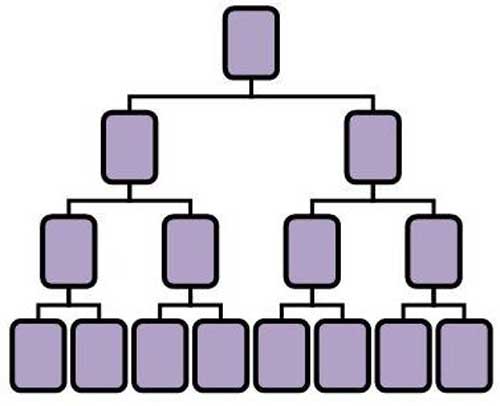 The first level of the binary team houses two positions. The second level of the binary team is generated by splitting these two positions into another two positions each.
Subsequent levels of the binary team are generated as required, with each new level housing twice as many positions as the previous level.
Positions in the binary team are filled via direct and indirect recruitment of new Two Bitcoin affiliates.
Investment volume is tracked on both sides, with affiliates paid a 10% commission on volume generated on their weaker binary side (minimum $1000).
Note that reinvestment volume is counted at 50% (eg. a $500 reinvestment is counted as $250 in the binary team).
Leftover volume on the stronger binary side is carried over, until it is eventually matched with volume from the weaker side.
Reinvestment Commissions
Referral commissions are paid on reinvestment by downline affiliates, tracked via a unilevel compensation structure.
A unilevel compensation structure places an affiliate at the top of a unilevel team, with every personally recruited affiliate placed directly under them (level 1):

If any level 1 affiliates recruit new affiliates, they are placed on level 2 of the original affiliate's unilevel team.
If any level 2 affiliates recruit new affiliates, they are placed on level 3 and so on and so forth down a theoretical infinite number of levels.
Two Bitcoin cap payable unilevel levels at ten, with commissions paid out based on how much invested.
a $150 Start package reinvestment generates a $1 commission
a $250 Premium package reinvestment generates a $2 commission
a $500 Master package reinvestment generates a $4 commission
a $1000 Executive package reinvestment generates an $8 commission
Joining Two Bitcoin
Two Bitcoin affiliate membership is $25 plus investment in one of the following four packages:
Start – $150
Premium – $250
Master – $500
Executive – $1000
Conclusion
Two Bitcoin claim their 200% ROI payouts are generated via forex and cryptocurrency trading.
This makes no sense. If Two Bitcoin and Jose Carlos Martins were able to consistently generate a daily 5% ROI, it would be far more profitable to keep the ROI for themselves.
Not withstanding that once the pyramid (recruitment) components of Two Bitcoin's compensation plan are taken into consideration, there's not much left to trade with. Let alone enough to generate a consistent 5% daily ROI.
All that's actually happening is Two Bitcoin are using newly invested funds to pay off existing investors.
This can be confirmed by asking a Two Bitcoin affiliate for evidence of forex or cryptocurrency trading taking place, as well as accounting tying trading revenue to daily ROI payouts.
Anything less than the asked for evidence is confirmation Two Bitcoin are running a Ponzi scheme.
This fraudulent business model sees Two Bitcoin Affiliates are provided monopoly money in their backoffice.
New investors are encouraged to reinvest their backoffice money until they've grown their backoffice balance.
While that's going on early Two Bitcoin investors are able to withdraw funds until what's invested runs out.
This will correspond with a decline in Two Bitcoin affiliate recruitment, prompting a collapse and widespread losses.