Trust Your Universe Review: Dubai forex securities fraud

Trust Your Universe operates in the trading MLM niche.
Trust Your Universe operates as Universe Trading LLC, a shell company incorporated in St. Vincent and the Grenadines.
St. Vincent and the Grenadines is not a jurisdiction active in MLM regulation, meaning consumers have no recourse against scammers.
Any MLM company incorporated in St. Vincent and Grenadines raises a red-flag.
Trust Your Universe's website domain ("tyu-trade.com"), was privately registered on August 14th, 2022.
It should be noted that Trust Your Universe initially launched on the German domain ("trust-your-universe.de"), on or around early June 2022.
Curiously, on its website Trust Your Universe provides a corporate address in New York. This appears to be a virtual address (read on to learn why).
Heading up Trust Your Universe is founder and CEO Dada Pey.

On a recent Trust Your Universe webinar, Pey introduces himself as being "from Stuttgart in Germany".
Dada Pey appears to have gotten started in MLM with the since collapsed pyramid scheme WorldVentures:
After that he began promoting iMarketsLive, through his downline group "Global Achievers".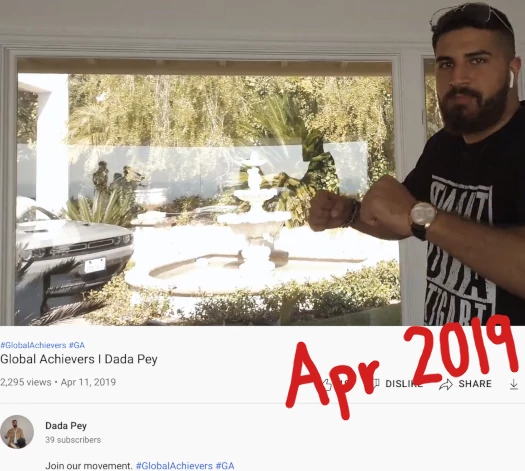 In an attempt to distance itself from a CFTC commodities fraud fine issued in 2018, iMarketsLive rebooted as IM Mastery Academy in September 2019.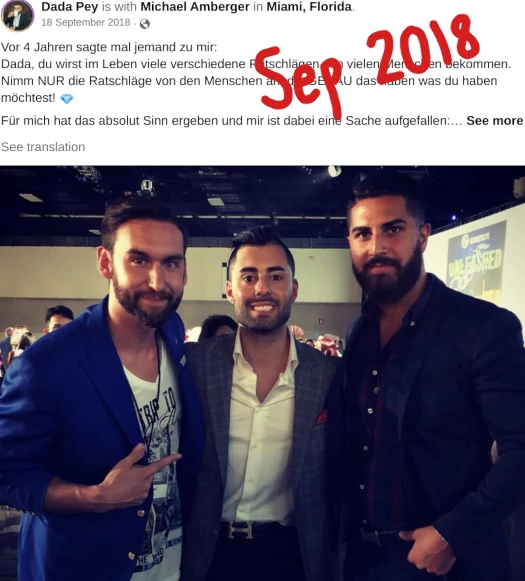 Pey appears to have left iMarketsLive by late 2019 (he was promoting IM Mastery Academy in December 2019).
In an Instagram post dated January 7th, 2020, Pey stated;
Just 24 hours after ours Launch we are with GA in the TOP 15 of the new company we work with, in the entire German-speaking area.
"GA" refers to Global Achievers but Pey doesn't name the MLM company. It appears to be an AI trading opportunity.
Whichever company it was, it seems to have fallen apart sometime in 2021. That brings us to Trust Your Universe in 2022.
I believe what's left of Global Achievers makes up most of Trust Your Universe's launch affiliate-base.
On Pey's Instagram account we learn he has ties to Dubai: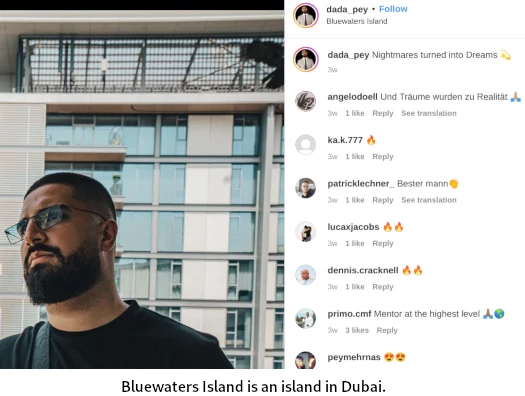 Putting all of this together, we can confirm Trust Your Universe has no physical ties to either St. Vincent and the Grenadines or the US.
Trust Your Universe is run by Dada Pey from Dubai, the MLM crime capital of the world.
BehindMLM's guidelines for Dubai are:
If someone lives in Dubai and approaches you about an MLM opportunity, they're trying to scam you.
If an MLM company is based out of or represents it has ties to Dubai, it's a scam.
If you want to know specifically how this applies to Trust Your Universe, read on for a full review.
Trust Your Universe's Products
Trust Your Universe markets access to a forex trading platform.
As stated in the footer of Trust Your Universe's website:
We are contracting with Leverate, which is providing all services relating to trading / MT5 access / Liquidity provider access / to carry out trading services that we offer.

Leverate Financial Services Ltd is regulated by the Cyprus Securities and Exchange Commission.

Uptrader is the software provider for our trading operating system.
Cyprus is another scam-friendly jurisdiction. Registration of a shell company with the Cyprus SEC means little with respect to due-diligence. Even less so when SimilarWeb tracks 100% of Trust Your Universe's website traffic from Indonesia (August 2022).
Trust Your Universe pitch a 10% passive monthly ROI through Leverate and Uptrader.
A visit to both Leverate's and Uptrader's website reveals faceless companies offering white label trading services.
It seems Dada Pey has just outsourced the trading side of Trust Your Universe to third-parties.
Access to Trust Your Universe's trading platform appears to be free.
Trust Your Universe
Trust Your Universe affiliates sign up and invest funds on the promise of a "5-10%" a month ROI.

Trust Your Universe takes 40% of returns paid to affiliate investors as a fee.
An undisclosed percentage of these funds are purportedly used to fund Trust Your Universe's MLM compensation plan.
Trust Your Universe pays residual commissions via a unilevel compensation structure.
A unilevel compensation structure places an affiliate at the top of a unilevel team, with every personally recruited affiliate placed directly under them (level 1):

If any level 1 affiliates recruit new affiliates, they are placed on level 2 of the original affiliate's unilevel team.
If any level 2 affiliates recruit new affiliates, they are placed on level 3 and so on and so forth down a theoretical infinite number of levels.
Trust Your Universe caps payable unilevel team levels at eight.
Residual commissions are paid as a percentage of passive returns paid to downline affiliates across these eight levels as follows:
level 1 (personally recruited affiliates) – 11.25%
level 2 – 7.5%
level 3 – 6.25%
level 4 – 5%
levels 5 and 6 – 3.75%
levels 7 and 8 – 2.5%
Joining Trust Your Universe
Trust Your Universe affiliate membership appears to be free.
Trust Your Universe Conclusion
Having learnt the ropes of securities fraud in iMarketsLive and whatever automated trading scheme he joined after it, Dada Pey has realized the real money is in running scams.
And so we have Trust Your Universe, a typical Dubai-based fraudulent investment scheme.
TYU is an international company that has perfected trading in diverse markets based on AI-powered, semi-automated trading.
Trust Your Universe affiliates sign up by clicking a button: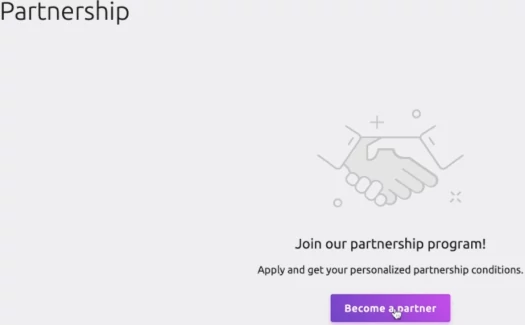 Trust Your Universe's marketing video suggests approval is automated and instantaneous. In other words, Trust Your Universe's efforts to differentiate retail customers from affiliates is pseudo-compliance.
Trust Your Universe solicits investment in USD through bank wire and cryptocurrency through Coinbase.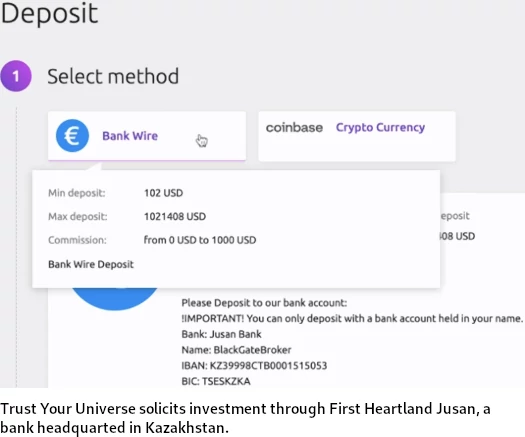 Investment is made into Trust Your Universe on the promise of an advertised passive return: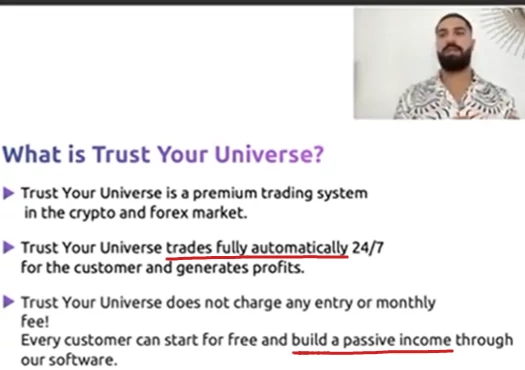 This constitutes a securities offering, requiring Trust Your Universe to be registered with financial regulators.
Trust Your Universe provides no evidence it has registered with any financial regulators, meaning that, at a minimum, the company is committing securities fraud.
Seeing as Trust Your Universe outsources its purported trading activity, this implicates Leverate, Uptrader, Jusan Bank and any other partners in their fraud.
Trust Your Universe acknowledges their securities fraud by purposely excluding only residents of the US.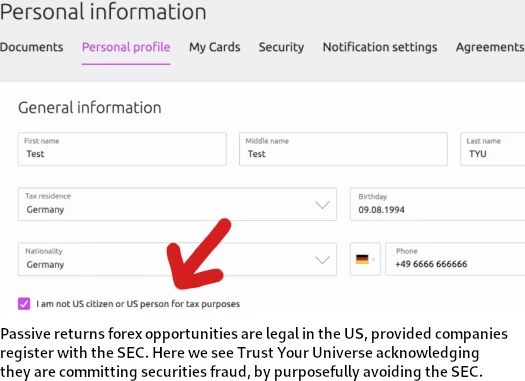 The US is the most active regulator of securities on the planet. Any MLM company excluding the US from otherwise legal activity is likely committing fraud.
In the case of Trust Your Universe and its partners, this would be a combination of securities fraud, commodities fraud, wire fraud and money laundering.
Trust Your Universe prohibiting US residents from signing up also makes their bogus New York corporate address even more apparent. I suspect it and Trust Your Universe's other shell companies exist only to secure financial and partner merchant services through.
In an attempt to appear legitimate to consumers, Trust Your Universe offers up the usual MyFXBook nonsense: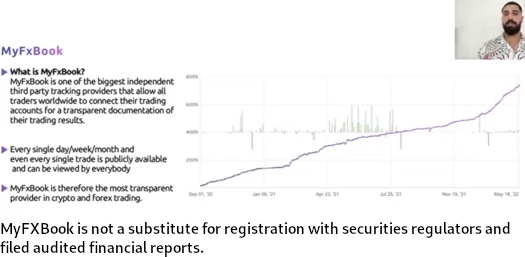 MyFXBook trades are easily faked. More importantly, social media marketing is not a substitute for registration with financial regulators and filing of audited financial reports.
MyFXBook or any equivalent is not evidence of external revenue being used to pay withdrawal requests.
Best case scenario? Trust Your Universe is only committing securities fraud, the bot will eventually blow up and the majority of investors lose money.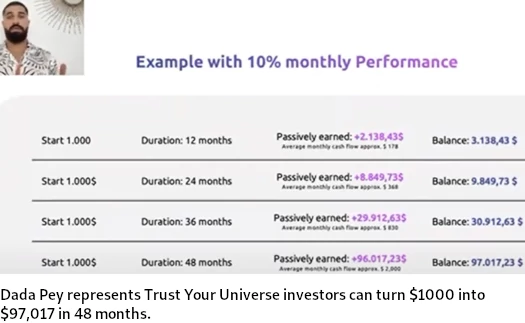 At worst Trust Your Universe is operating as a Ponzi scheme, with any trading going in the background being immaterial to withdrawals.
And when recruitment inevitably dies off and Trust Your Universe collapses, once again the majority of investors lose money.
Update 24th April 2023 – Trust Your Universe has rebranded as Universe Academy.