Truevine Net Connect Review: 3×3 matrix cash gifting

Truevine Net Connect provide no information on their website about who owns or runs the business.
The Truevine Net Connect website domain was registered on April 5th, 2017. Adebayo Samuel from McElyon Nigeria Limited, with an address in Kaduna, Nigeria also provided.
As far as I can tell, McElyon appears to be a Nigerian wood export company that has nothing to do with MLM.
Possibly due to language barriers, I was unable to put together an MLM history on Samuel.
As always, if an MLM company is not openly upfront about who is running or owns it, think long and hard about joining and/or handing over any money.
Truevine Net Connect Products
Truevine Net Connect has no retailable products or services, with affiliates only able to market Truevine Net Connect affiliate membership itself.
Participation in the Truevine Connect MLM opportunity provides access to "business training and financial management seminars".
The Truevine Net Connect Compensation Plan
Truevine Net Connect affiliates gift Nigerian Naira (NGN) to each other via a 3×3 matrix.
A 3×3 matrix places a Truevine Net Connect affiliate at the top of a matrix, with three positions directly under them: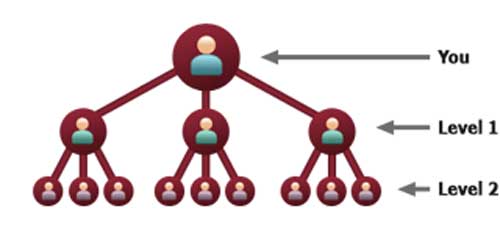 These three positions form the first level of the matrix. The second level of the matrix is generated by splitting these three positions into another three positions each (9 positions).
The third level of the matrix is generated in the same manner and houses twenty-seven positions.
A Truevine Net Connect affiliate signs up and gifts ₦5000 ($15.88 USD) to the affiliate who recruited them.
This places them at the top of a new 3×3 matrix, through which they receive ₦5000 from three affiliates recruited into the first level of their matrix.
The second level of the matrix is "unlocked" by making another ₦15,000 ($47.66 USD) gifting payment. This level has nine positions and so nine ₦15,000 payments are received from other Truevine Net Connect affiliates.
The third level costs ₦50,000 ($158.86 USD) to unlock and potentially results in twenty-six ₦50,000 payments received.
₦5000 of the twenty-seventh payment appears to be used to fund a new 3×3 matrix position and the rest kept by Truevine Net Connect.
Joining Truevine Net Connect
Truevine Net Connect affiliate membership is tied to a ₦5000 gifting payment.
Full participation in the Truevine Net Connect income opportunity costs ₦70,000 ($222.40 USD).
Conclusion
Cash gifting was big business in Nigeria's MLM underbelly, although it's probably slowed down somewhat post MMM Nigeria collapsing.
There's still a ton of scammers looking to capitalize on the fraudulent business model though, with Adebayo Samuel appearing to be one such candidate.
Truevine Net Connect sees affiliates gift Naira to each other to qualify to receive gifting payments from subsequently recruited affiliates.
There's no legitimate business taking place, with all payments within the system pushed along by newly recruited affiliates paying existing Truevine Net Connect affiliates.
With Samuel likely having felt the sting of MMM Nigeria's collapse (or one of the many clones set up in its wake), the Truvine Net Connect advises it 'will not be held responsible for your failure'.
All cash gifting scams collapse when affiliate recruitment slows down. Admins and a few early adopters make off with most of the gifted funds, everybody else loses out.