Trio Trader Review: Automated signals cryptocurrency trading returns

Trio Trader began as Qube Trade in late August. The initial launch flopped and was rebooted as Trio Trader sometime in November.
As far as I can tell there's no difference between Qube Trade and Trio Trader other than the company name.
Trio Trader provides no information on their website about who owns or runs the business.
The Trio Trader website domain ("triotrader.com") was registered on October 29th, 2018.
Amir Dauti of Dauti Tech is listed as the owner, through an address in Ontario, Canada.
This corresponds with the Trio Trader user agreement, which states;
Trio Trader is provided by Trio Software Inc. of Canada, Ontario, and its suppliers.
In addition to Trio Trader, Amir Dauti runs TrioSoft. On their website TrioSoft advertises "eTrader System", which is marketed as a "cryptocurrency auto trader".
Joseph McDermott (CVO), Scott Phoundpadith (CEO) and Amir Dauti (CTO) are listed as co-founders on the TrioSoft website.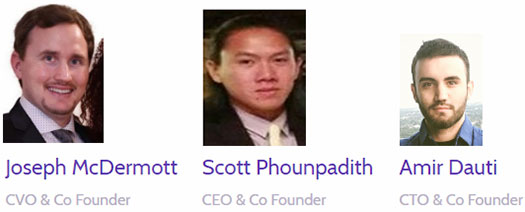 Presumably all three are behind Qube Trade and Trio Trader too.
Whereas Amir Dauti appears to be in a technical role, McDermott and Phounpadith have verifiable MLM backgrounds.
Joseph McDermott supposedly began his MLM career back in 2000, after dropping out of highschool.
MLM companies McDermott has promoted include iLearning Global (ILG), Visalus, Jeunesse (2014-) and Asirvia (2017).
In late 2017 McDermott appeared on stage at an iPro Network event.
iPro Network is/was a typical MLM pump and dump altcoin scheme. Alexa traffic estimates for the iPro Network website suggest it collapsed mid 2018.
Like many in the MLM industry, McDermott has rebranded himself as a cryptocurrency expert of late.
Scott Phounpadith appeared on BehindMLM earlier this year as the owner of World Cryptocurrency 101.
Interest in World Cryptocurrency 101 appears to have declined shortly after launch.
Noteably the Trio Trader website looks and feels like that of World Cryptocurrency 101.
In the source-code of the World Cryptocurrency 101 website, Trio Software is credited as the author: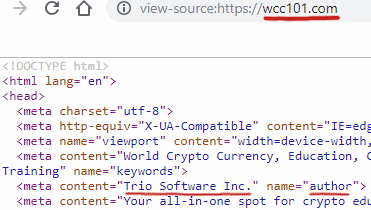 This suggests Trio Trader is using recycled World Cryptocurrency 101 assets.
Read on for a full review of the Trio Trader MLM opportunity.
Trio Trader Products
Trio Trader has no retailable products or services, with affiliates only able to market Trio Trader affiliate membership itself.
The Trio Trader Compensation Plan
Trio Trader affiliates invest bitcoin on the promise of a passive ROI.
The Trio Trader website does not specify minimum and/or maximum trading amounts.
Note that all commissions and returns in the Trio Trader compensation plan are paid out in bitcoin.
Recruitment Commissions
Trio Trader affiliates must pay a $100 monthly fee to access the automated ROI scheme.
This fee is used to pay commissions on recruitment of new Trio Trader affiliates:
recruit a one month subscription affiliate and receive a $10 commission
recruit a six month subscription affiliate and receive a $100 commission
recruit a twelve month subscription affiliate and receive a $150 commission
Note that there appears to be some bitcoin rounding used, as Trio Trader advise that the above $USD amounts are "approximate".
Residual Commissions
Trio Trader pays residual commissions via a binary compensation structure.
A binary compensation structure places an affiliate at the top of a binary team, split into two sides (left and right):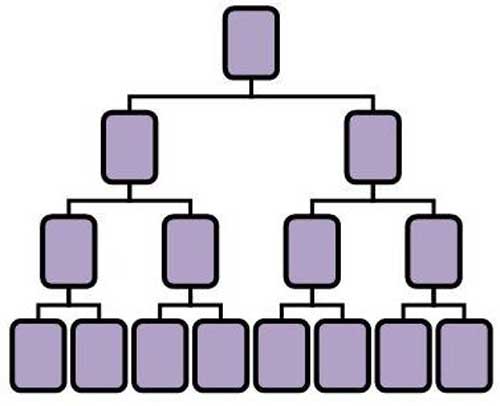 The first level of the binary team houses two positions. The second level of the binary team is generated by splitting these first two positions into another two positions each (4 positions).
Subsequent levels of the binary team are generated as required, with each new level housing twice as many positions as the previous level.
Positions in the binary team are filled via direct and indirect recruitment of affiliates. Note there is no limit to how deep a binary team can grow.
Each Trio Trader affiliate membership option corresponds with a set number of points
At the end of each day Trio Trader tallies up new membership sales on both sides of the binary team.
Each Trio Trader membership corresponds with a set number of generated points:
monthly subscription = 1 point
six month subscription = 6 points
annual subscription = 10 points
The Trio Trader compensation plan represents that for each point matched on both sides of the binary team, a ~$15 commission in bitcoin is paid out.
Note that daily residual commissions are capped at $3000.
A Trio Trader affiliate can increase their daily residual commission rate to $4500 by recruiting and maintaining at least ten active affiliates (5 on both sides of the binary team) = $4500 a day.
An active affiliate is an affiliate who is up to date with their membership fees and has recruited and/or paid membership fees within the last 180 days.
Matching Bonus
Trio Trader offers affiliates a Matching Bonus on downline affiliate residual commission earnings.

recruit and maintain at least two active affiliates (one on both sides of the binary team) and receive a 20% match on level 1 (personally recruited affiliates)
recruit and maintain at least four active affiliates (two on both sides of the binary team) and receive a 20% match on levels 1 and 2
recruit and maintain at least six active affiliates (three on both sides of the binary team) and receive a 20% match on levels 1 and 2 and a 10% match on level 3
Joining Trio Trader
Participation in the complete Trio Trader income opportunity requires payment of an ongoing affiliate subscription:
1 month subscription = $100
6 month subscription = $600
12 month subscription = $1000
Note that all payments within Trio Trader are made in bitcoin.
Conclusion
According to the TrioSoft website, the company markets a
crypto currency auto trader that can handle hundreads [sic] of thousands of customers orders in one go and make a consistent profit and passive income.
This is quite obviously a securities offering, which requires TrioSoft and Trio Trader to register with securities regulators in every jurisdiction they operate in.
At the time of publication there is no indication on either the TrioSoft or Trio Trader websites that the companies are registered to offer securities in Canada.
Trio Trader co-founder Joseph McDermott is based out of Arizona in the US. His offering of any security requires him to be registered with the SEC.
A search of the SEC's Edgar database reveals neither McDermott, TrioSoft or Trio Trader are registered with the SEC.
This means that TrioSoft and Trio Trader are operating illegally in the US and Canada.
And if the company hasn't bothered to register itself in the two countries its founders are from, you can bet they haven't registered anywhere else either.
Unregistered securities aside, there's also a good bet Trio Trader is recycling invested funds to pay off existing investors.
Some trading may be taking place (Trio Trader fails to provide legally required disclosures to investors and the public), with the shortfall made up via recycling of invested funds.
This will last as long as new investors continue to sign up and invest.
Commissions paid out via Trio Trader's compensation plan meanwhile are all tied to recruitment – adding an additional pyramid layer to the scheme.
Both components of Trio Trader rely on constant recruitment, failing which the company collapses.
This appears to have already happened with World Cryptocurrency 101 and Qube Trader. Trio Trader won't end any differently.
The math behind Ponzi and pyramid schemes guarantees that when they collapse, the majority of participants lose money.