Traffic N Bitcoin Review: Four tier bitcoin-based cash gifting

There is no information on the Traffic N Bitcoin website indicating who owns or runs the business.
The Traffic N Bitcoin website domain ("trafficnbitcoin.com") was registered on the 6th of October 2016, however the domain registration is set to private.
If you visit the Traffic N Bitcoin website without a referer ID, the website informs you that you have been "invited by TrafficN Bitcoin".
If you click the "register" button at the top of the page, "UNNIKRISHNAN G R" comes up as the referring affiliate.
This is not a randomly assigned affiliate, as the referer ID remains constant even when Chrome's incognito mode (or other browser equivalent).
Seeing as "TrafficN Bitcoin" is obviously an admin account, it follows that "Unnikrishnan G R" is running the company.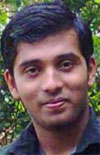 Unnikrishnan (right) however doesn't appear to be working alone.
A post on Unnikrishnan's Facebook profile dated October 12th, quoting Rozario Claudio, reads;
Hey Friends I am excited to inform you that I am going to own a matrix website of my own.

I am a partner with network marketing leaders like JO Sues, Raphel Rock, Abi Jith, Lavanya Sharath, Alena David, Bibin Aliasareeckal, Unnikrishnan GR, Akhil Kumar, Arun Kumar & Simon Hykins.

To get into the matrix at early stage during the launch itself; Comment on this post. I will add you to our secret fb group during prelaunch itself. Website launching will be probably on Wednesday or Thursday. Thanks.
Claudio's quoted post is dated October 9th. Traffic N Bitcoin launched on October 12th, the Wednesday quoted in Claudio's post.
As far as I can tell, all of the named Traffic N Bitcoin admins above are serial participants in MLM underbelly schemes.
Prior to launching Traffic N Bitcoin Unnikrishnan was promoting Matrix War, an eight-tier cash gifting scheme.
Read on for a full review of the Traffic N Bitcoin MLM opportunity.
The Traffic N Bitcoin Product Line
Traffic N Bitcoin has no retailable products or services, with affiliates only able to market Traffic N Bitcoin affiliate membership itself.
Once signed up affiliates make gifting payments to existing Traffic N Bitcoin affiliates.
Bundled with these gifting payments are advertising credits, which can be used to display advertising on the Traffic N Bitcoin website.
The Traffic N Bitcoin Compensation Plan
The Traffic N Bitcoin compensation plan sees affiliates participate in a four-tier cash gifting scheme.
Payments within Traffic N Bitcoin are tracked via a 3×4 matrix.
A 3×4 matrix places an affiliate at the top of a matrix, with three positions directly under them: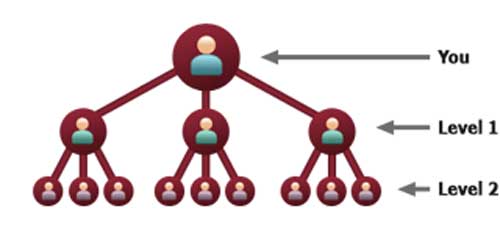 These three positions form the first level of the matrix. The second level of the matrix is generated by splitting each of the three positions into another three positions each (9 positions).
The third and fourth levels of the matrix are generated in the same manner (27 and 81 positions respectively), with a complete 3×4 matrix housing 120 positions.
A Traffic N Bitcoin affiliate enters the matrix by gifting 0.2 BTC to the affiliate who recruited them.
This unlocks payments on the first level of the matrix as follows:
level 1 – gift 0.2 BTC to the affiliate who recruited you and receive 0.2 BTC from three subsequently recruited affiliates
level 2 – gift 0.4 BTC and receive 0.4 BTC from nine affiliates
level 3 – gift 0.8 BTC and receive 0.8 BTC from twenty-seven affiliates
level 4 – gift 1.6 BTC and receive 1.6 BTC from eighty-one affiliates
Joining Traffic N Bitcoin
Traffic N Bitcoin affiliate membership is tied to a 0.2 BTC gifting payment.
Full participation in the Traffic N Bitcoin compensation plan costs 3 BTC.
Conclusion
The admins of Traffic N Bitcoin appear to be serial scammers who focus on bitcoin-based cash gifting schemes.
Traffic N Bitcoin has affiliates gift funds to existing affiliates, which in turn qualifies them to receive gifting payments from subsequently recruited affiliates.
Nothing is marketed or sold to retail customers, with all commissions within the scheme 100% sourced and gifted between Traffic N Bitcoin affiliates.
As with all cash gifting schemes, once recruitment of new affiliates dies down so too will gifting payments within Traffic N Bitcoin.
At tipping point Traffic N Bitcoin will collapse, leaving the majority of affiliates out of pocket.
Just as a sidenote, joining a preloaded cash gifting scheme with one admin is bad enough. Imagine how many preloaded positions nine admins have given themselves…
Needless to say the admins positions are the only ones that hope in hell of reaching the upper Traffic N Bitcoin gifting tiers.
Everybody else who joins Traffic N Bitcoin is just paying bitcoin directly into the admin's bank accounts.