Matrix War Review: Eight tier bitcoin-based cash gifting

There is no information on the Matrix War website specifically identifying who owns or runs the scheme.
We are a team of Online marketers from Belgium, India and US. We have been working in Online marketing for past 2-3 years. Our dream was to be able to earn money online which would give us complete freedom.
The Matrix War website domain ("matrixwar.com") was registered on the 21st of September 2016. "Matrix War" is listed as the owner with an address in Karnataka, India also provided.
The official Matrix War Facebook group lists five admins; Dawn Cassin, Baig Baig, Raphel Rock, Alberto Disoosa and Steve Caro.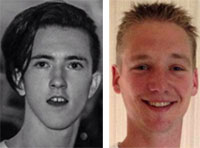 In a Facebook post dated September 28th, Albert Disoosa identifies himself and Steve Caro (on the right respectively) as owners of the company;
After a Long Time of Research for a stable monthly income, Me and my friend Steve thought of developing the website MatrixWar.
Disoosa and Caro are based out of the Netherlands and Belgium respectively.
Disoosa's MLM history is unknown. Previous MLM companies Steve Caro has promoted include Usana (2014), Team Beach Body (2014), Avon (2012) and Talk Fusion (2012).
Read on for a full review of the Matrix War MLM opportunity.

The Matrix War Product Line
Matrix War has no retailable products or services, with affiliates only able to market Matrix War affiliate membership itself.
The Matrix War Compensation Plan
The Matrix War compensation plan sees new affiliates gift bitcoin to existing affiliates via a 2×8 matrix.
A 2×8 matrix places an affiliate at the top of a matrix, with two positions directly under them: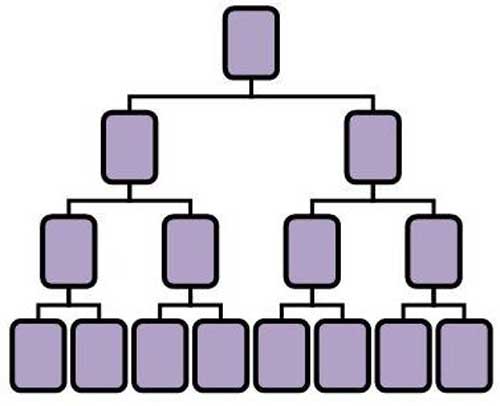 These two positions form the first level of the matrix. The second level generated by splitting each of the two positions into another two positions each.
Subsequent levels of the matrix are generated in the same manner, with a complete 2×8 matrix housing 510 positions.
Positions are filled via direct and indirect recruitment of new Matrix War affiliates.
New affiliates must pay a 0.015 BTC gifting payment to the affiliate who recruited them. This payment qualifies them to receive 0.015 BTC from affiliates placed in the first level of their matrix.
Subsequent levels of the matrix are unlocked via progressively larger gifting payments as follows:
level 1 – pay 0.015 BTC to the affiliate who recruited you and receive 0.015 BTC from two affiliates
level 2 – make a gifting payment of 0.02 BTC and receive 0.02 BTC from four affiliates
level 3 – make a gifting payment of 0.04 BTC and receive 0.04 BTC from eight affiliates
level 4 – make a gifting payment of 0.1 BTC and receive 0.01 BTC from sixteen affiliates
level 5 – make a gifting payment of 0.5 BTC and receive 0.5 BTC from thirty-two affiliates
level 6 – make a gifting payment of 1 BTC and receive 1 BTC from sixty-four affiliates
level 7 – make a gifting payment of 3 BTC and receive 3 BTC from one hundred and twenty-eight affiliates
level 8 – make a gifting payment of 6.5 BTC and receive 6.5 BTC from two hundred and fifty-six affiliates
Note that the above payments are all monthly recurring.
Joining Matrix War
Matrix War affiliate membership is tied to a 0.015 BTC gifting payment to the affiliate who recruited you.
This is the minimum monthly cost of participating in Matrix War.
Full participation across all matrix gifting levels requires ongoing payment of 11.175 BTC a month.
Conclusion
On the Matrix War website Albert Disoosa and Steve Caro claim to have
struggled from the beginning with rev shares and some binary programs because the year of 2015-2016 was full of scams and many people got burned.

Then we realized that the only way to earn some money online is to learn how to recruit and promote.
Whatever legitimate MLM opportunities Disoosa and Caro might have been involved with in the past, has since deteriorated into raking the muck from the bottom of the MLM underbelly cesspool.
After acknowledging they've been ripped off in numerous scams throughout 2015 and 2016, Disoosa and Caro have realized the only people who make money in illegal scams are typically the admins and a token few early-adopters.
Now, through Matrix Wars, Disoosa and Caro are hoping you, as someone who is neither an admin or early adopter of Matrix War, will fund their loss recovery efforts.
New Matrix War affiliates sign up and make a gifting payment to affiliate who recruited them. The rest of the matrix duplicates this process with increasing amounts of bitcoin.
As with all cash gifting schemes, once affiliate recruitment dies down Matrix War will collapse.
You lose your money and Disoosa and Caro cover their losses. That's pretty much all Matrix War is about.