Trader Agency Review: $100 a month matrix positions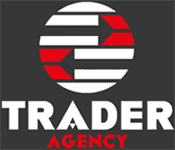 Trader Agency operate in the forex and binary options MLM niche.
The company is headed up by CEO and Founder Dillon Kreider, with a corporate address provided in the US state of Florida.
As per Kreider's Trader Agency corporate bio;
My struggling quest for financial freedom eventually led me to becoming a full-time forex and binary option trader.

Within the 1rst (sic) year I was able to become profitable and start trading full time.

A lifetime serial entrepreneur I have over 15 years experience in sales & marketing and 13 years experience in network marketing .

I've ran several small network marketing companies in the past with moderate success. It was this experience which led to the founding of Trader Agency and inspired me to combine the power of these two industries.
I did try to put together an MLM history for Kreider but there wasn't much out there.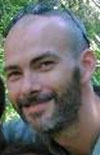 Kreider (right) launched Matrix Extreme in 2010, which saw affiliates invest $100 into a $1100 ROI two-tier matrix cycler Ponzi scheme.
Back in 2010 it appears Kreider also had a run in with the law:
2 years ago lost my business, family and all assets fought for my life and beat a 25 year sentence ..

Ok 6 months out the joint still clean , still serving god and got my own place, own vehicle, full time job, getting custody of my son in October and starting a business this month. My God loves underdogs!
Other than that, a perusal of Kreider's Facebook profile reveals he believes himself to have cancer-healing superpowers:
28th of May, 2015

So the Lord put a young lady fighting cancer in my path today, and since I delayed in my response to the Holy Spirits commands ended up chasing her down in the parking lot…

My hands started to burn as I got close to her and I knew what that meant. Meant healing was coming her way ..

So I prayed with her and the Holy Spirit took over and she wept as she received her prayers… But I could have missed that.. Her opportunity for healing, and if I would have continue to delay or not respond, she may have not received it…

When God tells you to do something, we are his Emergency Response Unit… We don't have time to waste..

Act Now if God says so… Don't be the guy like me running through the parking lot to catch up to my assignment…

Working on the emergency response unit be prepared for the "sirens" to go off and be ready to suit up and respond as the Lord directs.

That was so far the best part of my day.. Days like that , when one assignment may mean a complete life changing healing and divine experience for someone and allow them to receive what they been praying fervently for…

We are the hands of feet of Christ so be prepared to be used … Don't know about you but I use my hands and my feet alot…
Make of that what you will, and read on for a full review of the Trader Agency MLM business opportunity.
The Trader Agency Product Line
Products and services listed on the Trader Agency website include:
Forex Coaching Program ($100 a month) – "access to our live forex trade room where you will have 3-5 hours of live instruction and training"
Binary Options Coaching Program ($100 a month) – "access to our live Binary option trade room where you will have 3-5 hours of live instruction"
Traders Market ($99) – "a personalized Estore for traders allowing you to earn additional revenue"
Training Center ($29.99) – "access to training and educational videos, courses for beginners, intermediate and advanced traders, as well as a digital library" (included with Forex and Binary Options Coaching programs)
Private 1 on 1 Coaching ($200 an hour) – "you can select any of our coaches you wish to work with and within a couple clicks of a button have your own professional trader in your corner"
The Trader Agency Compensation Plan
The Trader Agency compensation plan sees affiliates purchase $100 positions in a 4×4 matrix, and then get paid to recruit others who do the same.
A 4×4 matrix places an affiliate at the top of the matrix, with four positions directly under them (level 1):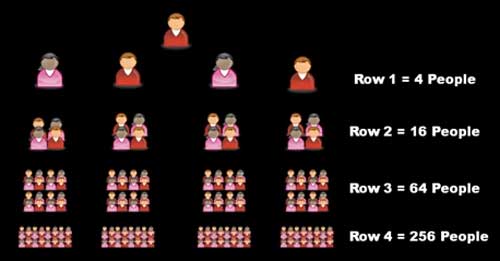 The second level of the matrix is formed by these initial four positions splitting into another four positions each (16 positions).
The third and fourth levels of the matrix are made by the previous level's positions splitting into another four, resulting in a total 340 positions to be filled.
Positions in the matrix are filled via recruitment of new Trader Agency affiliates, recruited either directly or indirectly by an affiliate's upline and downline.
Commissions are paid as positions in the matrix are filled as follows:
level 1 – $25 per position filled ($100 total)
level 2 – $5 per position filled ($80 total)
level 3 – $10 per position filled ($640 total)
level 4 – $36 per position filled ($9216 total)
The compensation documentation on the Trader Agency website states that these are monthly commissions, paid out on the coaching program services ($100 a month).
The matrix positions themselves would appear to be tied to the purchase of either coaching program.
Note that once an affiliate's 4×4 matrix is filled, they are placed at the top of a new matrix (there doesn't appear to be a charge for this).
Joining Trader Agency
Affiliate membership with Trader Agency is free, however affiliates appear to have to purchase a $100 subscription in order to participate in the MLM income opportunity.
As such the defacto cost of Trader Agency affiliate membership is then $100 a month.
Conclusion
If I didn't know any better, I'd say Trader Agency is just a continuation of the $100 Matrix Extreme cycler Dillon Kreider launched in 2010.
Although Matrix Extreme was over two-tiers and Trader Agency only one, the basic concept behind both schemes is the same.
Pay $100 for a matrix position and then recruit others who do the same.
With Trader Agency you only need 340 people in your downline to earn $10,000 a month!

And with 289 in your business center / downline you'll earn $100,000 a year!

All residual income! Money you continue to earn even if you stopped working!
Then, as long as everyone continues to pay their $100 a month, you get paid.
Retail does appear to be possible but highly unlikely, given affiliates don't appear to be paid for it. Outside of the matrix "bonuses" are mentioned, but no further information is provided.
As to the coaching offered itself, with the service having nothing to do with Trader Agency's matrix-based compensation plan, both are neither here nor there.
Ditto the replicated store-front, which appears to just be plugged into an affiliate program offering various third-party products and services to sell.
Any forex, binary options or replicated storefront earnings are independent of the MLM opportunity and matrix-based compensation plan.
Step 1: Build your core tea and break even (this is the first 4 people on your level 1).

Step 2: Help them build their core team.

Step 3: Manage your core team and teach them to follow the same process.
In a nutshell pay $100, recruit four who also pay $100, get them to recruit four, who recruit four, who recruit four etc. etc.
As with all recruitment driven schemes, once recruitment of new affiliates slows down so too will the commissions Trader Agency pays out.
This will result in those at the bottom of the company-wide matrix ceasing to pay their $100 a month fee.
When that happens those above them stop getting paid, meaning they too will also eventually stop paying the fee.
As this effect slowly trickles up the Trader Agency company-wide affiliate genealogy, eventually an irreversible collapse is triggered.
Kreider has likely placed himself at the top of the company-wide matrix, and is realistically probably the only who stands a chance of cycling into a second matrix. And even then he still needs a couple of hundred recruited affiliates to pull it off.
Everyone else is split four ways starting with level 2 of the company-wide matrix, and it only gets worse from there.