Take Fund Review: Six-tier bitcoin cash gifting

There is no information on the Take Fund website indicating who owns or runs the business.
The Take Fund website domain ("take.fund") was privately registered on the 3rd of October, 2016.
Take Fund itself appears to have only launched in early December, with the official Take Fund Facebook page going live on December 12th.
Alexa currently estimate that Poland (36.5%) and Ireland (28.8%) are the top sources of traffic to the Take Fund website.
This suggests that whoever is running Take Fund is also likely based out of one of these two countries.
As always, if an MLM company is not openly upfront about who is running or owns it, think long and hard about joining and/or handing over any money.
The Take Fund Product Line
Take Fund has no retailable products or services, with affiliates only able to market Take Fund affiliate membership itself.
The Take Fund Compensation Plan
The Take Fund compensation plan sees affiliates gift bitcoin to eachother via a 2×6 matrix.
A 2×6 matrix places an affiliate at the top of a matrix, with two positions directly under them: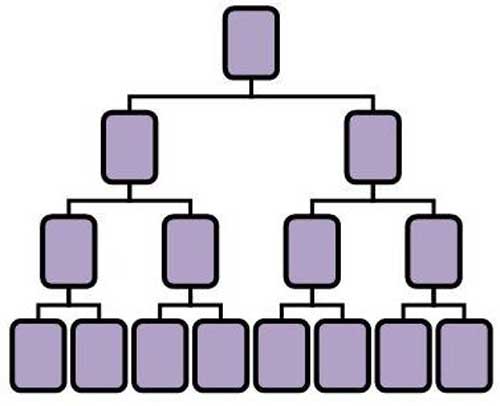 These two positions form the first level of the matrix. The second level of the matrix is generated by splitting each of the two positions into another two positions each (4 positions).
The other four Take Fund matrix levels are generated in the same manner, with each new level housing twice as many positions as the previous level.
A complete 2×6 matrix houses 126 positions.
A Take Fund affiliate begins by gifting 0.02 BTC to the affiliate who recruited them.
This payment in turn qualifies the affiliate to receive 0.02 BTC from two subsequently recruited affiliates, placed in the first level of their matrix.
Payments across the other five Take Fund matrix levels operate in the same manner, the only difference being the sums gifted increase:
level 1 – gift 0.02 BTC to the affiliate who recruited you and receive 0.02 BTC from two subsequently recruited affiliats
level 2 – gift 0.03 BTC and receive 0.03 BTC from four affiliates
level 3 – gift 0.06 BTC and receive 0.06 BTC from eight affiliates
level 4 – gift 0.24 BTC and receive 0.24 BTC from sixteen affiliates
level 5 – gift 1 BTC and receive 1 BTC from thirty-two affiliates
level 6 – gift 3 BTC and receive 3 BTC from sixty-four affiliates
Joining Take Fund
Take Fund affiliate membership is tied to a 0.02 BTC gifting payment to the affiliate who recruited you.
Conclusion
The aptly named Take Fund is an exercise in the anonymous admin taking your funds.
Affiliates paying affiliates in MLM is cash gifting, which fits the profile of Take Fund's business model.
You simply sign up, gift funds to whoever recruited you and then proceed to scam payments out of whoever joins after you.
Through preloaded positions and passups at each matrix level, the anonymous Take Fund admin receives the majority of deposited funds.
As an added bonus, the use of bitcoin in Take Fund means fund recovery will be next to impossible.