SwissGold Market Review: Gold ruse cycler Ponzi

SwissGold Market's website provides no information about who owns or runs the company.
In SwissGold Market's Terms and Conditions, the company represents it is incorporated as a shell company in Belize.
For the purpose of due-diligence and regulation, this is meaningless.
SwissGold Market's website domain ("sg.market") was first registered in June 2018.
The registration information isn't available due to EU law, however we do get a city and country of registration – the Republic Adygea, a federal subject of Russia.
This ties in with SwissGold Marketing videos narrated in Russian.
As always, if an MLM company is not openly upfront about who is running or owns it, think long and hard about joining and/or handing over any money.
SwissGold Market's Products
SwissGold Market has no retailable products or services, with affiliates only able to market SwissGold Market affiliate membership itself.
Note that while SwissGold Market does feature gold for sale on its website, this has nothing to do with the MLM opportunity.
SwissGold Market's Compensation Plan
SwissGold Market affiliates invest funds in a four-tier 2×2 matrix cycler.
A 2×2 matrix places a SwissGold Market affiliate at the top of a matrix, with two positions directly under them: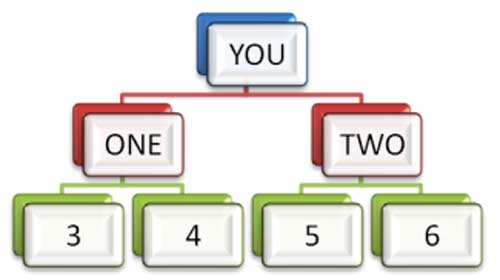 These two positions form the first level of the matrix. The second level of the matrix is generated by splitting these first two positions into another two positions each (4 positions).
Returns are generated as positions in the matrix are filled.
Matrix positions are filled via positions invested in by directly and indirectly recruited SwissGold Market affiliates.
Here are the returns paid across SwissGold Market's four cycler tiers:
Start – invest €280 EUR and receive €540 EUR (capped at €1800 per position)
Main – invest €740 EUR and receive €1890 EUR (capped at €7000 per position)
Standard – invest €2800 EUR and receive €7425 EUR (capped at €27,500 per position)
VIP Plus – invest €9850 EUR and receive €29,000 EUR (capped at €98,000 per position)
Once a matrix is filled, the position at the top of the matrix "cycles" out into a new matrix on the same tier.
This occurs over and over again until the capped total ROI amount is paid out.
Note that while the above amounts are in euro, as of May 2020 SwissGold Market is accepting bitcoin too.
I also want to add that SwissGold Market appear to have changed their investment tiers multiple times since their 2018 launch.
SwissGold Market do not disclose investment tiers on their website but I believe the above amounts are current.
Referral Commission
SwissGold Market pays a referral commission on funds invested by personally recruited affiliates:
investment in the Start cycler generates a €20 EUR referral commission
investment in the Main cycler generates a €40 EUR referral commission
investment in the Standard cycler generates a €60 EUR referral commission
investment in the VIP Plus cycler generates a €80 EUR referral commission
Joining SwissGold Market
SwissGold Market affiliate membership is tied to a €280 to €9850 EUR investment.
Start – €280 EUR
Main – €740 EUR
Standard – €2800 EUR
VIP Plus – €9850 EUR
Upon reaching maturity, reinvestment is required in order to continue earning.
Note that undisclosed admin fees apply for each investment made.
Conclusion
SwissGold Market is your classic gold ruse cycler Ponzi scheme.
The company presents itself as a gold retailer, however in reality gold has nothing to do with SwissMarket Gold's income opportunity.
SwissGold Market affiliates invest, wait until their matrix is filled via subsequent investment, and then cash out.
It's that simple.
Gold can be ignored, with affiliates given the option to cash out instead of wasting money receiving €1000s of euros in gold.
That option only exists for pseudo-compliance. It is typically used only to order minute amounts of gold, which are used in marketing videos.
Acutely aware of their fraudulent business model, SwissGold Market insists it isn't an investment opportunity.
That is of course baloney, but it does provide us with this hilarious video of some schmuck dying on stage.
Being a cycler Ponzi, SwissGold Market primarily benefits its anonymous owner(s).
This is through one or more preloaded admin accounts, through which the lion's share of invested funds are stolen through.
When recruitment tanks and SwissGold Market inevitably collapses, funds attached to stalled matrices will remain trapped in the system.
This is a superficial loss however, as that money is stolen by another SwissGold Market investor the second it's deposited.
The math behind MLM Ponzi schemes guarantees that when they collapse, the majority of participants lose money.