Start Options Review: A crypto mining & trading billion dollar company?

Start Options provide no information on their website about who owns or runs the business.
The Start Options website domain ("startoptions.com") was initially registered in December, 2005. The domain registration details were recently updated on December 18th, 2017.
A residential condo address in Manilla, Philippines is provided on the Start Options website.
An official Start Options business presentation provides a corporate address in Auckland, New Zealand.
Further research however reveals this address actually belongs to a cafe.
As far as I can tell Start Options has no physical presence in either the Philippines or New Zealand.
The Start Options support email address contains the name "William Adelbert".
No information about this individual exists in connection with Start Options, so it's assumed to be a pseudonym.
Start Options current incarnation appears to have surfaced on or around May, 2017.
As of mid 2016, Start Options was a binary options investment scheme: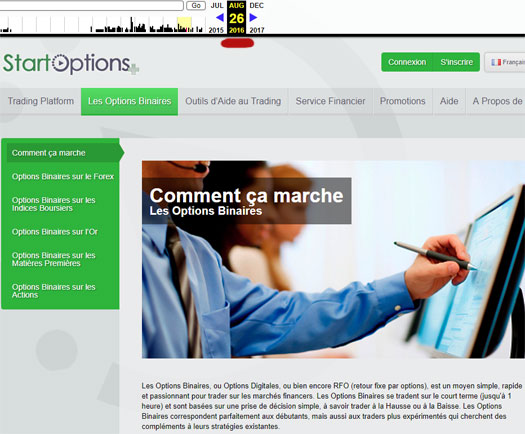 That opportunity appears to have collapsed around late October, 2016.
When the current Start Options website surfaced, the admin email was named "Marcello Flaviano". A corresponding Twitter account was created on or around June, 2017.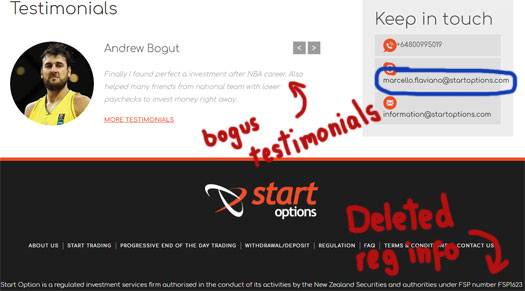 Also featured on the original website was the following message on the website footer:
Start Option is a regulated investment services firm authorised in the conduct of its activities by the New Zealand Securities and authorities under FSP number FSP1623
The quoted FSP number corresponds to the 2005 incorporation of City Forex.
Corporate records reveal City Forex is owned by Sunil Kumar Cheruvattath.
Cheruvattath personally filed City Forex's last Annual Confirmation FSP filing back in July, 2017.
Outside of a few additional New Zealand incorporations (City New Zealand Limited and Indokiwi Ventures Limited), I was unable to find anything further on Cheruvattath.
Either way, it appears Cheruvattath owns and operates Start Options.
The name sounds very Indian, however Cheruvattath could be operating from anywhere (likely Oceania or South East Asia).
As always, if an MLM company is not openly upfront about who is running or owns it, think long and hard about joining and/or handing over any money.
Start Options Products
Start Options has no retailable products or services, with affiliates only able to market Start Options affiliate membership itself.
The Start Options Compensation Plan
Start Options affiliates invest bitcoin and/or USD on the promise of an advertised 25% to 60% monthly ROI.
An "aggressive trading" option also exists, promising a ROI of "up to 200%" a month.
Rookie – invest 0.25 BTC or $1000 to $5499
Freshman – invest 1 BTC or $5500 to $9999
Sophomore – invest 2 BTC or $10,000 to $14,499
Junior – invest 3 BTC or $14,500 to $24,999
Senior – invest 5 BTC or $25,000 to $34,999
Pro – invest 7.5 BTC or at least $35,000
The more a Start Options affiliate invests the higher their daily ROI percentage.
Start Options pay referral commissions via a unilevel compensation structure.
A unilevel compensation structure places an affiliate at the top of a unilevel team, with every personally recruited affiliate placed directly under them (level 1):

If any level 1 affiliates recruit new affiliates, they are placed on level 2 of the original affiliate's unilevel team.
If any level 2 affiliates recruit new affiliates, they are placed on level 3 and so on and so forth down a theoretical infinite number of levels.
Start Options cap payable unilevel levels at four, with commissions paid out as a percentage of funds invested across these four levels:
level 1 (personally recruited affiliates) – 30%
level 2 – 20%
level 3 – 10%
level 4 – 5%
Joining Start Options
Start Options affiliate membership is free, however free affiliates can only earn referral commissions.
Full participation in the Start Options income opportunity requires a minimum 0.25 BTC or $1000 investment.
Conclusion
Start Options claims to be 'one of the world's fastest growing Progressive Bitcoin Mining & Crypto Currency Trading'.
Additionally, Start Options claims
540,000 trading accounts have been opened with us
Reliable execution: over 150 million orders filled to date
Clients from 173 countries with billions deposited to date
At the time of publication Start Options has an Alexa traffic ranking of just under one million. Considering the current incarnation launched a few months ago (mid 2017), this casts pretty solid doubt over the company's claims.
In any event, Start Options utilizes the clichéd ruse of forex trading, cryptocurrency trading and mining to explain ROI revenue.
The forex side of the business appears to be an extension of the failed binary options model. Crypto mining and trading is likely an attempt to cash in on the recent explosion of cryptocurrency fraud.
I say fraud because Start Options provide no evidence whatsoever that forex trading, cryptocurrency trading or mining is used to fund affiliate ROI payments.
In some of the affiliate marketing videos I've seen there are apparently some trading reports provided to affiliates, but nothing that comes close to a dollar for dollar audited accounting of affiliate ROI revenue.
Although since removed from the Start Options website, back in May the company billed itself as an "automated bitcoin trading program".
Start Options is obviously offering a passive investment opportunity, which requires registration with securities regulators in any jurisdiction they operate in.
As I write this Alexa cite the US as the largest source of traffic to the Start Options website (25%).
A search of the SEC's Edgar database turns up nothing for Start Option, City Forex or Sunil Kumar Cheruvattath.
This means Start Options is illegally offering unregistered securities to US residents.
Rather than address the unregistered offering of securities, Start Options attempts to reframe regulatory non-compliance as a cryptocurrency issue.
Due to Bitcoin and Crypto Currencies being a decentralized and deregulated currency we are not required to be regulated, but we are insured by insurance company and we insure each account with us for up to 100% of the initial investment.
Regardless of how a securities offering is set up, it needs to be registered with the appropriate authorities. This obviously includes passive bitcoin and cryptocurrency offerings.
At the end of the day the only verifiable source of revenue entering Start Options is new affiliate investment.
Using newly invested funds to pay off existing investors makes Start Options a Ponzi scheme. Recruitment commissions also add an additional pyramid layer to scheme.
As with all Ponzi schemes, once new affiliate recruitment dries up so too will new funds entering the scheme.
This will starve Start Options of ROI revenue, eventually prompting a collapse.
Considering the use of bitcoin and lengths Sunil Kumar Cheruvattath has gone to ensure his name doesn't directly appear in connection to Start Options, victim fund recovery is extremely unlikely.
Update 21st March 2018 – Promotion of the Bitcoiin pump and dump altcoin has revealed Start Options likely has ties to Chinese scammers.
Update 6th February 2021 – Start Options was part of Kristijan Krstic's $70 million dollar+ Ponzi empire.
Krstic was arrested in Serbia on behalf of US authorities in mid 2020.