Shaboxx Review: Cable deregulation = legal piracy?
There is no information on the Shaboxx website indicating who owns or runs the business.
The Shaboxx website domain ("shaboxx.info") was registered on the 15th of August 2015, however the domain registration is set to private.
As always, if an MLM company is not openly upfront about who is running or owns it, think long and hard about joining and/or handing over any money.
The Shaboxx Product Line
Shaboxx has no retailable products or services, with affiliates only able to market Shaboxx affiliate membership itself.
Bundled with Shaboxx affiliate membership is a Shaboxx streaming box.
Shaboxx claim their streaming box enables users to 'watch your favorite movies, TV shows, live sporting events, etc.'
The Shaboxx Compensation Plan
The Shaboxx compensation plan sees affiliates purchase $60 positions in four straight-line queues.
Commissions are paid as positions in the queue are filled, with positions filled via purchases made by subsequently recruited affiliates.
Queue 1 – requires 16 positions purchased to pay position at the top of the queue $50
Queue 2 – requires 261 positions purchased to pay position at the top of the queue $50
Queue 3 – requires 533 positions purchased to pay position at the top of the queue $300
Upon cycling out of queue 3, an affiliate is also given two new positions in queue 1.
Joining Shaboxx
Affiliate membership with Shaboxx is tied to the purchase of a $60 position in the company's compensation plan.
Conclusion
We see a lot of dubious marketing claims in MLM, but what stood out to me in particular with Shaboxx was the following claim from their affiliates: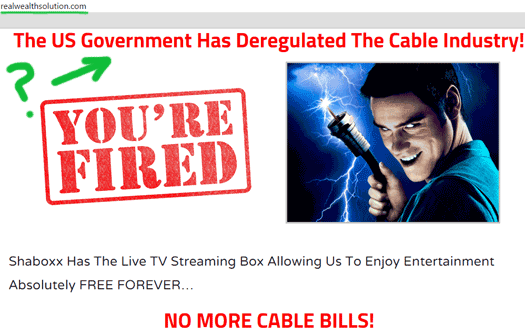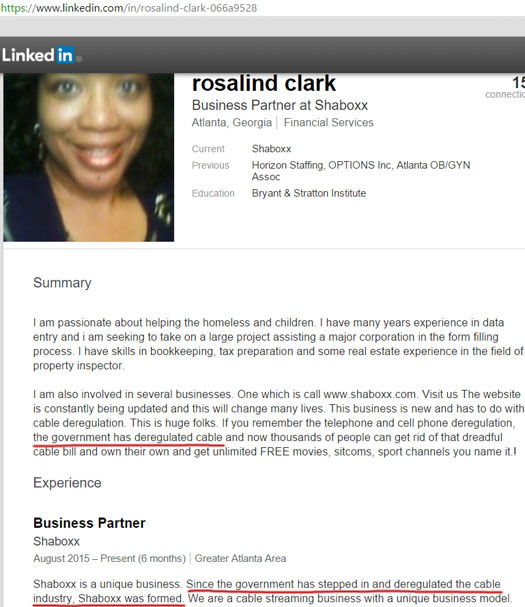 Additionally, an email from Shaboxx affiliates currently doing the rounds reads:
The U.S. Government Has Deregulated The Cable Industry!!!!!!

Ask me how you can watch …HBO, Showtime, Starz, and Pay­per view movies FREE! Legally!

Watch movies STILL IN THEATRES at home on your own BIG SCREEN TV…FREE!

in somes cases before it hits the theatre!!!!

…..Legally…..Yes….Legally!!!!!!!!!!!!!

All your favorite shows like Empire, Scandal, Power, Game of Thrones, Y&R live or on demand.

Watch TV shows from 1939 to present on demand…FREE…FREE…FREE

Watch live TV channels ABC, NBC, CBS, FOX, Foxsports, and international channels all over the world. Browse the internet or watch Youtube…Listen to music

Watch All Sports FREE!!!….PAY per view Boxing, UFC, Wrestling NFL Ticket, Pass, Redzone, ect. NBA, NHL, MBL, Soccer, Golf….whatever!!!!

Over 3200 apps…Play Thousands of Games like Angry Birds and Candy Crush on your Big Screen TV FREE…FREE…FREE!
On the possibility I'd missed the US government legalizing commercial piracy, I ran a few searches to get to the bottom of the deregulation claims.
Turns out there was some talk of deregulating cable zones to promote fiber-optic competition, but that's about it.
Any claims that the US government deregulated the cable industry to support piracy streaming services are complete hogwash.
Shaboxx's compensation plan is as dubious as their piracy box, which sees affiliates pay a fee and then get paid on chain-recruitment.
Retail sales are not mentioned anywhere in the Shaboxx compensation plan material, which means 100% of the commissions paid out are sourced from Shaboxx affiliates.
This is a closed-loop system and indicative of a pyramid scheme.
Shaboxx themselves refer to affiliate fees as an investment:
When you reach top of the success latter 533 steps you will receive $300. so your investment of only $60 has turned into $400 WOW!
Which additionally raises questions of a $60 in, $300 unregistered securities offering being made.
As for Shaboxx's piracy box, similar boxes created a bit of a stir in the industry early to mid last year. The various MLM piracy box opportunities have since mostly died off, upon realization that selling commercial piracy is a pretty limited market.
Let alone a business opportunity centered around dubious claims that selling access to pirated content is somehow legal.
Love or hate the current distribution models for licensed content, the bottom line is that companies like Shaboxx market access to pirated content.
This, combined with chain-recruitment "investment" style compensation plans, is about as far from legitimate MLM as you can get.