Powur Review 2.0: Solar installations simplified with mentoring

I was recently contacted by a member of Powur's executive team
Since the inception of Powur, our business model has evolved quite a bit, and especially since you wrote that blog post.

At the present moment, the information in that article is significantly outdated.

We kindly request that you remove that review post, due to the inaccurate statements it provides.
The communication refers to BehindMLM's original Powur review, published October 2015.
In line with BehindMLM's policy of updating rather than removing, today we're revisiting Powur for an updated review.
The Company
Powur's stated company mission is to "become the largest clean energy platform on planet earth."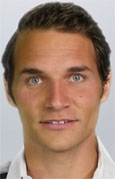 The company is still headed up by founder and CEO, Jonathan Budd (right).
When our founder, Jonathan Budd was 26 years old, he went to the Amazon rainforest, because he wanted to change his life and find a career that had meaning and purpose, to really do something different.

After his eye-opening rainforest experience, Jonathan came back and decided to dedicate his life to solar energy and sustainable energy.
Budd's MLM history was covered in our original Powur review.
Powur's Products
Back in 2015 Powur was offering solar panel installations through SolarCity.
SolarCity was bought by Tesla in 2016 for $2.6 billion. At the time the company was $1.5 billion dollars in debt.
Tesla rebranded SolarCity to Tesla Energy. The new name saw the company shift focus to "projects with higher margins".
Tesla Energy no longer offers a lease program like SolarCity.
I couldn't find any information on Powur's website about who now provides their solar installations and equipment.
I found this odd, seeing as previously SolarCity was front and center in Powur's marketing.
Seeing as I'd been invited to reach out with any questions, I put the question of who they were working with to Powur.
We do not work with Tesla.

We work with certified, subcontract installers in the markets we serve, similar to other large national solar companies like Sunrun.

We review, manage, and monitor our subcontractors closely as we are the prime contractor.

We are a national solar company, with thousands of active projects and completing installation of 20+ residential systems every working day.
Pricing for a Powur solar installation is quoted on a per application basis.
Powur's Compensation Plan
Powur's compensation plan combines an interesting Mentor Program with residual unilevel team commissions.
Stock options are also available through performance-based Equity Bonuses.
Mentor Program
New Powur affiliates share commissions on their first three installs with a "mentor".
To qualify as a mentor, a Powur affiliate must
have sold five solar installations;
have been active for 90 days;
be selling at least one solar installation project per month.
New Powur affiliates are assigned to mentors. How they are assigned is not disclosed.
Each new Powur affiliate shares 50% of their first three solar installation commissions with their assigned mentor.
Note that if a recruited Powur affiliate already has "over 1 year of sales experience in a previous company", they only have to share one solar installation commission.
Solar Installation Net Revenue Commissions
Powur affiliates earn 70% of the net revenue generated on the cost of goods for each solar installation they sell.
Note that Powur collects a minimum $1500 net revenue commission on each installation.
To receive the minimum 70% commission, a Powur affiliate must thus sell an installation that generates at least $5000 in cost of goods net revenue.
If net revenue on an installation is less than $5000, Powur keeps $1500 and the affiliate gets what's left.
Residual Commissions
Powur calculates residual commissions as a percentage of the 30% cost of goods installation commission they collect.
Powur pays residual commissions via a unilevel compensation structure.
A unilevel compensation structure places an affiliate at the top of a unilevel team, with every personally recruited affiliate placed directly under them (level 1):

If any level 1 affiliates recruit new affiliates, they are placed on level 2 of the original affiliate's unilevel team.
If any level 2 affiliates recruit new affiliates, they are placed on level 3 and so on and so forth down a theoretical infinite number of levels.
Powur caps unilevel team levels at six.
Residual commissions are paid out as a percentage of Powur's 30% net revenue commission across these six levels based on recruitment:
recruit and maintain one affiliate = 20% on level 1 (personally recruited affiliates)
recruit and maintain five affiliates = 20% on level 1 and 10% on level 2
recruit and maintain ten affiliates = 20% on level 1, 10% on level 2 and 5% on level 3
recruit and maintain twenty affiliates = 20% on level 1, 10% on level 2 and 5% on levels 3 and 4
recruit and maintain thirty affiliates = 20% on level 1, 10% on level 2 and 5% on levels 3 to 5
recruit and maintain forty affiliates = 20% on level 1, 10% on level 2 and 5% on levels 3 to 6
Again the above percentages are a percentage of Powur's collected 30% net revenue commission.
E.g. you recruit an affiliate who generates a sale. Powur collects their 30% and, if qualified, you earn 20% of that collected 30% (the sale was generated on your level 1).
Note to count towards residual commission qualification, recruited affiliates must
maintain one installation sale every 6 months; or
sell three installations as a Powur mentor every six months (see "Mentor Program" above for details).
Equity Bonuses
Powur bluntly states its affiliates "can become shareholders".
To that end Powur offers the following stock options:
25 options rewarded for an affiliates first install
13 options rewarded each time a personally recruited affiliate sells an install
There are also "yearly performance goal" stock options offered:
250 options if a Powur affiliate generates 25 installs in a year
1250 options if a Powur affiliate generates 50 installs in a year
Yearly performance goal stock options qualification resets annually.
Joining Powur
Powur affiliate membership is free.
Conclusion
The main thrust behind requesting an updated review was Powur having "a completely different business model" from our 2015 review.
That I can confirm. Powur's 2021 offering is much more streamlined with respect to the MLM side of the business.
The company seems to have come into its own as well, having moved on from piggybacking off of SolarCity.
Powur's MLM compensation plan is tied to the sale of solar installations. There's nothing else in it and that's the way it should be.
Affiliates can earn off a self-install but to satisfy residual commission qualification, they're going to have to sell an installation every six months.
This installation could be a recruited affiliate but given home ownership is widespread, I don't think this is necessarily a concern.
That said Powur could just specify that the residual commission qualification applies to retail installations only. That would plug any grey area within the plan.
For affiliates that want to max out the compensation plan, we have the interesting mentor program.
Powur Mentors must be selling three installations every six months to qualify for residual commissions. To participate in the Mentor Program that increases to one sale a month.
I figure the potential of getting lumped with a mentor that doesn't actually help is low, seeing as they themselves are required to make sales to qualify.
Whether a new Powur affiliate feels they're unfairly passing up half of their first three commissions is subjective.
There are three sales for a Mentor to prove their worth though so averaging out, the Mentor Program should work as intended.
It's also a bonus to look forward to if an affiliate finds selling solar installations is a good fit.
Another interesting aspect to Powur is its shareholder equity scheme.
Powur Consultants can become shareholders.

Powur has raised millions in investment capital to build a better model for the solar industry, and we plan to take the company public.

We believe every member of the company should have the ability to earn in the upside they help create, which is why we introduced an industry first private equity program.
Normally when we see this in MLM it a case of securities fraud. Powur however is registered with the SEC and appears to be up to date with their filings.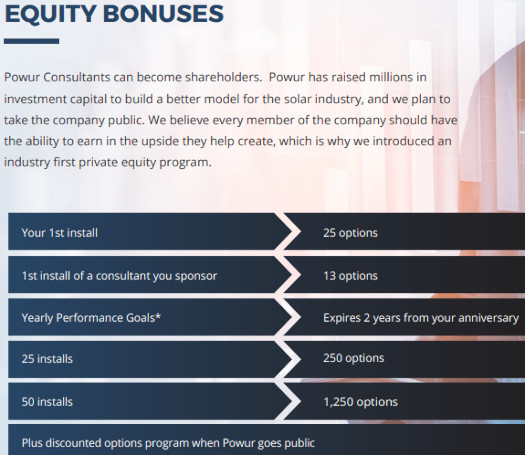 Nonetheless if you're an affiliate looking to acquire options, I'd advise having a lawyer go over the offer first to confirm regulatory requirements have been met.
Taking a step back and looking at Powur as a whole, one of the marketing claims put forth to me was;
We are the fastest-growing national solar company in the US, with over $100M in revenue last year.
Courtesy of Powur's SEC registration, an annual report filed in June 2020 reveals Powur's actual revenue for 2020 was $8,419,929.
That's not "over $100M" but it's a significant increase on $2.3 million generated the year prior.
Unfortunately once business expenses were factored in, Powur generated a net loss of $229,515 for the 2020 reporting period.
Things are looking promising though, as that's an improvement over 2019's $664,269 net loss.
As a potential Powur affiliate, improvement is what you want to see and that certainly seems to be the case.
From a marketing perspective Powur does a great job of fleshing out their business via multiple videos.
These can be found on Powur's website under the FAQ section.
In one video, "Powur's Mission", Jonathan Budd goes over Powur's commitment to its carbon offset program.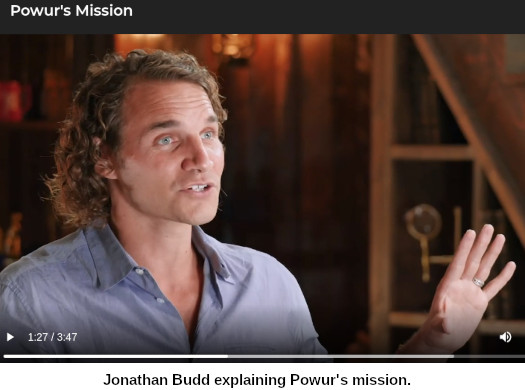 This program spans the company, its employees as well as the manufacturing process.
Every single month we spend thousands and thousands, tens of thousands of dollars, supporting these projects and initiatives all over the world.
I thought that was a nice touch and a good way to emphasize Powur's underlying focus.
To be sure, selling solar panels isn't going to be for everyone. It's a competitive space and you're going up against some pretty big companies.
One thing I dread about reviewing energy related MLM companies is compensation is complicated to a fault. By focusing just on installations, Powur avoids this hurdle.
Affiliates selling installations is far better fit than trying to understand the complexities of energy distribution and potential savings.
Personally I think the best way to approach Powur would to be as a home owner. Go through the installation process yourself and gain that knowledge.
Alternatively you can make sure you're as closely involved as you can be with your first customer. This might be more time consuming than later sales but should set you up with a solid foundation.
Even better, if you're assigned an active mentor – learn as much as you can from their personal experience. That is after all part of the mentor experience.
Good luck!