Post 2 Profits Review: PowerPost Profits gifting reboot

There is no information on the Post 2 Profits website indicating who owns or runs the business.
The Post 2 Profits website domain ("posts2profits.com") was privately registered on the 3rd of January, 2017.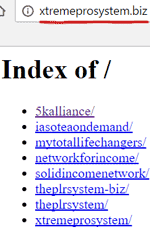 Further research reveals the Post 2 Profits website originally used the domain name-server hosts "ns1.xtremeprosystem.biz" and "ns2.xtremeprosystem.biz".
The Xtreme Pro System domain is a private host that houses a number of directories bearing the names of MLM opportunities launched by Johnny Ganoza:
That Ganoza owns Post 2 Profits can be independently verified via a marketing video uploaded to a YouTube account bearing the name "The PLR System" on January 5th: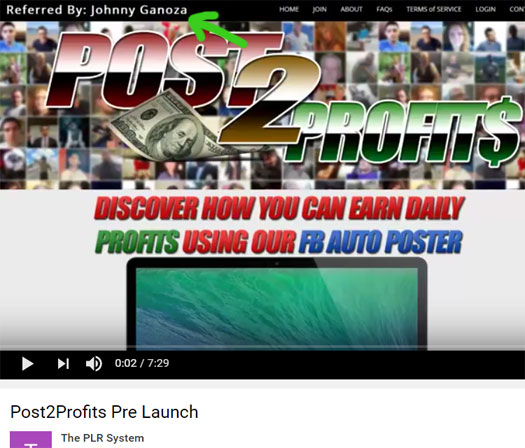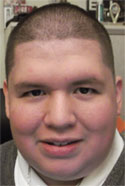 Ganoza (right) first popped up on BehindMLM's radar as the admin of Xtreme Pro System.
Xtreme Pro System launched in late 2014 and operated a straight-line cycler scheme. Affiliates invested in $45 positions on the expectation of an advertised $300 ROI.
In February 2015 the SEC shut down Achieve Community, a similar matrix cycler Ponzi scheme. A week later Ganoza announced Xtreme Pro System was ditching its cycler Ponzi model.
Needless to say that decision marked the end of the scheme.
A reader request then saw me review Ganoza's Average Joe Profit System in mid 2015.
Average Joe Profit System itself however was launched prior to Xtreme Profit System. The scheme saw $202,500 ROIs offered on $5 investments.
After Xtreme Profit System, Ganoza went on to launch PowerPost Profits in September, 2015.
That lasted a few weeks, with The PLR System launched a few months later in November.
The PLR System was a cash gifting scheme operated via a matrix cycler.
Two reboot scams, The $100 System and The PLR System v2 were launched in 2016.
The PLR System v2 grew in October but has flatlined over the past few months. This has likely prompted the launch of Post 2 Profits.
Read on for a full review of the Post 2 Profits MLM opportunity.
The Post 2 Profits Product Line
Post 2 Profits has no retailable products or services, with affiliates only able to market Post 2 Profits affiliate membership itself.
Bundled with Post 2 Profits affiliate membership is access to a "FB Auto Poster", which can be used to "post in Facebook groups on autopilot".
The Post 2 Profits Compensation Plan
Post 2 Profits affiliates pay $25 for a position in a 3×3 matrix cycler.
A 3×3 matrix places an affiliate at the top of a matrix, with three positions directly under them: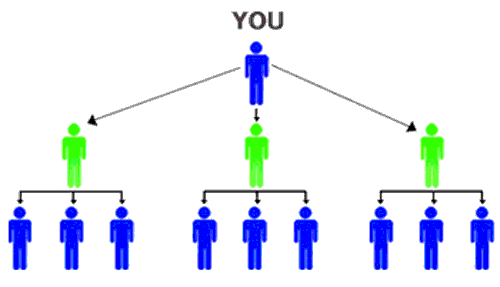 These three positions form the first level of the matrix. The second level of the matrix is generated by splitting each of these three positions into another three positions each (9 positions).
The third level of the matrix is generated in the same manner (27 positions), with a complete 3×3 matrix housing 39 positions.
Each level of the matrix operates as an independent cycler. Once all positions on a level of the matrix are filled, a commission is paid out and the next level of the matrix unlocked.
Here are the corresponding cycler commissions paid out via Post 2 Profits 3×3 matrix:
level 1 – $20 commission and cycles into level 2
level 2 – $110 commission and cycles into level 3
level 3 – $6500 commission
Joining Post 2 Profits
Post 2 Profits affiliate membership is $25.
Conclusion
THIS IS A MEMBER TO MEMBER SYSTEM. PLEASE CHECK YOU PAYMENT PROCESSOR CAREFULLY WHEN RECEIVING PAYMENTS.
Anytime you see "member to member" payments in MLM you're looking at a cash gifting scheme.
Post 2 Profits is no different. Affiliates gift $20 to the affiliate who recruited them and proceed to receive gifting payments from other Post 2 Profits affiliates.
The next two levels of the matrix recycle these funds (pass them up the company-wide matrix) and increase the gifting amounts.
Johnny Ganoza sits at the top of the Post 2 Profits company wide matrix, ensuring he receives the lion's share of deposited funds. That's on tp of the $5 admin fee he collects everytime a new affiliates signs up.
Post 2 Profits appears to be a rehash of Ganoza's 2015 PowerPost Profits gifting scheme.
Bundled with PowerPost Profits affiliate membership is access to a Facebook auto-poster.
Sound familiar?
As with all cash gifting schemes, once affiliate recruitment dies down so too will payments made within the system. That's likely what is happening inside The PLR System v2 and will happen in Post 2 Profits over the next month or so.
Q: What is the refund policy?

A: NO REFUNDS!
Once recruitment drops off to the point Post 2 Profits collapses entirely, the majority of affiliates lose money. Ganoza launches a new scheme and round and round we go!