PBX Trading Review: Premium Business rebrands after ban

Premium Business was on my review list and recently came up.
I'd noted a Philippine SEC securities fraud notice issued against Premium Business on May 18th.
Between May 18th and Premium Business coming up for review last week, the company had pulled its website.
I reached out to the reader who requested the review to let them know what had happened.
Through that conversation I was surprised to learn Premium Business had simply rebranded as PBX Trading.
As per the Philippine SEC's May 18th warning;
Based on the information gathered by the Commission, a number of individuals or group of persons claiming to represent PREMIUM BUSINESS (known in social media as "PREMIUM BIZ PH"), headed by Ronald De Leon, are enticing the public to invest their money in said entity.
De Leon is based out of the Philippines. Premium Business and now PBX Trading are thus also both operated out of the Philippines.
Per records of the Commission, PREMIUM BUSINESS or PREMIUM BIZ PH is NOT registered either as a corporation or a partnership.

Having no primary registration/corporate franchise, with
more reason that it is NOT AUTHORIZED to solicit investments from the public since it has not secured prior registration and/or license from the Commission as prescribed under Sections 8 and 28 of the SRC.
Named Premium Business promoters conspiring to commit securities fraud with De Leon include Jerry D. Manabat, Gladys Violago, Kentclay Morales, Daisy Lazy Aureada, Jovan S. Derecho, Thea Pauline Eve R. Salva, Catherine T. Hape and Sunshine Grace F. Mission.
Committing securities fraud in the Philippines runs the risk of a five million peso fine or twenty-one year prison sentence.
As a result of identifying fraud, the SEC advised the Philippine public to
NOT TO INVEST or STOP INVESTING in any investment scheme
being offered by any individual or group of persons allegedly for or on be half of PREMIUM BUSINESS or PREMIUM BIZ PH
and to exercise caution in dealing with any individuals or group
of persons soliciting investments for and on behalf of it.
Rather than stop scamming, De Leon renamed Premium Business to PBX Trading.
The domain "pbxtrading.ltd" was privately registered on May 20th, 2021, two days after the SEC's Premium Business fraud warning.
In an attempt to look like it's not being run by De Leon from the Philippines, PBX Trading represents it is based out Qatar.
Qatar is one of the fastest growing economies in the world and offers numerous opportunities.

At Qatar Financial Centre (QFC) , we provide international companies the best advice and an effortless start. With up to 100% foreign ownership, legal system based on Common Law, and a competitive tax environment with no currency restrictions, a competitive edge awaits.
This text is copied verbatim from the Qatar Financial Center website. It has nothing to do with PBX Trading.
The ruse behind Premium Business was affiliates investing and then filling in captcha forms to receive advertised returns.
The captcha nonsense was meaningless busy body work. All De Leon was doing was shuffling newly invested funds to pay existing investors.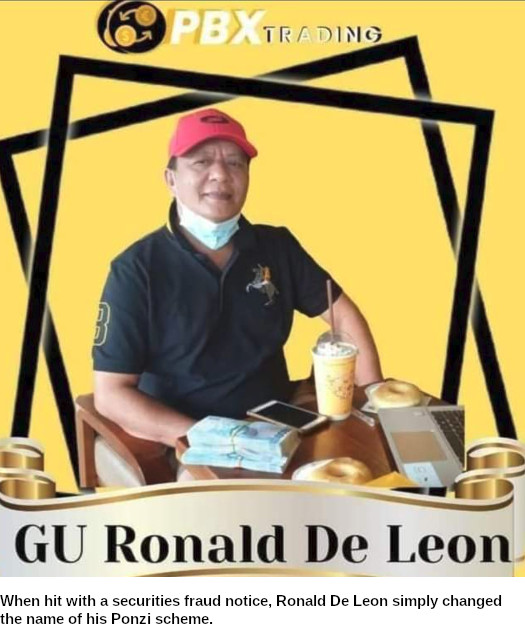 This fraudulent business model has been carried over in PBX Trading:
Associate – invest $20 and receive $8 a month
Supervisor – invest $50 and receive $20 a month
Manager – invest $100 and receive $40 a month
Director – invest $200 and receive $80 a month
Executive – invest $1000 and receive $400 a month
Residual commissions are paid as a percentage of returns paid, tracked down two levels of recruitment (unilevel):
level 1 (personally recruited affiliates) – 50%
level 2 – 10%
PBX Trading is primarily promoted across social media such as Facebook.
The official PBX Trading Facebook group, formerly Premium Business LTD, has over 51,000 members.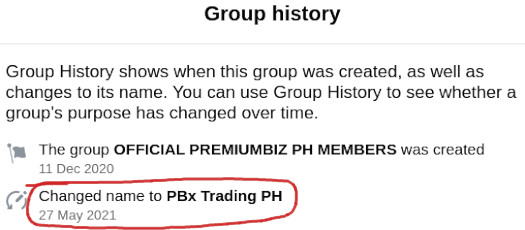 Around 5000 of which were added in the last week alone.
Ronald De Leon's own Facebook profile is full of PBX Trading marketing spam.
I don't know how the inner working of the Philippine SEC works but, at least on the surface, this seems a slam-dunk case.
Hopefully if Philippine authorities act quickly De Leon and his co-conspirators will see prison time.
Failing which, if 5000 new investors continue to be added each week at an exponential rate, PBX Trading's inevitable collapse will be a localized financial disaster.