Osmium Center Review: 15% daily ROI Laser Online clone

Osmium Center provide no information on their website about who owns or runs the business.
The Osmium Center website domain ("osmium.center") was privately registered on November 17th, 2017.
There is an official Osmium Center Facebook group, created by David Mandison on December 10th.
The David Mandison Facebook profile appears to be fake. The profile was created on December 10th and features a profile photo of Ukranian lawyer Sergei Pokrovsky: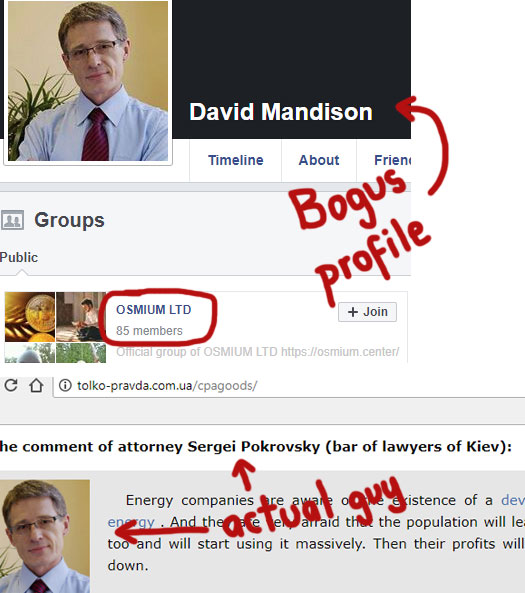 In an attempt to feign legitimacy, Osmium Center have incorporated themselves in the UK as Osmium LTD on November 21st.
The non-existent David Mandison is listed as Osmium LTD's sole Director.
UK incorporation is dirt cheap and for the most part unregulated. They are a favorite for scammers looking to incorporate dodgy companies.
When I first visited the Osmium Center website, I was hit with a strong sense of deja vu: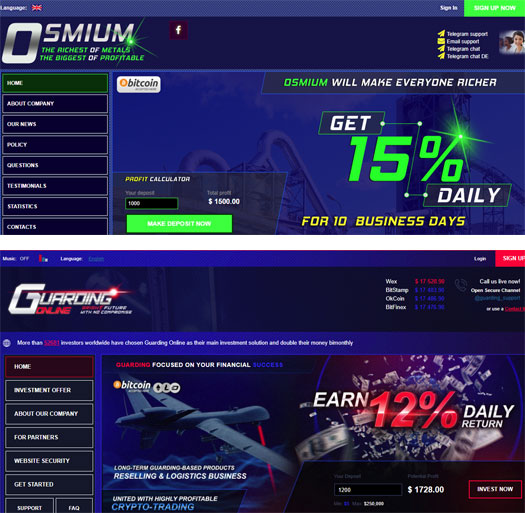 The Osmium Center website source-code differs to that of the Laser Online and Receiving Online Ponzi schemes, but the design is otherwise mostly the same.
Pokrovsky being a Ukranian lawyer is also unlikely to be a coincidence, with those running Laser Online having ties to the Ukraine.
Either Osmium Center is a desperate attempt to resurrect Laser Online by the same group of scammers, or someone playing funny buggers with misdirection.
As always, if an MLM company is not openly upfront about who is running or owns it, think long and hard about joining and/or handing over any money.
Osmium Center Products
Osmium Center has no retailable products or services, with affiliates only able to market Osmium Center affiliate membership itself.
The Osmium Center Compensation Plan
Osmium Center affiliates invest funds on the promise of a 15% daily ROI for 10 days (150%).
Referral commissions are available on funds invested by downline affiliates, paid down two levels of recruitment (unilevel):
5% on level 1 (personally recruited affiliates) and
3% on level 2
Joining Osmium Center
Osrium Center affiliate membership is free, however free affiliates can only earn referral commisisons.
Full participation in the Osrium Center income opportunity requires a minimum $5 investment.
Conclusion
Osmium Center claim to be
the holder of shares of large factories producing and processing expensive metals.

We also deal with the purchase and sale of metals themselves.
This is purportedly the source of Osmium Center's ROI revenue.
While they're quick to offer up a meaningless UK incorporation certificate, Osmium provide no evidence of shares held or trading of metals.
This leaves affiliate investment as the only verifiable source of revenue entering the company.
Osmium Center's business model also fails the Ponzi logic test.
If Osmium Center's anonymous owner(s) were already able to generate a daily 15% ROI (that's 5475% annually without compounding), why would they be soliciting investments from randoms over the internet?
Using newly invested funds to pay existing investors a 15% daily ROI makes Osmium Center a Ponzi scheme.
As with all Ponzi schemes, once affiliate recruitment dies down so too will new revenue entering the system.
This will starve Osmium Center of ROI revenue, eventually prompting a collapse.
Laser Online collapsed shortly after launch and its subsequent reboot attempts failed to take off.
The end-result of Osmium Center's launch will be the same: the majority of investors will lose money.