Nspire Network Prelaunch Review: Negative ion period pads?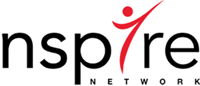 There is currently no information on the Nspire Network website indicating who owns or runs the company.
Further research reveals that up until recently, the Nspire Network website credited Spencer Iverson as Founder and President of the company.

Why this information was taken offline is unclear.
As per Iverson's Nspire Network corporate bio;
Iverson has built organizations of hundreds of thousands and has helped inspire millions around the world to live the lives of their dreams.

Iverson's leadership and marketing concepts have helped companies grow their distributor and customer bases by more than 300% and increase monthly gross revenue by more than $5,000,000 – often within a matter of weeks.

Iverson has earned millions of dollars from building traditional businesses and in the industry of network marketing.
Up until recently Iverson was held an executive and affiliate position in Paycation.
On December 21st, 2016, Iverson made the following announcement on Facebook;
This post is meant to quell some rumors floating around. I have not "resigned" from Paycation Travel. I was not "terminated" from Paycation.

I was recently blessed and honored to be asked to serve as the President and co-owner of a new health and wellness company with some phenomenal products. But, to accept this new position, I had to step down as both VP of Business Development and as a National Diamond in Paycation… that's NORMAL in this industry.

I am still supporting my current team and my desire is that each of my members STAYS with Paycation and enjoy the travel business, JUST LIKE I'M DOING.
Paycation combines retail travel services commissions with affiliate recruitment.
Iverson has a long history of network marketing training. Back in 2008 he co-founded the Millionaire Lifestyle Institute with Ephren Taylor and Floyd Williams.
MLI is a unique and comprehensive success and wealth training program created around a holistic approach to provide progressive individuals and organizations the right tools, environment, associations and information for maximum achievement.
Around 2011 Millionaire Lifestyle Institute was renamed Worthy of Millions Institute. WMI seems to have been in business for about a year.
In 2014 Iverson began promoting Organo Gold, a coffee MLM company. Iverson appears left Organo Gold for Paycation in early 2015.
Iverson is based out of the US state of Georgia. A Google Maps link on the Nspire Network website points to Georgia, so it appears the company is based out of Georgia too.
Digging a bit deeper I found that Nspire Network is credited as a subsidiary of Breakroad35 International.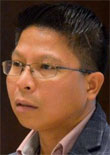 JJ Javier (right) founded BreakRoad35 and he also serves as Nspire Network's CEO.
Breakroad35 market coffee, supplements and a skin whitening bar in the Philippines.
BreakRoad35 social media profiles are still active, so it appears Javier is going to run it in tandem with Nspire.
Alexa traffic estimates for the BreakRoad35 website are pretty low (8 million+), suggesting Nspire might be an attempt to revive Javier's business interests offshore.
Read on for a full review of the Nspire Network MLM opportunity.
The Nspire Network Product Line
Nspire Network market a range of nutritional supplements and negative ion feminine hygiene pads.

Cherish Sanitary Napkins – "includes negative ion technology which has been proven to balance PH and hormone levels, helps protect against germs and bacteria, helps to reduce inflammation, fights against vaginal irritations and infections and reduces unwanted odor" ($6.40 for a pack of 8 pads)
Empower Testosterone Booster Plus – "has all the critical nutrients needed to boost testosterone levels for any man" ($79.99 for a bottle of 120 capsules)
Max Life Prostate Care Plus – "the best natural solution for men suffering from BPH and Prostatitis" ($79.99 for
Total Recall Memory Booster – "contains 5 of the best known mental enhancers to brighten brain function and restore brain power" ($79.99 for a bottle of 60 capsules)
Taboo For Him – a "male sexual enhancement based on the same natural composition of the chemicals used in Viagra and Cialis" (retail pricing not provided)
Sweetest For Her – "doctor formulated and gynecologist approved to help women get back on track with their sexual health" (retail pricing not provided)
The Nspire Network Compensation Plan
I haven't as of yet seen a complete copy of the Nspire Network compensation plan. I do feel there's enough information out there to put together a prelaunch review however.
Below you'll find a summary of what's currently publicly known about Nspire's compensation plan.
Nspire Network Affiliate Ranks
I've seen four affiliate ranks in various Nspire Network marketing materials:
Star – 500 GV a month
Diamond – no qualification criteria provided
Ambassador  – 50,000 GV a month
Legend – 3,000,000 GV a month
GV stands for "Group Volume" and is sales volume generated by an Nspire Network affiliate's downline.
There's a big gap between Ambassador and Legend so there's probably a few ranks in-between as well.
Commission Qualification
In order to qualify for commissions, an Nspire Network affiliate must generate 25 to 100 PV a month (based on affiliate rank).
For reference, 25 PV approximately equates to a $28 product order.
PV stands for "Personal Volume" and is sales volume generated by retail orders and an affiliate's own product purchases.
Retail Commissions
Nspire Network pay affiliates a 40% commission on products sold to retail customers.
This includes autoship orders generated by preferred customers.
Recruitment Commissions
When a new Nspire Network affiliate signs up through an affiliate package, the affiliate who recruited them earns a recruitment commission.
recruiting a Builder Package affiliate ($99) pays a $25 commission
recruiting a $299 Package affiliate pays a $75 commission
recruiting a $499 Package affiliate pays a $125 commission
Residual Commissions (binary)
A binary compensation structure places an affiliate at the top of a binary team, split into two sides (left and right):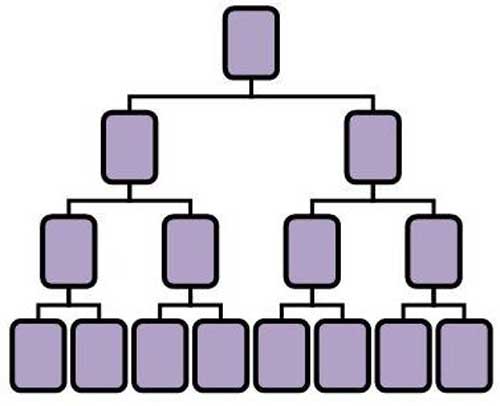 The first level of the binary team is made up of two positions. The second level of the binary team is generated by splitting these two positions into another two positions each.
Positions in the binary team are filled via direct and indirect recruitment of new Nspire Network affiliates.
Subsequent levels of the binary team are generated as required, with each new level housing twice as many positions as the previous level. Note there is no limit to the depth of a binary team.
Each week sales volume is tracked on both sides of the binary team.
An Nspire Network affiliate is paid between 10% and 24% of volume generated on their weaker binary side. This percentage is based on affiliate rank, which at the time of publication qualification criteria for was not available.
Paid volume is matched and flushed from both sides of the binary each day, with leftover volume retained on the stronger binary side.
Binary commissions are capped at up to $88,000 a week for Legend ranked affiliates.
Residual Commissions (unilevel)
Unilevel residual commissions are paid out on all but the first product orders made by recruited affiliates and retail customers.
A unilevel compensation structure places an affiliate at the top of a unilevel team, with every personally recruited affiliate placed directly under them (level 1):

If any level 1 affiliates recruit new affiliates, they are placed on level 2 of the original affiliate's unilevel team.
If any level 2 affiliates recruit new affiliates, they are placed on level 3 and so on and so forth down a theoretical infinite number of levels.
Unilevel commissions are paid out as a 10% to 25% percentage of sales volume generated by a unilevel team.
At the time of publication specific percentages across unilevel team levels was not available.
Matching Bonus
A Matching Bonus of up to 40% is available on residual commissions paid to personally recruited affiliates.
Global Bonus Pool
Nspire Network affiliates who qualify at the Star (500 PV a month) and higher ranks receive a share in a Global Bonus Pool.
Each Nspire Network affiliate rank corresponds to a share in a rank-specific Global Bonus Pool.
Specific details about the Global Bonus Pool were not available at the time of publication.
Joining Nspire Network
Nspire Network affiliate membership is tied to the purchase of one of the following packages:
Builder Package – $99
$299 Package – $299
Premium Package – $499
The primary difference between these packages are bundled Nspire Network products.
Note that Nspire Network affiliates are also subject to a "nominal annual fee".
Conclusion
I didn't see JJ Javier make a personal appearance in any of the Nspire Network marketing material I came across.
To what extent Javier will be involved in the day-to-day running of Nspire Network is unclear, but for now it very much appears to be run by Spencer Iverson and a team of Georgia based executives.
Most of the Nspire Network product marketing focuses on their Cherish period pads, specifically the negative ion technology.
Each Anion Sanitary Napkin has a special negative ion strip. Upon coming into contact with moisture, the negative ion strip releases negative ions that let's you experience the benefits that anions bring.

Negative ions can help prevent bacterial growth during menstruation, help reduce feminine discomfort, and help eliminate unwanted odors.
Among a broad range of health benefits, a presenter at an official Nspire Network marketing event also claimed the Cherish pads help with period cramps.
Women who are wearing the panty liners everyday they say they aren't even having cramps anymore at all.

So what's happening a woman will wait until she starts, then she puts it (a liner) on (and) the cramps go away.

But they say by wearing the liner, they're not even having any cramps at all.
Traditionally we've seen MLM companies market negative ion products through inhalation. This, as far as I know, is the first time a company has pitched negative ions for… well um, y'know… through the uh… other end?
I guess the idea is the same though. Negative ions float off the pad, into you know where and are absorbed into the bloodstream?
No more period pains, hooray!
Of course there's no medical or scientific data provided to verify any of Nspire Network's claims.
If you punch "negative ion panty liners" into Google, Alibaba pops up with a bunch of wholesalers selling them at 1 to 2 cents a liner (min orders are in the hundreds of thousands though).
Are these comparable to Nspire's liners? No idea… but $6.40 on a product that might cost as little as 8 cents to purchase wholesale is a pretty hefty markup.
Here's one marketing explanation from an Nspire Network affiliate:
How do the prices compare to products that are currently on the market?

They will be a little bit more expensive than the products sold in stores, but they will be more absorbent, so women will not need to change them as often.
Um what? I'm no expert but doesn't it go if the pad gets wet you change it? I mean unless things have drastically changed, it's not like women are walking around with pads they haven't changed all day filled  with buckets of um… y'know. Right?
I mean that's just… no, ew. Seriously.
The rest of Nspire's product lineup is pretty ho-hum and not much different to competing MLM company offerings.
The Prostate Care product did stand out as something new though. Particularly the claim it can assist with prostatitis.
According to the Prostatitis Foundation;
Prostatitis is an inflammation of the prostate gland, often resulting in swelling or pain.

Prostatitis can result in four significant symptoms: pain, urination problems, sexual dysfunction, and general health problems, such as feeling tired and depressed.
I'm not saying Nspire's product does or doesn't help with prostatitis, just that there's again no medical or scientific evidence provided on the Nspire Network website certifying that it does.
There's also a lack of FDA disclaimers on the website, which makes it look like Nspire Network are making a bunch of unsubstantiated medical claims.
One thing to keep in mind regarding retail viability is the 40% commission markup attached to all of Nspire Network's products.
How is that not pushing up the retail prices?
This is key because Nspire Network very much runs the risk of being an autoship recruitment scheme.
For those unfamiliar with the concept, an autoship recruitment scheme in MLM is when you have a company full of affiliates purchasing products each month. Little to no retail activity exists, creating a closed-loop of affiliate autoship recruitment.
This is otherwise known as a product-based pyramid scheme.
In Nspire Network monthly qualification can be a combination of retail sales and an affiliate's own purchase of product.
So the question is, are Nspire affiliates going to qualify with retail sales or their own product order?
Here's how the monthly PV requirement (which tops out at $100 each month) was described by a company spokesperson at an official Nspire Network event:
By the time you're paying $100 a month to stay active, you're doing $10,000 a month in business. So you can afford it.
Affiliates paying money each month to "stay active" (read: qualify for commissions), that doesn't sound like retail sales.
JJ Javier's BreakRoad365 doesn't (directly) operate in the US. So here's how they suggest affiliates qualify for commissions each month (Facebook):
Make sure to PURCHASE your PRODUCT MAINTENANCE this month of DECEMBER 2016.

HURRY! PURCHASE NOW!

Reminder: Purchase your monthly maintenance of product before each end of the month to make sure that your account will be active.
Retail sales? Nah. Buy your commission qualification each month and you're golden.
And let's not forget Spencer Iverson is coming from Paycation, a travel MLM in which it's unlikely there's any significant retail activity going on.
The good news is ascertaining whether or not retail activity is taking place in Nspire Network is pretty straight forward.
Just ask your potential upline for their retail order volume over the past three months or so.
The bad news is you can't do that until Nspire Network actually launches in March. Until then all you can do is recruit affiliates and build your downline, which doesn't inspire any retail centric confidence.
Nspire Network is currently scheduled to launch on March 1st, 2017.
Update 12th November 2018 – Roughly a year and a half after launching, Nspire Network has been sold to Wakaya Perfection.
The acquisition was made public on November 1st and, according to a post on Wakaya Perfection's blog;
Both the product line and independent distributor network of Nspire is now integrated into that of Wakaya Perfection.
As at the time of publication, the Nspire Network website domain redirects to that of Wakaya Perfection.
How much Nspire Network was sold for is not disclosed.
Alexa traffic estimates for the Nspire Network show a sharp decline throughout 2018 however, likely prompting the sell off.