NHT Global Review: Pay to play vaginal lubrication

NHT Global was launched in 2001 by founder Terry LaCore as Lexxus International.
NHT Global is a subsidiary of National health Trends Corp. and operates in the health, nutrition and personal care MLM niches.
Both companies are based out of California in the US.

Heading up NHT Global is President Chris Sharng (right).
As per Sharng's National Health Trends Corp corporate bio;
Mr. Sharng was appointed President of NHTC in February 2007.

He previously served as Executive Vice President and CFO of NHTC from August 2004 to February 2007, and during that time he also performed functions of the principal executive officer.

Prior to NHTC, Mr. Sharng held management positions at NorthPole Limited as CFO, Ultrak Inc. as Senior Vice President and CFO, and Mattel, Inc. as Vice President of International Finance.
To the best of my knowledge NHT Global is Sharng's first MLM venture.
In 2006 the SEC launched an investigation into NHT Global, then trading as Lexxus International.
No action against Lexxus International was taken. The SEC did however file a securities fraud civil enforcement action against its founder, Terry LaCore.
Lexxus International's then President, Mark Woodburn, was also charged.
Following an internal audit investigation, LaCore and Woodburn resigned as Lexxus International executives in 2005.
In 2006 Lexxus International rebranded as NHT Global.
NHT Global did file its own lawsuit against LaCore, alleging 'unlawful acts, including employee raiding, theft of confidential information and trade secrets, tortious interference and unfair competition', however that went nowhere after NHT Global decided to stop paying its lawyers.
In 2016 NHT Global was sued by shareholder plaintiffs Wang Juan and Manh Dao.
The class-action alleged violations of US securities law pertaining to
statements concerning NHTC's business in China and compliance with Chinese laws, between March 6, 2015 and March 15, 2016.

Specifically, the complaint alleges that the defendants made false and/or misleading statements and/or failed to disclose that:

(1) the operations of Natural Health Trends' Chinese entity is not in compliance with applicable Chinese laws; and

(2) as a result, the defendants' statements about Natural Health Trends' business, operations, and prospects, were false and misleading and/or lacked a reasonable basis at all relevant times.
In July 2017 NHT Global settled the lawsuit for $1.75 million dollars.
Read on for a full review of the NHT Global MLM opportunity.
NHT Global Products
NHT Global market a range of products spanning beauty, herbal, lifestyle and wellness.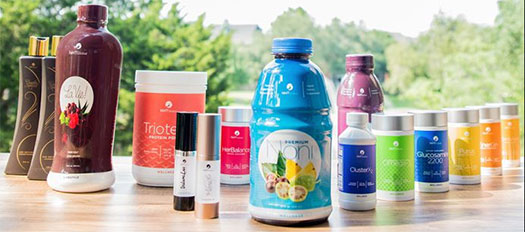 According to the company's website;
On Monday, January 22, 2001, NHT Global, Inc. launched with the product we now call Alura.

After just 48 hours on the market, sales of this one-of-a-kind product topped $500,000 U.S.
Personal Care
BioCell SC – "a powerful multi-tasking facial mask infused with an ultra-moisturizing essence that instantly rejuvenates the appearance of tired and aging skin", retails at $76.93 for a box of seven 25 ml pouches
Botanical Hand Protector – "an ultra-buttery hand cream that instantly nourishes and hydrates", retails at $28.57 for a 2 oz tube
Complete Renewal 8 Age Defying Hair Mask – "an intensive treatment that targets 8 major signs of aging hair", retails at $34.29 for a 150 ml tub
Skindulgence Time Restore – a "powerful 2-step system comprised of an all-over daily skin moisturizing essence and a powerful eye cream", retails at $125.11 a set
Skindulgence BioCell Mask – "a patented bio cellulose facial mask that hydrates, moisturizes and softens skin", retails at $89.29 for a box of seven 45 g pouches
Skindulgence Facelift – "look years younger with the Skindulgence® 30-Minute Non-Surgical Facelift System", retails at $89.29 a set
The NHT Global personal care product page also features a "SkinDulgence BioCell Mask" product, however I was unable to find it in the company's online retail store.
Herbal
LivaPro – "help protect the liver against free radicals, support healthy liver function, promote the detoxification of unwanted substances, help improve our overall mood, and provide other uplifting benefits", retails at $110 for a bottle of 90 capsules
Purus – "help you maintain a healthy circulatory system, improve blood flow and circulation, and support cardiovascular function", retails at $114.29 for a bottle of 90 capsules
Cordyceps Mycelia CS-4 – "help maintain kidney health and improve occasional sleeplessness to promote deeper, more restful sleep", retails at $120 for a bottle of 90 capsules
Lifestyle
Alura Lux – an "innovative topical vasodilator is clinically proven to improve vaginal lubrication", retails at $54.29 for a 17 ml bottle
LaVie – "promote cardiovascular health, help maintain healthy circulatory function, and help by neutralizing free radicals associated with LDL oxidation", retails at $42.86 for a 32 oz. bottle
Wellness
CurcuMore – "designed to help you live your best life possible from age 20 to 100", retails at $87.14 for a bottle of 60 capsules
Enhanced Essential Probiotics – "helps support the health of our digestive system, protecting our immune system and safeguarding our intestinal tract from "bad bacteria."", retails at $60.71 for a box of thirty 3 g single-serve sticks
OcuFocus – "the world's most eye-friendly nutrients in a single formula", retails at $100 for a bottle of 60 capsules
StemRenu – "an advanced renewal complex that harnesses the power of signal molecule technology to rejuvenate the body", retails at $100 for a bottle of 60 capsules ($328 for five bottles)
Omega-3 Essential Fatty Acids – "extracted from high quality fish and made in the USA", retails at $61.43 for a bottle of 60 capsules
ReStor Vital – "energizes you throughout the day", retails at $88.71 for a 2 oz. bottle
Premium Noni Juice – "naturally provides vitamins, minerals, enzymes, antioxidants, phytonutrients, and bioflavonoids, and works at a cellular level in the body to support the natural function of the immune system", retails at $63.57 for a 32 oz. bottle or $91.43 for a box of twenty 2 fl. oz. pouches
ReStor Silver – "the first nutritional supplement specifically formulated to target Ca2+Atpase", retails at $81.50 for a 2 oz. bottle
Cluster X2 – "created to benefit the body with increased and more efficient cell hydration", retails at $80.71 for a 4 fl. oz. bottle
Triotein – "a high-quality, 99% lactose-free whey protein powder that provides that amino acid substrates needed to stimulate the body's production of intracellular glutathione peroxidase (GSH)", retails at $120 for a 13.5 oz canister or $62.86 for a box of fifteen single-serve sachets
Trifusion Max – "combining some of the world's most exotic superfruits including acai berry, mangosteen, goji berry, and lychee, this remarkable fusion creates a phytonutrient explosion to provide the body what it needs to help function at its prime", retails at $39.44 for a 16.9 fl. oz. bottle
Glucosamine 2200 – "creates building blocks to promote joint health and cartilage production", retails at $49.29 for a bottle of 90 capsules
FibeRich – "contains 1 billion compound high-density probiotics protecting your digestive tract and helping your body to absorb vitamins, minerals and nutrients", retails at $44.29 for a 6.9 oz. tub
Energin – "helps to promote a healthy physical as well as mental lifestyle", retails at $60.79 for a bottle of 90 capsules
The NHT Global wellness product page also features a "BeautyGlo" product, however I was unable to find it in the company's online retail store.
The NHT Global Compensation Plan
NHT Global offer a straightforward three-tier unilevel and residual binary compensation plan.
There's no fluff and commissions are generated solely on retail customer purchases and affiliate orders.
NHT Global Affiliate Ranks
There are four affiliate ranks within the NHT Global compensation plan.
Along with their respective qualification criteria, they are as follows:
Bronze – generate 90 PV in a single-order (can be self-purchased)
Silver – sign up with a Business Builder's Package and purchase 250 PV of product, or generate either 500 accumulated PV or 1500 accumulated GV (min 250 PV)
Gold – sign up with a Business Builder's Package and purchase 1000 PV of product, or generate either 1250 accumulated PV or 3000 accumulated GV (min 250 PV, max 1000 PV)
Platinum – sign up with a Business Builder's Package and purchase 1250 PV of product, or purchase 1250 PV of product in a single-order at any time
PV stands for "Personal Volume" and is sales volume generated by sales to retail customers and an affiliate's own orders.
GV stands for "Group Volume" and is the sum total of PV generated by an affiliate and their downline.
Commission Qualification
To qualify for MLM commissions, an NHT Global affiliate must generate 90 PV a month.
Retail Commissions
NHT Global pay affiliates a commission when they sell products to retail customers.
Retail commission rates are the difference between the wholesale and retail cost of products ordered by retail customers.
Residual Commissions (unilevel)
A unilevel compensation structure places an affiliate at the top of a unilevel team, with every personally recruited affiliate placed directly under them (level 1):

If any level 1 affiliates recruit new affiliates, they are placed on level 2 of the original affiliate's unilevel team.
If any level 2 affiliates recruit new affiliates, they are placed on level 3 and so on and so forth down a theoretical infinite number of levels.
NHT Global cap residual unilevel team commissions at three levels.
Commissions are paid out as a percentage of sales volume generated across these three levels as follows:
Bronze affiliates earn 3% on level 1 (personally recruited affiliates)
Silver affiliates earn 5% on level 1 and 3% on level 2
Platinum and Gold affiliates earn 10% on level 1, 5% on level 2 and 3% on level 3
Residual Commissions (binary)
A binary compensation structure places an affiliate at the top of a binary team, split into two sides (left and right):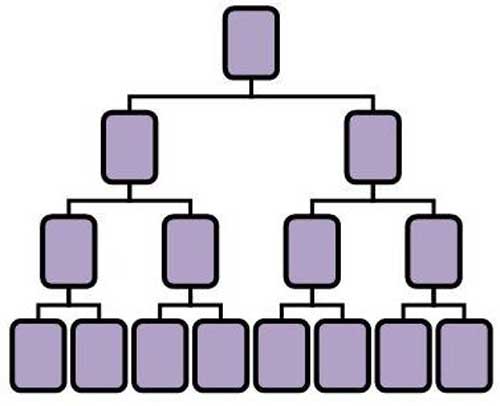 The first level of the binary team houses two positions. The second level of the binary team is generated by splitting these first two positions into another two positions each (4 positions).
Subsequent levels of the binary team are generated as required, with each new level housing twice as many positions as the previous level.
Positions in the binary team are filled via direct and indirect recruitment of affiliates. Note there is no limit to how deep a binary team can grow.
Sales volume across the binary team is generated via retail orders affiliate purchases.
At the end of each week NHT Global tally up new sales volume on both sides of the binary team.
Commissions are paid based on a 1/3 – 2/3 ratio for every 3750 GV generated across the binary team.
That is 2500 GV on one side of the binary team matched with 1250 from the other.
Which side has 2500 GV or 1250 GV doesn't matter.
When the 1/3 – 2/3 ratio is reached, a cycle is generated and a commission paid out.
Bronze affiliates earn $62.50 per cycle
Silver affiliates earn $125 per cycle
Gold and Platinum affiliates earn $250 per cycle
After weekly cycles have been calculated, unmatched volume is carried over the following week.
Note that all NHT Global affiliates are capped at $50,000 a week in residual binary commissions.
Matching Bonus
NHT Global pay a Matching Bonus on residual binary commissions.
The Matching Bonus uses the same three-level deep unilevel team structure as residual unilevel commissions (see above).
Bronze affiliates are paid a 3% match on level 1 (personally recruited affiliates)
Silver affiliates are paid a 5% match on level 1 and 3% on level 2
Gold and Platinum affiliates are paid a 10% match on level 1, 5% on level 2 and 3% on level 3
Joining NHT Global
Basic NHT Global affiliate membership is $75. After two months (60 days) a $9.95 monthly fee also applies.
New NHT Global affiliates can also opt to sign up with a Business Builder's Package, in which case the initial signup fee is waived.
StemRenu Bronze Package – $180
Personal Wellness Gold Package – $948
Alura Lux and Skindulgence Gold Package – $849
Skindulgence Platinum Package – $2188
StemRenu Platinum Package – $2188
Platinum Wellness Package – $2288
Business Builder's Package affiliates also don't have to pay the monthly fee for their first twelve months.
The exception is Platinum Business Builder's Package affiliates, who are exempt from the monthly fee.
Platinum affiliates are also exempt from MLM commission qualification requirements for six months.
Conclusion
So evidently vaginal lubrication was a pretty big problem back in 2001. So much so that NHT Global, a newly launched MLM company, managed to sell half a million dollars of Alura in 48 hours.
I assume no chicanery was involved but I'm still not going to pretend I understand how it happened.
Since then NHT Global has grown their product range far beyond their initial offering. You've got a bit of everything thrown in there, which is great for variety and appealing to different customer's needs.
What struck me though are the prices. If you're interested in a few of NHT Global's products, you could easily wind up spending a few hundred a month.
I can see one product purchase being justified but easily running into $200+ for just a few products might hurt retail sales efforts.
Definitely compare what's on offer in NHT Global with what you have available to you locally.
I felt the total cost of products ordered was a catch-22 to offering such a broad product range – and reflective of NHT Global's relatively expensive affiliate sign-up options.
Make no mistake, the core of NHT Global's compensation plan is signing up as a Gold/Platinum and recruiting others who do the same.
The rest of the plan is built around that core mechanic, serving mostly as optional pseudo-compliance.
Let's start with "pay to play", which begins the moment an affiliate signs up.
NHT Global's Bronze, Silver and Gold membership options directly impact an affiliate's earning potential through the compensation plan.
How is it then that these "ranks" can be bought? Tying how much an affiliate spends to their income potential is pay to play, which is a regulatory red flag.
At a minimum if NHT Global wants to keep the three-tier commission rate structure (it's delightfully simple, so they should), detach affiliate spend from qualification and restrict it to retails ales volume.
When an affiliate signs up if they want to spend more an order the only thing they should get for it is more product.
Tying how much a new affiliate spends to fees being waived, rank qualification criteria suspension and increased commission rates is just begging for regulatory investigation.
And offering deeper wholesale discounts to Gold and Platinum affiliates is pretty dirty too.
Affiliate wholesale should be flat rate across the board – no exceptions.  If you want to offer volume discounts, make it for retail orders only.
One last aspect of the initial sign up is the residual unilevel commissions.
NHT Global themselves describe the three-level deep residual commission as a 'direct bonus payment for sponsoring new members.'
I've refrained from labeling these recruitment commissions because I believe retail volume is also paid out.
Still, it's a fine line and the absence of significant retail volume across the three levels could very well see NHT Global paying recruitment commissions on initial and ongoing affiliate orders.
Moving onto maintaining a NHT Global business, the next point of contention is where affiliate autoship fits in after the initial signup.
While there is no product purchase required, your business will probably grow and flourish more quickly if you are a satisfied product user and have product on hand to share with others.

We recommend that you choose the NHT Global Product Package that best suits the goals and needs for your business.
The above, taken from the NHT Global compensation plan is vague in that it doesn't explicitly recommend retail sales over an affiliate purchases.
Reading between the lines of the first paragraph though, it's pretty clear NHT Global expect their affiliates to be ordering product each month (insert "but it's entirely optional" pseudo-compliance disclaimer here).
We need a bit more data to figure out how affiliate autoship is integrated into NHT Global's affiliate-base, and for that we turn to their 2017 Income Disclosure Statement.
According to the document, 31% of active NHT Global affiliates earned less than $1000 in 2017.
Natural Health Trends defines Active Members as those that have placed at least one product order with the Company during the preceding twelve month period.
Just ten affiliates in the US earned more than $25,000 in 2017, with 58.7% earning nothing at all.
Or to put that last statistic another way, just shy of 2/3rds of NHT Global affiliates failed to earn a commission in 2017.
In an attempt to explain this, NHT Global claim
most members enroll in our network for personal consumption and receive only the discounted rate.

These members, which consists of 59% of our U.S. Active membership, did not receive any commissions from NHT Global.
This pseudo-compliance argument was the backbone of both Vemma and Herbalife's defenses against respective FTC pyramid scheme commission cases.
The FTC rejected the argument on both occasions, and rather than push the matter in court, both Vemma and Herbalife settled.
NHT Global's business model and pseudo-compliance efforts are remarkably similar to Vemma and Herbalife post-FTC lawsuits.
You have affiliate signup options running into the thousands. Lip-service focus on retail sales (no actual retail qualifiers) and an affiliate-base that primarily (almost 60%) doesn't generate sales volume beyond their own monthly order.
Here's confirmation from the NHT Global compensation plan (RBC = affiliate position);
In order to maintain ongoing activation, an RBC must have a minimum of 35 BV points of PV through Autoship in each activation period until the RBC has earned a total accumulation of $500 in team bonus commission income and then must have a minimum of 70 points of PV in each activation period thereafter whether or not the RBC is on Autoship.

If the RBC is not on Autoship prior to earning $500 of accumulated commission, the minimum requirement will be 70 BV points of PV per activation period.
Mandatory 35 BV autoship each month for anyone who hasn't earned $500. So much for active being one purchase every 12 months.
And bear in mind these statistics are just for the US. I switched my region to some other English-speaking countries NHT Global operate in but the company only provides US data.
Who knows what's going on in countries with little to no MLM regulation.
I'm aware I might be coming off as harsh towards NHT Global's compensation plan, but it's only because I can't understand why, in the wake of the Vemma and Herbalife settlements, there's still large MLM companies taking risks with near-identical business models.
The FTC has gone after two companies who tried to justify a lack of retail sales by pretending affiliates not earning anything were retail customers.
Both were pyramid schemes and here we have NHT Global making the same claim about their affiliates.
Want to offer your retail customers a discount? That's what preferred customer options are for.
Stop charging affiliates thousands of dollars for increased income potential perks and guarantee in some way that your affiliates are actually making retail sales.
If you're a prospective NHT Global affiliate and have read this far into the review, you're probably wanting some guidance on a personal level.
NHT Global's compensation plan might be deeply flawed compliance wise, but what does that mean to me as an individual affiliate?
What you want to check with the person who introduced you to the business is how they're meeting their monthly PV qualification requirement.
Every NHT Global affiliate has to generate 90 PV a month to qualify for MLM commissions.
If your potential upline is generating that through an autoship order, they should also be generating at least 90 PV a month in retail sales.
If the retail isn't there, you're looking at a business model that's been recently challenged twice by the FTC.
Vemma couldn't survive without pyramid recruitment and Herbalife is taking advantage of weak FTC enforcement and loopholes.
Approach with caution.