My BTC Life Review: BitDonix admins launch 2nd gifting scam

The My BTC Life website identifies Lubos Hollan and Tousif Parvez as admins of the company.
Hollan is based out of Slovakia and claims 'the only way to earn some money online is to learn how to recruit and promote'.
Parvez is based out of Abu Dhabi and is credited as the designer and main admin of My BTC Life.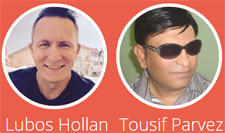 Both Hollan and Parvez first appeared on BehindMLM's radar as co-admins of BitDonix.
BitDonix launched in October with a bitcoin-based cash gifting business model. Hollan and Parvez are still credited as admins of the scam on the BitDonix website.
Prior to BitDonix Hollan was an affiliate of the collapsed My 24 Hour Income Ponzi scheme. Tousif Parvez has experience in "pay to click" marketing through his Clix Union and Guru Clix opportunities.
Why Hollan and Parvez have launched a second opportunity only a few months after launching BitDonix is unclear.
Read on for a full review of the My BTC Life MLM opportunity.
The My BTC Life Product Line
My BTC Life has no retailable products or services, with affiliates only able to market My BTC Life affiliate membership itself.
The My BTC Life Compensation Plan
The My BTC Life compensation plan sees affiliates gift bitcoin to eachother via a 3×4 matrix.
A 3×4 matrix places a My BTC Life affiliate at the top of a matrix, with three positions directly under them: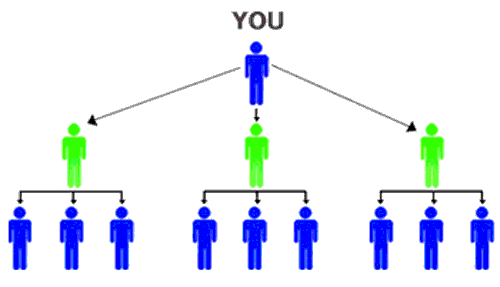 These three positions form the first level of the matrix. The second level of the matrix is generated by splitting each of the three positions into another three positions each (9 positions).
The third and fourth levels of the matrix are generated in the same manner, housing 27 and 81 positions respectively.
Each level of the 3×4 matrix operates as a separate cash gifting tier.
A My BTC Life affiliate must first gift funds into the system in order to qualify to receive funds from other My BTC Life affiliates as follows:
level 1 – gift 0.03 BTC to the affiliate who recruited you and receive 0.03 BTC from two subsequently recruited affiliates
level 2 – gift 0.025 BTC and receive 0.025 BTC from nine affiliates
level 3 – gift 0.02 BTC and receive 0.02 BTC from twenty-seven affiliates
level 4 – gift 0.12 BTC and receive 0.12 BTC from eighty-one affiliates
All four required gifting payments are on a recurring subscription:
0.03 BTC on level 1 must be paid every 90 days
0.025 BTC on level 2 must be paid every 100 days
0.02 BTC on level 3 must be paid every 120 days
0.12 BTC on level 4 must be paid every 180 days
Joining My BTC Life
My BTC Life affiliate membership is tied to a minimum 0.03 BTC gifting payment.
Full participation in the My BTC Life income opportunity costs 0.195 BTC on a recurring subscription.
Conclusion
MyBTCLIFE is person to person (peer to peer) secure, direct donation platform.

All donations are being paid directly into their upline's Bitcoin eWallet [100% commission].
My BTC Life uses the same cash gifting model as BitDonix, with the exception of gifting payments being on a subscription.
If I had to guess, BitDonix affiliate recruitment has died down and Lubos Hollan and Tousif Parvez want to run a subscription model in the hope that payments continue to be made.
Rather than adjust BitDonix they've instead opted to launch a new scam.
In any event, admins of active scams don't go off and launch new scams without good reason. And the only reason to abandon a scam is if it's showing signs of collapse.
Those signs might not be visible yet to participants in the scheme, but don't forget admins can look at the bigger picture for signs (especially company-wide recruitment).
As with all cash gifting schemes, once affiliate recruitment dies off so too will payments within the scheme. This prompts a collapse, as there's no point continuing to pay subscription fees if no new money is coming in.
BitDonix appears to have lasted a few months before showing signs of collapse. Reboot scams don't last as long as the original schemes they're modeled on, so expect My BTC Life to collapse even sooner.