MTC Education Review: $200 a month crypto education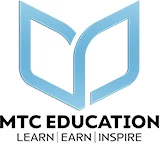 MTC Education fails to provide ownership or corporate information on its website.
The company's website domain ("mtceducation.io"), was privately registered on November 17th, 2021.
In an attempt to appear legitimate, MTC Education provides incorporation details for MTC Intellectual Limited and MTC Education PTY LTD.
These appear to be shell companies, incorporated in Hong Kong and Australia respectively.
For the purpose of MLM due-diligence, basic incorporation in any jurisdiction is meaningless.
The only executive I was able to pin to MTC Education was Chief Vision Officer Michael Sloggett.
Michael Sloggett, Was selected by the founders to take on the role as the Chief Visionary Officer of MTC Education.
Whoever owns MTC Education is referenced only as "the founders". This is a red flag.
Another red flag is Sloggett's past.
Prior to signing on with MTC Education, Sloggett co-founded MBA Trading Academy in 2017 (aka My Bitcoin Academy).
A paywalled article from the Townsville Bulletin states;
A Townsville crypto investor hit with serious criminal charges has been pushed out of his successful start-up after board members learned police had launched a federal money laundering case against him.
Headlines from the Townsville Bulletin suggest Sloggett is has been charged with "drug and money laundering offenses".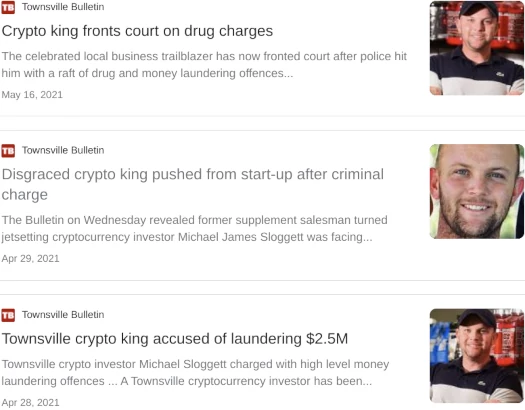 I was able to glean a bit more through PressReader;
April 29th 2021: (Michael James Sloggett) is charged with a string of serious offences and is accused of cleaning more than $2m worth of dirty cash.

Detectives from Townsville's Major Organised Crime squad … raided his … business address on April 13.

Officers seized $165,000 worth of cryptocurrency and eight vials of steroids.
The $2.5 million Sloggett is accused of laundering is alleged to be "the proceeds of crime".
Sloggett appears to have gotten involved in MLM through WorldVentures, circa 2014.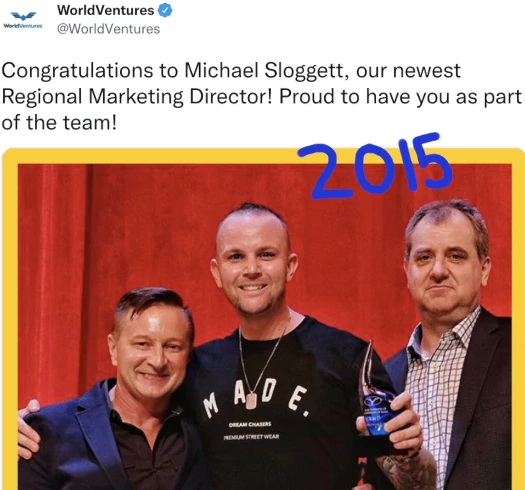 WorldVentures was a pyramid scheme that buckled under bankruptcy in late 2020.
Over on FaceBook there's an official private MTC Education group with 1100 members. John Grzybowski, Michael Sloggett and Philip Liang are admins of the group.
John Grzybowski cites himself as an MTC Education co-founder.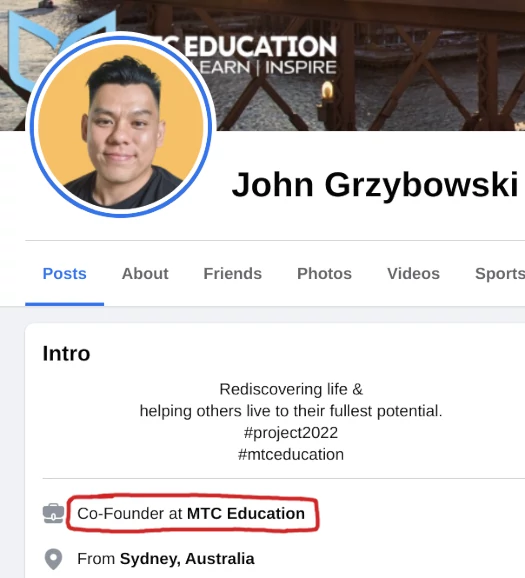 A crypto bro event poster on Grzybowski's FaceBook profile reveals Craig Latham is MTC Education's other co-founder.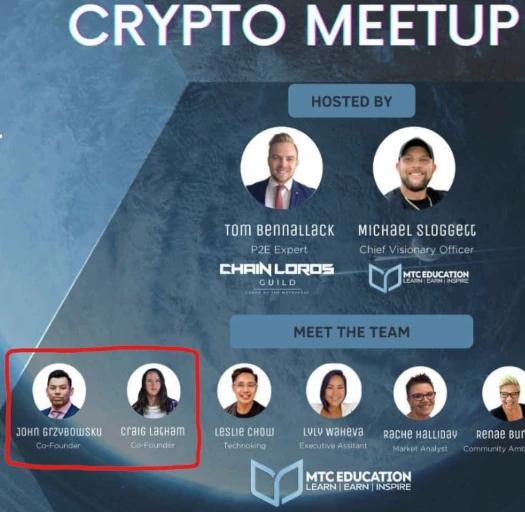 John Grzybowski appears to be have been involved in social media crypto trading analysis since at least late 2020.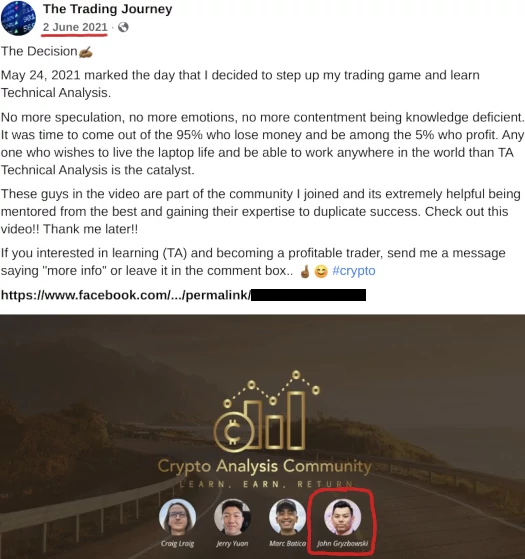 Other than being a crypto bro, Grzybowski doesn't appear to have achieved anything notable professionally (at least nothing I could verify digitally).
As per a StockHead fluff piece from earlier this month, Craig Latham is a former teacher who ditched his special needs students over COVID-19 vaccination.
Latham left his job as a special needs teacher at a school in Melbourne's western suburbs on October 15 to launch the business with his co-founder, John Grzybowski.

Latham said he wasn't against vaccination, just mandates.
It's not really a sticking point but Latham's excuse doesn't hold up.
As of October 2021, COVID-19 vaccinations had been freely and readily available in Melbourne for months. At that point anyone who wasn't vaccinated was obviously against vaccination (for whatever reason).
To be clear: I'm not having a go at Latham for being anti vaccination. I'm calling him out for being disingenuous about it. It potentially speaks to his character as an MLM executive.
According to the StockHead piece, "Latham … learned trading from Sloggett and considers him a mentor." Whether that means Latham came over from MBA Trading Academy or not is unclear.
Philip Liang is MTC Education's Chief Sales Officer. He made a name for himself in MonaVie circa 2014.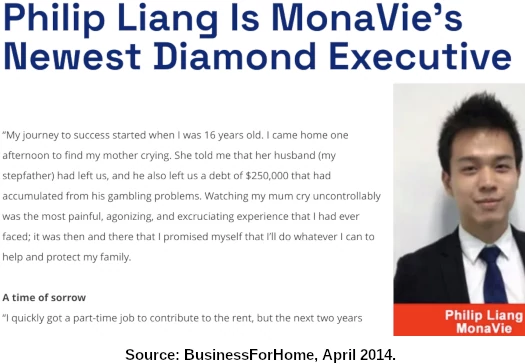 After MonaVie was Isagenix, which seems to have died off sometime after 2016. There's a 2016-2019 gap in Liang's FaceBook profile, after which nothing MLM related appears.
As always, if an MLM company is not openly upfront about who is running or owns it, think long and hard about joining and/or handing over any money.
MTC Education's Products
MTC Education markets a $200 a month "Student Package".
If you have been looking to learn a new skill that can generate an income from home, looking to improve your physical and mental well-being, looking for a supportive and uplifting community to be a part of or looking for a new change in life?

Then being a Student at MTC is what you're looking for.
MTC Education's Student Package provides access to:
The Trading Course – "designed to help a complete novice with no experience, become a successful trader or investor"
The Learning Management System – "a library full of different educational programs and content to help you in the many different areas of your life"
505 Challenge – "completing this will help you rejuvenate your health, fitness, mental fortitude, good habits, a winner's mentality, and resolve to achieve anything you set your mind to"
My Community App – "our own social media platform"
Weekly Market Analysis – "analysis and breakdown of the markets by our experienced trading coaches"
Live Training – "weekly live training calls from our tutors and coaches"
MTC Education's Compensation Plan
MTC Education fail to provide compensation specifics on their website.
What we do know is MTC Education's compensation plan is made up of
Fast Start Bonus – paid on new Student Package and Visionary memberships
residual commissions – paid via a binary compensation structure
Team Matching Bonus – residual commission match on downline affiliates
Lifestyle Bonus – monthly rank-based bonuses
Company Pool Bonus – 3% company-revenue pool for affiliates who've qualified at MTC Education's top three ranks
First 30-Day and 90-Day Bonus – a time-sensitive performance bonus
Beyond this no specifics are provided.
Joining MTC Education
MTC Education affiliate membership is available at two price-points:
Representative – $100 and then $11.99 a month
Visionary – $300 and then $211.99 a month
Representative is basic affiliate membership. Visionary combines affiliate membership with the Student Package retail subscription.
MTC Education Conclusion
MTC Education has a major disclosure problem. $200 a month is no joke. For that much I'd want to know upfront who is behind the "education" I'm paying for.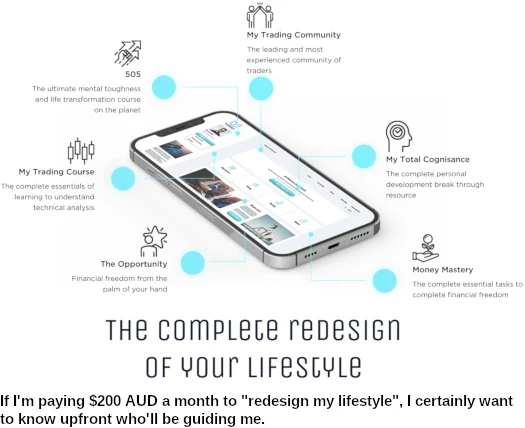 MTC Education fails to provide consumers with this information.
This approach might work in private "word-of-mouth" FaceBook crypto groups, but if you're running a public-facing MLM company it's just not good enough.
MTC Education's disclosure issues flow through to compensation, which again isn't disclosed in detail to consumers.
The "refer four and your own retail membership is free" incentive could be a retail driver, but it's impossible to make that call without full compensation details.
The danger of MTC Education operating lies as a pyramid scheme if the majority of subscriptions active are Visionary affiliate memberships. That'd reduce MTC Education to "sign up for $300, pay $211.99 a month and get paid to recruit others who do the same".
The result of disclosure failings is it's impossible for consumers to make an informed decision about MTC Education.
Whether this is intentional or not is irrelevant. Typically I'd cite potential violations of the FTC Act here, but it seems MTC Education isn't active in the US.
At time of publication Alexa ranks significant sources of traffic to MTC Education's website as Australia (57%) and the UK (36%).
Both these jurisdictions have their own advertising standards; the ACCC and CMA respectively.
I know the ACCC is a bit of a joke in Australia. I'm not familiar with the CMA, which given how long I've been running BehindMLM for, could suggest they're not fussed about MLM.
I'm also not sure what's up with MTC Education's Hong Kong shell company.
MTC Education appears to be run by Australian-based co-founders. There's no reason to have a Hong Kong shell company unless shenanigans (dare I say it, money laundering?).
MTC Education's ties to Hong Kong, superficial or otherwise, is yet another disclosure red flag.
Pending MTC Education addressing these disclosure issues (disclosing executives, who's behind its services, ties to Hong Kong, compensation etc.), probably best to steer clear.