MPT Max Review: My Private Trade's latest incarnation?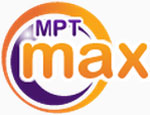 There is no information on the MPT Max website indicating who owns or runs the business.
The MPT Max website does have an "about us" page, however only the following vague information is provided:
MPT Max is a Williams Corporation brand.

When you trade with MPT Max, your counterpart is Williams Corporation Limited, Hong Kong.

Williams Corporation also manages MPT Max`s back office among other administrative tasks, and uses Simray AS (Simray AS) of Norway as its partner in processing transaction such as account fundings and withdrawals.

Established by veteran trading professionals, Williams Corporation empowers fast, secure and accurate trading execution for online foreign exchange businesses.
Simray AS appear to be a real company, who on their website claim to provide 'trading technology for the finance industry'.
In a warning issued to investors back in 2011, the Austrian Financial Market Authority wrote
Williams Corporation Ltd. ("My Private Trade") is not authorised to carry out certain banking transactions requiring a licence in Austria. Trading for one's own account or on behalf of others in financial futures contracts including equivalent instruments settled in cash as well as call and put options on the instruments listed in lit. a and d to f, including equivalent instruments settled in cash (futures and options business) pursuant to Art. 1 para. 1 no. 7 lit. c BWG is therefore not allowed.
My Private Trade appears to be an affiliate portal for Williams Corporation, with the company referring to its agents as affiliates.
It's also likely what the "MPT" stands for in the company name "MPT Max".
Things get murkier with regulators in Slovenia identifying My Private Trade as synonymous with Simray AS.
In 2010 the Slovenian Securities Market Agency (ATVP) issued their own warning against Simray AS:
Slovene Securities Market Agency is warning investors about activities of the company SIMRAY ASA.

SIMRAY ASA, which is offering their services thorough internet site "myprivatetrade.com", has not obtained the Agency's authorization according to Market in Financial Instruments Act (official Gazette of the Republic of Slovenia 67/2007, 100/2007, 69/2008 and 40/2009) or any other securities law to carry out services in the financial instruments field in Slovenia.

SIMRAY ASA is not authorized under the MiFID directive to provide direct investment services and deals related to financial instruments on the territory of the Republic of Slovenia.

The Agency strongly urges investors considering dealing with company SIMRAY ASA to exercise the greatest possible caution before proceeding, bearing in mind the contents of this public notice.
So Simray AS is Williams Trade is My Private Trade is MPT Max. But who's running the show?
Norwegian Wikipedia fills in the blanks:
My Private Trade is an Internet-based currency trading service operated in cooperation between the Norwegian company Simray AS and the Hong Kong -based Williams Corporation Ltd. The concept operated from Copenhagen and Dubai.

The company was founded by Ståle Fossberg and Morten Oseberg Andersen under the name Simray Holdings LLC, but later changed its name to Simray ASA and finally Simray AS.

Fossberg is a Norwegian radio worker and former co-owner of T5PC Travel who was affiliated (with the) pyramid game T5PC.

Andersen is also the president of Norwegian Business Group in the United Arab Emirates. Simray was also involved in online gambling concept Playroom4you which was discontinued in 2012.

In addition to offering its customers to make money on currency trading, it is also an income opportunity by referring new customers to the concept of business model multi-level marketing (MLM).

Several European countries have issued warnings to their citizens against placing money in the concept because it is not MiFID authorized.

On their websites rejects My Private Trade all these allegations and believes that these warnings is about misunderstanding of the business concept. They also deny that they engaged in pyramid schemes.

The authorities in Hong Kong have also warned Williams Corporation because they believe the company has no license to provide financial services.
Sure enough, a visit to the "legal" page on the MPT Max website reveals the following notice:
From time to time, MPT Max and its service providers Williams Corporations Ltd. and Simray AS receive enquiries from Financial Authorities about their operations and the services offered.

It is apparently not always clear the nature of this business and the services provided, but we are always happy to provide any information and clarification required.

However, in some rare cases our communications fail in such a way that financial authorities occasionally misinterpret the information we provide and believe that MPT Max and its service providers operate in a business sector that they do not.

In some extreme cases, the financial authorities even post a public warning indicating that we are offering services we are not actually offering.

MPT Max and its service providers do not offer services such as banking or futures or option trading.

When any financial authority inaccurately issues warnings against MPT Max offering such services, it results in negative and unjust publicity for MPT Max and its service providers.

If anyone becomes aware of any unjustified warnings, please contact us immediately so that our legal department can take action and try to clarify this with the relevant authority.
So with the above perhaps addressing the regulatory banking and options trading concerns, the question remains… is MPT Max, My Private Trade, Williams Corporation and Simray AS one big pyramid scheme?
Read on for a full review of the MPT Max MLM business opportunity.
The MPT Max Product Line
MPT Max has no retailable products or services, with affiliates only able to market affiliate membership with the company itself.
Signing up as an affiliate with MPT Max provides access to Simray AS's trading platform.
The MPT Max Compensation Plan
The MPT Max compensation plan revolves around signing up as an affiliate with MPT Max and then recruiting new affiliates.
Commissions in MPT Max are paid out using a 4×4 matrix.
A 4×4 matrix places an affiliate at the top of the matrix, with four positions available on level 1: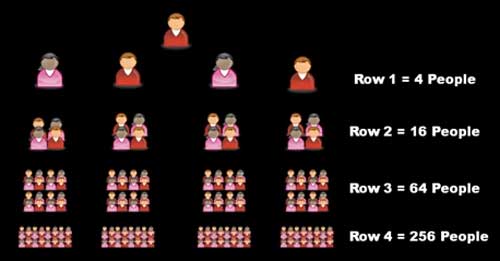 These initial four positions branch out into another four levels (level 2) and again twice more to make up levels 3 and 4.
Positions in the matrix are filled via the recruitment of affiliates, with commissions paid on their payment of affiliate fees or use of Simray AS's trading platform.
MPT Max affiliates are charged €60 EUR a month to participate in the opportunity, with commissions paid out as a percentage of this fee as follows:
level 1 – 4%
level 2 – 8%
level 3 – 16%
level 4 – 32%
Note that the €60 EUR a month fee is waived if an affiliate has completed twelve or more trades in the previous month. The monthly percentage commission however is still paid out on these affiliates, regardless of whether they qualify for the fee-waive or not.
The same percentages are used to pay a 4 level deep commission on trading activity. Whether or not the commission is paid on the amount traded, any profit gained or any fees collected by Simray AS is unclear.
Joining MPT Trade
Affiliate membership with MPT Trade is €60 EUR a month.
As explained in the compensation plan analysis above, if an affiliate completes 12 or more trades in a month then the fee for the next month is waived.
Conclusion
I'm big believer in where there's smoke there's fire, and with warnings issued by multiple regulators and at least one of the founders having a history with a pyramid scheme – there's probably something fishy going on behind the scenes.
At the very least the use of Williams Corporation in Hong Kong sticks out like a sore thumb for a business supposedly run out of Norway by a guy with connections in Dubai.
As for the Simray AS's trading platform, whether it works or not I have no idea. Ditto how it integrates into the MPT Max compensation plan.
I'd assume if the affiliate makes money on a trade, then MPT Max share a cut of their fee as a commission. Paying out as a percentage of the amount traded makes little sense, so I'd be quite surprised to learn that was the case.
Looking deeper into the plan, basically one can ignore the trading altogether and treat MPT Max as a €60 EUR a month recruitment scheme.
You sign up, pay your €60 EUR a month and then earn commissions when you recruit new affiliates who do the same.
The waiving of the fee can be explained by twelve trades being the magical number either Simray AS collect in fees from an affiliate equal to €60 EUR, or what they collect from another party via their affiliate's trading activity.
Either way €60 EUR is counted from each affiliate in the company wide matrix and paid out to affiliates who did the recruiting.
With nothing meanwhile being marketed to or sold to retail customers, that qualifies MPT Max as a pyramid scheme.
The offering of unregistered securities also looks set to become an issue, with recent marketing efforts by MPT Max mentioning "auto trades":
Early 2015 we launch our Auto-trade. Auto-trade is an automatic trading program that was developed and tested for more than 10 years.

Expected profit = more than 10% per quarter!
Sign up, invest your money on an advertised "expected profit" and as long as everyone keeps paying their monthly fees – you get paid.
Interestingly enough, it appears Mortensen and Fossberg have previously tried this auto trade platform with The Opportunity Network (OPN):
OPN (originally Unaico), is a long-running recruitment-driven social media opportunity that's struggled to take off since its inception years ago.
The addition of Simray AS's auto trade platform in 2012 appears to have done little to boost OPN's MLM business.
I predict should MPT Max take off, Slovenia, Austria and Hong Kong won't be the only countries to issue regulatory warnings against them.
As with all pyramid schemes, once recruitment dries up so too will the monthly commissions. At this point those at the bottom of the scheme stop paying their monthly fees, meaning those above them no longer get paid.
They too then stop paying their fees and as this effect trickles up the company-wide genealogy, eventually an irrecoverable company-wide collapse is triggered.
I'm tipping that's already happened at least once with My Private Trade, hence the recent rebranding as MPT Max and talk of auto trades.