The Opportunity Network Review: Unaico rebooted

Unaico first popped up on my radar in April of 2011. Back then you had a pretty basic setup, with Unaico operating as an MLM business opportunity pegged to the social network SiteTalk.
Both companies were run by CEO Rune Evensen, with the plan being that SiteTalk would generate revenue and commissions via shopping purchases made within the network.
Both Unaico and SiteTalk came under the umbrella of the Enigro Group, headed up by founder Jarle Thorsen.
Upon reviewing Unaico in 2011 I found that the SiteTalk side of the business looked fair enough, however the virtual shares the company was offering was a huge red flag.
Jarle Thorsen has a history of involvement in several pyramid schemes (Worldwide Alliance , T5PC , World Games Inc. and PlexPay), and in Unaico this seemed to have manifested itself via the offering of virtual shares.
In a nutshell, affiliates deposited real money with the company and were issued shares. These shares were tradeable amongst affiliates, with their value pegged to nothing more than affiliate speculation.
On the 12th of May 2012, Unaico put out a "media release" in which they announced
SiteTalk – The Opportunity Community, today announced the new brand name of 'OPN – The Opportunity Network' that will be taking over the operations of the direct selling side of the business.

OPN was also pleased to launch at this convention SiteTalk 2.0 which is the latest version of the social media platform that drives the OPN business oportunity (sic).

SiteTalk 2.0 features new shopping "Deals" that allows SiteTalk users to take advantage of great shopping discounts created in their local markets.
An address in Singapore was provided at the end of the press-release, with further research indicating a boatload of confusion over where The Opportunity Network and SiteTalk are actually based.
As noted above, one of the addresses used by The Opportunity Network is '#17-01 The Arcade, Collyer Quay, Singapore'. This is the same address used on the Opportunity Network website domain ("opn.com") registration, indicating it is a primary address.
Yet if one visits The Opportunity Network's website, a different PO Box address in the Cayman Islands (a known tax-haven) is provided:
OPN LTD
TMF(Cayman) Ltd.,
1st Floor, Windward 1,
Regatta Office Park,
P.O. Box 10338,
Grand Cayman KY1-1003,
Cayman Islands
Adding even further confusion to the mix is The Opportunity Network's Policies and Procedures, which state
Members waive all rights to trial by jury or to any court. All arbitration proceedings shall be held in the United Kingdom.
Three different addresses in three different countries spanning three different continents, with no clarification provided on The Opportunity Network's website.
Despite changing their name in 2012 and relaunching themselves, I didn't get around to a review until recently due to a complete lack of information released about the specifics of The Opportunity Network as an MLM business opportunity.
I suspect that a major contributing factor of this was The Opportunity Network's new position on affiliate marketing of the opportunity:
Members must not produce their own literature, advertisements, sales aids and promotional materials, or Internet web pages.
For an MLM opportunity pushing a social network, the prohibition of independent affiliate marketing certainly seemed strange.
That spurred me on to further research behind the company name change, which led me to the Wikipedia entry of Enigro Group. In Unaico's May 2012 media release quoted above, here's the official reason the company provides for the name change:
"We felt that our nickname – "The Opportunity Network", describes well who we are as a company today, and what our main focus is, so we decided to formalise that identity and make it our new official name – OPN" announced Rune Evensen, CEO of OPN.
I think a far more probable reason however was likely due to the ongoing regulatory problems Unaico was experiencing.
Shortly after the launch of the company showed the first allegations of it being a pyramid scheme surfaced. Thorsen has a background of pyramid companies Worldwide Alliance , T5PC , World Games Inc. and PlexPay.

The Norwegian Gaming Board has not drawn a full conclusion about Enigro, but they have warned against participation in the company.

They said: "After having made a preliminary assessment of Enigro, the Gaming Board is of the opinion that the company has clear similarities with illegal pyramid scheme."

In April 2010 the company received attention by the financial authorities of Slovenia issued a warning against Unaico where they stated that this company was authorized to offer its services in Slovenia. The same warning was issued by the government of Austria.

In October 2010 the company Deloitte issued a press release in which it was denied any cooperation with Unaico.

Deloitte issued the press release in response to Unaico and SiteTalk marketing material in which allegations that Deloitte was involved in helping Unaico with their IPO.

In-investor club is also on the Finance Authority's list of companies are cautioned not to invest money in. They said: "The FSA notes that I-investor Ltd. is not authorized to provide investment services in Norway, and therefore lacks the license required under Norwegian law."

The company is consequently on international notification lists.

Both Pakistani and Chinese authorities have given their residents official warnings against involvement with Unaico, referring to the company as an illegal pyramid schemes and scams.
See the Enigro Wikipedia entry (Norwegian) for a full set of reference links certifying the above statements.
Write off the name change as an "identity change" sure, but I'm sure regulatory warnings being issued around the world probably had something to do with it too.
As for what happened to SiteTalk's virtual share offering, the company appears to have converted them over into real-world shares on the Cyprus Stock Exchange.
Initially The Opportunity Network had planned to list themselves on the British GXG Stock Exchange through the shell company "ST Communities", however that plan fell through when the listing was  terminated by GXG management.
ST Communities is a cash shell that is indeed on GXG
Markets however there is no way that the gentlemen in question would pass our screening process to be directors or controlling shareholders of a company on GXG should they attempt a reverse takeover.

Kind regards
Simon Kiero-Watson
Head of Markets, GXG Markets
ST Communities were terminated 'as a result of a significant breach of both the General Rules of the Market (Rule 1.1) and the Disclosure Requirements (Rule 5.2).'
Despite this, The Opportunity Network ultimately blamed their affiliates for the termination:
Dear OPN Members,

The main reason for this being the fact that the OPN members have been continuing contacting GXG. We have continuous urged you NOT to take contact with the GXG stock exchange, but there are numerous people still contacting the head office of GXG. You all need to help us to make sure that all your members get this information and warnings.

The company has 10 days to appeal against this decision. Our listing team have meetings with GXG Markets in London today, and they will deliver an appeal to this notice.

We will get back to you once we have further updates.

Regards,
The Management Team
Whether or not an appeal was filed I don't know but The Opportunity Network was never relisted on the GXG Markets Exchange.
Instead they got themselves listed on the Cyprus Stock Exchange under the shell company "Global Digital Services PLC" on the 19th of August 2013 (stock code: STC).
In March 2013 The Opportunity Network's Chief Compliance Officer Frank Ricketts appeared in a video where he heavily criticised the company's critics. Referring to the GXG listing failure as a "mistake", Ricketts went on to claim "the bloggers" who reported the failure and anyone else who did their due diligence were "idiots".
Today no mention of the Enigro Group, Jarle Thorsen, SiteTalk virtual share offering or Cyprus IPO is made on The Opportunity Network website, with the company only acknowledging Rune Evensen and Thomas Nordlund ("co-founder / network director of OPN") in the footer of the company's website.
The Norwegian Wikipedia entry for the Enigro Group advises that 'in the fall of 2011 and early 2012, both companies (Enigro and Unaico) were dissolved and their websites closed'.
Read on for a full review of The Opportunity Network MLM business opportunity.
The Opportunity Network Product Line
As with Unaico before it, the Opportunity Network still revolves around the social network SiteTalk.
All sales to consumers are made online via the Consumer Website : Sitetalk-Shop(s).
Whereas before SiteTalk had a separate site for its shopping malls (the now defunct "sitetalkmall,com"), this appears to now be integrated into the SiteTalk platform.
Well, at least it will be once The Opportunity Network get it up and running. A press release dated October 16th 2013 advises
The first phase of the "SiteTalk Store" will go LIVE. Merchants around the world will be able to start subscribing for the SiteTalk Store where they can display/promote their online store to all SiteTalk Members.

This will be done initially on a small scale to test the systems. The second phase will be implemented in November, in this phase SiteTalk Members will be able to browse the Store by selecting; country, product type, make price comparison and more.
Whether SiteTalk's stores have gone live I have no idea. The press release also makes mention of a "Star Club" loyalty program, a SiteTalk Android app and 'co-operation agreement with MICKTRADE who offer an extremely simple to use and secure platform for Forex trading'.
The SiteTalk website also mentions a Daily Deals type offering:
The rising of e-commerce has already justified that the world-wide-web is able to improve our standard of living in lots of different ways.

SiteTalk.com may be a great help finding the best offers nearby as well as gaining significant allowances and, as a result, saving large sums of money.
Games are also mentioned but whether or not these are a revenue source for SiteTalk is unclear.
SiteTalk membership appears to be free, meaning revenue is generated solely via affiliate agreements between The Opportunity Network and independent third-party offerings within the SiteTalk network.
As for the company markets themselves, there is no mention of any products or services offered on The Opportunity Network website.
The Opportunity Network Compensation Plan
Described as "the best compensation plan in the industry. Probably.", The Opportunity Network compensation plan revolves around affiliates spending their own money within the SiteTalk social network website, and recruiting new affiliates who do the same.
Commission Qualification
The Opportunity Network affiliates must qualify as "active" in order to receive commissions.
Active qualification for The Opportunity Network affiliates requires they generate 15 Business Volume points (BV) a week.
BV is counted at a rate of 25% of money spent by personally recruited affiliates, and 100% of an affiliate's own spending.
An affiliate is also able to "pre-qualify" themselves for commissions, up to four weeks at a time (effectively 60 BV a month).
The Opportunity Network Affiliate Membership Ranks
There are fourteen affiliate membership ranks within The Opportunity Network compensation plan and, along with their respective qualification criteria, they are as follows:
Basic – 150 BV in personal volume
Bronze – 500 BV in personal volume
Gold – 2000 BV in personal volume
Business Builder – 2000 accumulated BV generated by an affiliate's weaker binary team
Team Builder – 8000 accumulated BV generated by an affiliate's weaker binary team
Team leader – 25,000 accumulated BV generated by an affiliate's weaker binary team
Team Manager – 50,000 accumulated BV generated by an affiliate's weaker binary team
Executive – 100,000 accumulated BV generated by an affiliate's weaker binary team
Senior Executive – 250,000 accumulated BV generated by an affiliate's weaker binary team
Director – 500,000 accumulated BV generated by an affiliate's weaker binary team
Senior Director – 1,000,000 accumulated BV generated by an affiliate's weaker binary team
Vice President – 5,000,000 accumulated BV generated by an affiliate's weaker binary team
President – 10,000,000 accumulated BV generated by an affiliate's weaker binary team
Chairman's Council – 25,000,000 accumulated BV generated by an affiliate's weaker binary team
Note that with the exception of Basic, Bronze and Gold, affiliate membership rank qualification is calculated weekly.
Mandatory Commission Withholding
Only 75% of commissions paid out to The Opportunity Network affiliates are withdrawable, with the company requiring all affiliates pay the remaining 25% into a "mandatory account".
No mention of what happens to withheld commissions is made in The Opportunity Network compensation plan material.
Personally Recruited Affiliate Commissions
Paid out on 'the Business Volume (BV) associated with the products and services purchased by' members an affiliate personally recruit into the company, how much of a commission The Opportunity Network pays out depends on affiliate's membership rank:
Basic affiliate – 5%
Bronze affiliate – 7.5%
Gold affiliate – 10%
Note that the above percentages are paid out on the BV value of recruited affiliate's actions, not the dollar amount spent.
The Opportunity Network provide no indication as to the associated BV value of money spent within the network.
Fast Track Bonus
The Fast Track Bonus pays The Opportunity Network affiliates based on how many of their personally recruited affiliates reach Gold rank status and go on to do the same, all within a maximum 12 weeks of joining the company.
To qualify for the Fast Track Bonus an affiliate must recruit 3 Gold ranked affiliates who in turn each recruit 3 Gold ranked affiliates.
How much an affiliate is paid depends on how quickly they achieve this goal:
within 4 weeks – 1000 EUR
within 8 weeks – 500 EUR
within 12 weeks – 250 EUR
Note that the Fast Track Bonus can only be qualified for once (even if an affiliate meets the qualification criteria more than once during their first twelve weeks).
Binary Commissions
Residual commissions in The Opportunity Network are paid out using a binary compensation structure. A binary compensation structure places an affiliate at the top of two binary teams (left and right):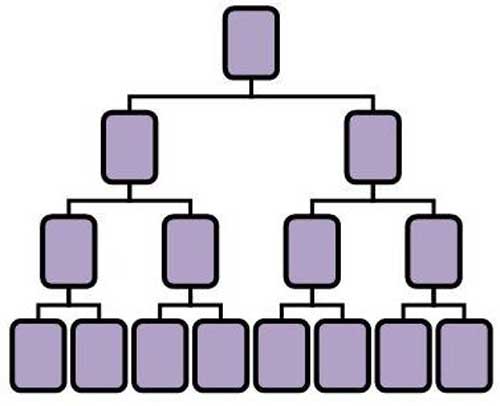 Each binary team is filled with recruited affiliates, with commissions paid out based on comparing the BV generated by both binary teams.
The Opportunity Network pay out binary commissions using a 1:2 ratio, meaning one binary side must have twice the volume of the other. For example if an affiliate' weaker binary team generates 300 BV, the stronger team must have 600 BV to match it against.
Once BV has been matched, it flushes and the process repeats itself again the next week. Any unmatched BV in the stronger leg carries over for a maximum of 90 days.
Commissions are paid out as a percentage of the weaker side's generated BV, with how much of a percentage paid out depending on affiliate's membership rank:
Basic – 5%
Bronze – 7.5%
Gold – 10%
Binary commissions are capped at 12,500 EUR a week for all affiliates. If an affiliate hits this weekly cap, all BV volume from both sides is flushed for that particular week.
Matching Bonus
The Opportunity Network offer a matching bonus on commissions earnt by recruited affiliates, paid out down a possible seven levels of recruitment.
How many levels a The Opportunity Network affiliate is paid down on depends on how many paid affiliates they have personally recruited.
recruit two Bronze/Gold affiliates – 3% on level 1, 2% on levels 2 and 3 and 3% on level 4
recruit four Bronze or Gold affiliates – 3% on level 1, 2% on level 2, 5% on level 3, 2% on level 4 and 3% on level 5
recruit six Bronze or Gold affiliates – 3% on level 1, 2% on level 2, 5% on levels 3 and 4, 2% on level 5 and 3% on level 6
recruit ten Bronze or Gold affiliates – 3% on level 1, 2% on level 2, 5% on levels 3 to 5, 2% on level 6 and 3% on level 7
Leadership Pool
The Opportunity Network Leadership Pool is made up of 2% of the company's "global turnover".
To qualify for the Leadership Pool an affiliate must generate a minimum of 10,000 BV in a week, with qualification paying out an affiliate's share of the pool for the following week.
Shares in the Leadership Pool are allocated based on BV generated by an affiliate's weaker binary leg:
10,000 BV – 1 share
25,000 BV – 3 shares
50,000 BV – 7 shares
100,000 BV – 15 shares
250,000 BV – 40 shares
500,000 BV – 100 shares
1,000,000 BV – 250 shares
Affiliates can also earn an additional point for every consecutive week they qualify for the Leadership Bonus.
Business Loyalty Bonuses
No specifics are provided on The Opportunity Network's Business Loyalty Bonuses, with the company only stating that following in their compensation plan:
All Recognition awards for Director and above (e.g., Incentive Trips, Rolex awards, Cash bonus, Luxury awards and Leadership Pool ) are given to Members that are building their OPN business exclusively and are not involved in any other MLM/Network marketing business.

It will be at the company's discretion to publically (sic) acknowledge a Member's award and achievement within the marketing plan or not.

All awards within our recognition program can be changed at the company's discretion at any time with a minimum of 14 days notice.
Joining The Opportunity Network
Affiliate membership to The Opportunity Network is free for the first year, with affiliates being charged 35 EUR annually every year thereafter.
Conclusion
Putting aside the troubled history of Unaico and the Enigro Group for now, the biggest issue with The Opportunity Network and SiteTalk is the lack of retail.
Why there's even two companies I'm not sure, as The Opportunity Network itself might as well be amalgamated into SiteTalk and packaged as a singular income opportunity.
Other than unnecessary secondary branding, I can't see why The Opportunity Network exists.
Within SiteTalk no retail revenue is possible, with every "member" signing up having access to the comp plan. Spend wise whereas previously SiteTalk at least had some retail orientation (payment seperated affiliates from members), now it's all based on generated BV – which looks to be primarily sourced from affiliates meeting a monthly minimum-spend.
This is evidenced by the fact that recruited affiliate volume only counts at a rate of 25% towards Personal Volume (PV), with an affiliate's own spend counting for a full 100%.
Additionally the company also put out an affiliate newsletter in September, spruiking the benefits of affiliate autoship orders:
As of the 14th of September 2013 you will be able to "pre-order" from 3 (initially) auto-shipments each priced at €69 and one priced at €207 for 4 successive "Active Status" periods (fourth period FREE).

It will be possible to order one auto-shipment that has a valid period of 28 days, but also 3, 6 or 12 successive periods.
A "Car Program" is also mentioned in the newsletter, paying out affiliates a cash bonus depending on how many autoship orders they generate off their recruited downline.
The end result is an opportunity that's likely to just be full of affiliates paying out a monthly autoship, in the hope of their recruited downline doing the same so that a commission is generated.
The social network MLM concept is nothing new, having been tried many times before The Opportunity Network and always resulting in problems with revenue generation (outside of affiliate fees).
With The Opportunity Network I'm not seeing anything different, other than the whole virtual share thing carried over from Unaico.
In The Opportunity Network there's no mention of Unaico's virtual share program. However clearly with the listing on the Cyprus Stock Exchange remnants of it exist, albeit in a seemingly unofficial capacity.
If I had to take a stab in the dark I'd say those who pumped money into the virtual share system were eventually awarded shares through the Cyprus offering, with the hope being that rebooting Unaico as The Opportunity Network can generate revenue through SiteTalk to pay out those who bought shares.
Revenue generated by third-party agreements and offers, none of which appear to have anything to do with The Opportunity Network itself.
With the drain this will cause on company revenue and closed nature of the share offering, I believe this is why there's no mention of it in The Opportunity Network's compensation plan material.
Infact so secretive are The Opportunity Network about their compensation plan that they don't make it available to prospective affiliates and the general public. Not until you've signed up and handed over your personal information:
Once a Member Application and Agreement has been accepted by OPN, the usage of the Social Network Platform, the Business model with Compensation Program and the Agreement are made available.
Definitely something for prospective The Opportunity Network affiliates to consider, along with the fact that there's no possibility of retail activity within the opportunity itself.