Monspace Review: YSLM pyramid scheme reboot?

Monspace is headquartered in Malaysia and describe themselves as
a multinational corporation with an active interest in eight primary sectors: Telecommunication, real estate, technology, finance, entertainment, aviation, hospitality and food and beverage.
Jessy Lai is cited as CEO of the company on the Monspace website.
Dato' Sri Jessy Lai is a multi-faceted entrepreneur with a passion for making ideas a reality and helping mission-driven professionals materialise ideas, elevate performance and accelerate success.

Lai (right) was a top affiliate in Zhang Jian's YSLM pyramid scheme. In 2014 The Star alleges Lai was caught out lying about YSLM affiliate's demanding refunds.
Lai reportedly said YSLM had "changed her life" thanks to "big brother Zhang" who helped her gain wealth and fame.
YSLM eventually collapsed and caused an estimated $233 million dollars in losses.
Despite that, Lai was adamant that YSLM was a legal business, blaming the media for a coordinated attack against the company.
Zhang recently resurfaced in Malaysia in connection with a series of bizarre "charity dinners".
In 2016 Jessy Lai's Monspace Sky Airline was accused of violating several aviation regulations.
Promotional material for Monspace Sky Airline is reported to have featured Zhang.
Circulating on WeChat were also brochures promoting Monspace Sky Airline's trip for tourists from China to Langkawi, which prominently featured Zhang holding two thumbs up.

When contacted, Lai refused to comment on the allegations made against her and her airline.
It would seem Zhang is actually behind Monspace, however to date there's been no official confirmation.
On the regulatory front Monspace was added to the Bank of Malaysia's list 'of companies and websites which are neither authorised nor approved under the relevant laws and regulations administered by BNM'.
On June 1st, 2017 the Philippine SEC issued an advisory warning of unauthorized investment activity in relation to Monspace.
Read on for a full review of the Monspace MLM opportunity.
Monspace Products
Monspace has no retailable products or services, with affiliates only able to market Monspace affiliate membership itself.
The Monspace website does feature a number of businesses:
Monspace Mall – an e-commerce platform
Koperasi Monspace Berhad – "seeks to create financial stability for its members and community through viable investments and businesses"
Monspace Sky Communications – "we offer attractive packages of international call rates, data plan and voice call services"
Monspace City – "a condominium project that fulfils the need for luxury urban living"
Fat Mama Steamboat – "Enjoy Hong Kong's all time favourite steamboat recipe right at your doorstep at Fat Mama Steamboat"
None of these businesses appear to have anything to do with Monspace's MLM opportunity.
Alexa rankings for the provided corresponding company websites reveals there is little activity on any of them.
The Monspace Compensation Plan
Monspace affiliates invest in e-shares on the promise of a ROI.
E-shares are worthless outside of Monspace. Within Monspace the company assigns a value to each e-share.
Monspace affiliates are able to convert e-shares into a ROI via an internal exchange.
A Monspace affiliate invests in e-shares by signing up as
an Ordinary Member (RM 560 or $130 USD)
a Shareholder (RM 5560 or $1294 USD) or
a Director (RM 55,560 or $12,937 USD)
Each Monspace affiliate membership is bundled with 100 e-shares.
When the internal value of e-shares climbs by "50 to 60 cents", Monspace double the amount of e-shares each affiliate has.
Recruitment Commissions
Monspace affiliates are paid to recruit new affiliates.
Ordinary Member affiliates receive RM 100 ($23 USD) per affiliate recruited.
Shareholder affiliates receive RM 100 ($23 USD) per Ordinary Member recruited and RM 1100 ($256 USD) for each Shareholder and Director.
Director affiliates receive RM 100 ($23 USD) per Ordinary Member recruited, RM 1100 ($256 USD) for each Shareholder and RM 10,000 ($2328 USD) for each Director.
Residual Recruitment Commissions
Monspace pay residual recruitment commissions via a binary compensation structure.
A binary compensation structure places an affiliate at the top of a binary team, split into two sides (left and right):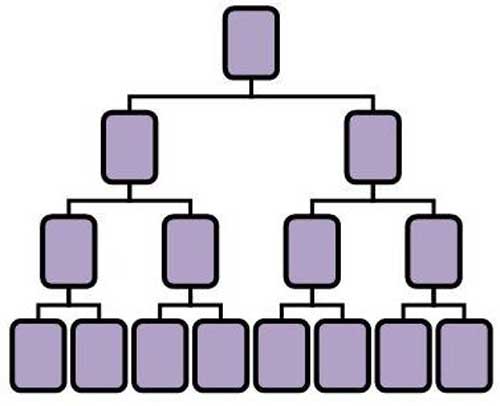 The first level of the binary team houses two positions. The second level of the binary team is generated by splitting these first two positions into another two positions each (4 positions).
Subsequent levels of the binary team are generated as required, with each new level housing twice as many positions as the previous level.
Positions in the binary team are filled via direct and indirect recruitment of affiliates. Note that there is no limit to how deep a binary team can grow.
Residual recruitment commissions are paid out based on generated pairs on both sides of the binary team. That is one affiliate on the left side paired with one affiliate on the right side.
Monspace affiliates are paid based on new pairs daily. How much of a residual recruitment commission they receive is based on how much they invested:
Ordinary Member affiliates are paid RM 300 ($70 USD) per pair on their first five binary team levels and RM 50 ($12 USD) per pair from level 6 onward
Shareholder affiliates receive RM 3300 ($768 USD) per pair on their first five binary team levels and RM 550 ($128 USD) per pair from level 6 onward (pairs of Ordinary Members as above)
Director affiliates receive RM 30,000 ($6985 USD) per pair on their first five binary team levels and RM 5000 ($1164 USD) per pair from level 6 onward (pairs of Ordinary Members and Shareholders as above)
Both Ordinary Member and Shareholder affiliate binary commissions are capped at 10 pairs a day.
This cap can be increased to 60 pairs a day upon payment of an "upgrade" fee. Monspace do not specify how much the upgrade fee is in their compensation plan material.
Equity Warrant
Monspace Shareholder affiliates receive
5 lots of equity warrant for Monspace Agriculture which will be listed in OTC NASDAQ U.S. on 14th of May 2017.
If an affiliate invests in five Shareholder positions, they will receive 50 equity warrant positions.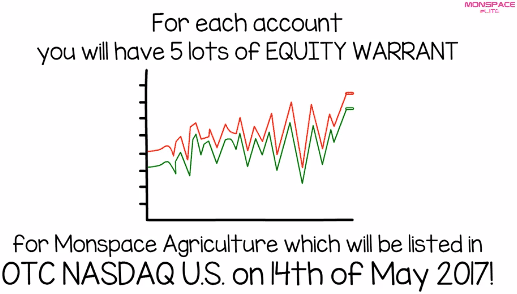 Monspace claim each equity warrant will initially have a value of $5000.
Monspace Directors receive "50 IPO for Monspace Agriculture". If three Director positions are purchased that increases to "200 IPO". No further information is provided.
At the time of publication (July 2017) there is no listing on NASDAQ for Monspace Agriculture.
MSCoins
Monspace affiliates are able to invest in MSCoins.
MSCoins are billed as a cryptocurrency, but are yet another layer of non-publicly tradable points.
Monspace set the value of MSCoins. For now affiliates are only able to invest in MSCoin and watch numbers in their backoffices grow.
Monspace has told affiliates they'll be able to cash out their MSCoins via an internal exchange by September, 2017.
Joining Monspace
Monspace affiliate membership is either RM 560 ($130 USD) as an Ordinary Member, RM 5560 ($1294 USD) for a Shareholder position or RM 55,560 ($12,937 USD) for a Director position.
The primary difference between the two membership options is income potential via the Monspace compensation plan.
Conclusion
Despite the flashy presentation, Monspace is little more than a virtual share Ponzi scheme.
Monspace affiliates invest and are given e-shares. Monspace adjusts the internal value of the e-shares and affiliates put in ROI requests through Monspace.
Periodically Monspace doubles the amount of e-shares each affiliate has, which is obviously not sustainable.
The only verifiable source of revenue entering Monspace is affiliate investment, the of which to pay affiliate ROIs makes Monspace a Ponzi scheme.
The featured companies don't appear to be doing any significant business. What little revenue might be generated would appear to be again be Monspace affiliates (zero interest from the general public).
While there's no listing for Monspace Agriculture in the US, there is a listing for Mon Space Net Inc in the SEC's Edgar database.
The address provided in the registration differs to that on the Monspace website, however the business description mentions Monspace Mall;
Incorporated on December 31, 2015 under the laws of the State of Nevada, Mon Space Net Inc. ("Mon Space") plans to build an online marketplace that will be created to sell product and services to its members using a business to business to consumer model (B2B2C).

With respect to our business, we plan to build an online platform that allows the users to be "merchants" as well as "shopper" at the same time.

We plan to launch "Mon Space Mall", an online platform that would allow third-party merchants, as well as individual users, to sell their general merchandise products and services directly to other users on our platform.

We plan to charge the sellers a service fee of approximately 3% of the total purchase price with respect to their general merchandise sold through our website.

We also plan to generate revenue through from third-party merchants if they advertise products through our website.

Third-party merchants use our website to advertise and sell their goods, manage customer data, and track orders and shipments. Consumers shop online and pay for products and services through the system.

Thus, we do not buy, hold, or sell any inventory. In addition, as we begin to accumulate a large base of membership for our website, we plan to negotiate with merchandisers and source quality products at a discount not available anywhere else for our users.
Interestingly Monspace has registered itself with the SEC under the "SERVICES-COMPUTER PROGRAMMING, DATA PROCESSING, ETC." category.
There is no mention of the MLM compensation plan or e-shares offering.
Whether Mon Space Net Inc is supposed to be a substitute of Monspace Agriculture is unclear. Mon Space Net Inc has 390,000 shares of common stock, valued at $0.001 per share.
A far cry from the projected $5000 per share value Monspace are soliciting investment with.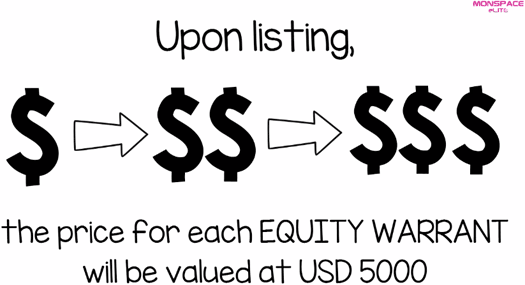 Oh and from Mon Space Net Inc's July 7th, 2016 Form S-1 filing;
We currently intend to retain any future earnings for use in the operation and expansion of our business.

Accordingly, we do not expect to pay any dividends in the foreseeable future, but will review this policy as circumstances dictate.
Nothing suss.
Jessy Lai's real name meanwhile appears to be Lai Chai Suang, as per the Mon Space Net Inc executive declarations;
Lai Chai Suang – Chief Executive Officer, Chief Financial Officer, Treasurer & Secretary

Musa Bin Hassan – President

Low Koon Poh – Director

Chan Foo Weng – Director
Musa Bin Hassan is of particular interest, as he's a former Inspector General of the Malaysian police.
How a former officer who held the highest rank within the Malaysian police force wound up as President of a Ponzi scheme is unclear.
For their part, Monspace claim
The former IGP has no direct links with MonSpace. He is the president of MonSpace Net Inc, which is the listed company.

In regards to all the MonSpace companies in Malaysia, he is not involved in any of these.
As per dissection of the SEC filings of Monspace Net Inc however, they are all the same company.
Despite claiming to "already have more than 8.1 million people WORLDWIDE", MonSpace Net Inc has recorded a net loss of $14,176 in 2017 as of March, 2017.
The Company has not yet generated any revenue since its inception and has operating losses of $14,176 for the three months ended March 31, 2017.
No revenues from the sale of e-shares or Monspace Agriculture equity warrants are listed.
Which is strange, because Monspace claim to have "produced 30,000 millionaires in China".
Despite the obvious securities offering by way of e-shares and MSCoins, Jessy Lai insists Monspace is not an investment opportunity.
We are not an investment company. Rather, we are an e-commerce company, like Lazada or TaoBao.
At this point you might be thinking; obvious Ponzi scheme, dodgy SEC registration… so uh, why haven't the SEC taken any action?
Monspace are currently soliciting investment across Malaysia and the Philippines. They have no business activities in the US.
Monspace incorporated in Nevada in late 2015 and began filing with the SEC in March, 2016.
Prior to April, 2017 however, interest in Monspace as an MLM opportunity was non-existent.
It is only recently the company has gained momentum, and even then Alexa traffic estimates show a flat-line from May.
If Monspace does take off in Malaysia no doubt somebody at the SEC will eventually open an investigation and look into the Mon Space Net Inc registration.
Until then, like all Ponzi schemes, once MonSpace runs out of newly invested funds to fuel their e-share virtual share scam, the scheme will collapse.
As with YSLM, upon collapse once again the majority of Monspace affiliates will lose money.