uFun Club scammer convinces following to dye hair, get tattoos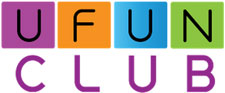 While I've come to accept it's pretty much "anything goes" in the MLM underbelly, even after almost a decade I still come across stories I find perplexing.
Zhang Jian's latest escapades in Malaysia are one such instance.
For those unfamiliar with Jian , he's been scamming people across China, Malaysia and Thailand for years.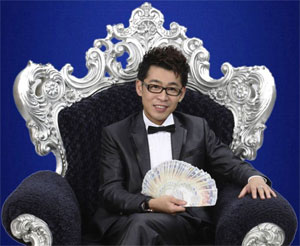 BehindMLM first ran across Jiang (right) as part of our coverage on the uFun Club Ponzi scheme.
After taking heat for running pyramid schemes in China and Malaysia, Jiang underwent plastic surgery, obtained a fake ID and fled Thailand.
There he proceeded to scam people through uFun Club, until Thai authorities named him a Ponzi ringleader in April, 2015.
Thai authorities were cooperating with Malaysian authorities, but whether Jiang was arrested is unclear.
Recently Jiang's name has emerged again in Malaysia, following a series of bizarre "charity dinners".
Male attendees of the events are only permitted entrance is they dye their hair gold or yellow.
Female attendees are required to either shave their heads or sport tattoos of Jian.
So uh, how many people rocked up Jian's latest "charity dinner" last Sunday?
Five? Ten?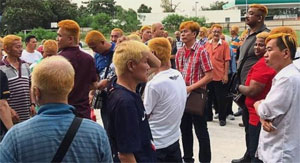 Not even close. Jian somehow managed to convince about a thousand people to attend.
The dinner was held in Butterworth, Penang, following similar dinners in 'Johor Baru, Kuala Lumpur as well as in Sabah'.
And here's the kicker, Jian himself wasn't even at the event.
So what's going on here? After scamming that many people out of that much money, why are people dying their hair, shaving it off and/or getting tattoos to attend dinners?
Apparently Jian is back with a new cryptocurrency opportunity, Wu Xin Bi.
A man, who claimed to be Zhang's "assistant", posted on social media recently that the assistants could earn between 3,000 yuan and 30,000 yuan (RM1,925 to RM19,251) a month.

According to one of Zhang's "assistants", they only needed to promote the investment to their friends through social media.
What exactly went on at the Malaysian dinners isn't clear, with reports barred from covering the event.
Those attending were reported to arrive in chartered buses and cars with plates from outside Penang state.
Authorities in China meanwhile have already issued a warning against investment in Wu Xin Bi.
Jian's whereabouts are currently unknown. His last known whereabouts were in Thailand, however Wu Xin Bi affiliates now claim he's in the Maldives.
With thousands dying or shaving their hair and getting tattoos, on nothing more than the promise of riches, this is starting to get pretty cult-like.
Some of the women came with their heads shaved, while others were spotted with tattoos of Zhang to show their support, and several male members wore dresses to the event.
Jian's probably a ways off getting people to drink "special tea" at one of these events, but it's not that much of a stretch. Dead victims don't tell tales.
Who are these gullible morons?