Mini Oil Well Review: Deceptive candle marketing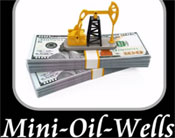 Identified as owner of the company on the Mini Oil Well website is Timothy Drobnick.
Drobnick has previously launched the social networking site WOM Vegas and is also an affiliate with Cloud Canyon.
WOM Vegas is basically a social network marketing platform, and Cloud Canyon an opportunity that revolves around scented candles.
When I went to the Cloud Canyon website I was automatically assigned Drobnick (right) as an upline.
Further research reveals the creator of the company is cited as Barbara Drobnick (presumably Tim Drobnick's wife).
In a marketing video on the Mini Oil Well website, Drobnick explains he created Mini Oil Well to help market his Cloud Canyon business to salons.
I decided to create the Mini-Oil-Wells because I need some help with follow up on these salons.

I would like to have ten different people have an interest in the income from these salons so that they can help me with social media follow up.

Most of these salons have Facebook pages. If we have 10 people posting on their Facebook page for the purpose of promoting Cloud Canyon, this will help considerably to turn these salons into a very profitable Mini-Oil-Well.

All I need is to have someone post no more than 10 times per year but at least one time per month, using the posts I give you and posting it where I tell you.

It would either be on Facebook, Instagram or Twitter.
Read on for a full review of the Mini Oil Well MLM business opportunity.
The Mini Oil Well Product Line
Mini Oil Well has no retailable products or services, with affiliates only able to market Mini Oil Well affiliate membership itself.
Once signed up, Mini Oil Well affiliates can purchase $7.50 positions and participate in the MLM business opportunity.
The Mini Oil Well Compensation Plan
The Mini Oil Well compensation plan sees affiliates purchase $7.50 positions and get paid to recruit others who do the same.
Commissions in Mini Oil Well are tracked via straight-line queue.
A straight-line queue places all subsequently purchased positions after an affiliate's own position, irrespective of who recruited the affiliate's purchasing the positions.
Mini Oil Well claim to pay out 1.335% of all subsequently position purchased 'for unlimited levels down'.
The Mini Oil Well compensation plan documentation also states that up to ten commissions are paid per position purchased.
This doesn't make much sense however, with 1.335% of $7.50 being 10 cents.
Ten times 10 cents is a $1, which would appear to make the Mini Oil Well business opportunity a guaranteed $6.50 loss per position purchased.
I'm thinking this might function as a cycler, with a percentage cap on each positions earnings.
Upon reaching that cap, a position is then re-entered back into the bottom of the queue. There it slowly makes its way back up to the top of the queue for another payout, up to a maximum of ten per position.
Salon Commissions
Mini Oil Well claim that funds spent on positions are used to purchase Cloud Canyon products to sample to salons.
If those salons go on to purchase Cloud Canyon products, Mini Oil Well claim to share 1% of the commission paid on those orders with affiliates.
Up to ten affiliates are assigned to a single salon, with those affiliates also required to spam the salon on social media to generate interest in Cloud Canyon products.
Residual Salon Commissions
Residual salon commissions are paid out via a unilevel compensation structure.
A unilevel compensation structure places an affiliate at the top of a unilevel team, with every personally recruited affiliate placed directly under them (level 1):

If any personally recruited affiliates recruit new affiliates, they are placed on level 2 of the original affiliate's unilevel team.
Typically a unilevel team can extend down an infinite number of levels, however Mini Oil Well cap payable unilevel levels at two (discard the third level in the unilevel graphic example above).
Residual commissions are paid out as a 0.25% percentage of salon commissions earned by affiliates across the first two unilevel levels.
Weekly Global Cash Bonus
The Weekly Global Cash Bonus pays affiliates who encourage recruited affiliates to purchase the most $7.50 positions.
Commissions are paid to the top six position-generating affiliates each week as follows:
1st place – $1 per $7.50 position sold company-wide
2nd place – 25 cents per $7.50 position sold company-wide
3rd place – 10 cents per $7.50 position sold company-wide
4th to 6th place – 5 cents per $7.50 position sold company-wide
Joining Mini Oil Well
Affiliate membership with Mini Oil Well is free, however affiliates must purchase at least one $7.50 position.
As such, the defacto minimum cost of Mini Oil Well affiliate membership is $7.50.
Conclusion
Getting people to spam Facebook pages of third-party salons with disingenuous marketing copy they didn't even write?
If there has been a slimier method of commission qualification in MLM then I've yet to see it.
Putting aside the whole social media astroturfing rort Timothy Drobnick has going with Mini Oil Well, the rest of the business equally leaves much to be desired.
The sale of Cloud Canyon products to salons and sharing of those commissions with Mini Oil Well affiliates isn't problematic in and of itself, assuming of course some of the money paid in by affiliates is actually used to purchase Cloud Canyon products.
It's the rest of the compensation plan that's the problem.
First and foremost each $7.50 position is purchased on the expectation of passive income. Whether or not that income materializes is irrelevant, with the offering alone enough to qualify as that of a security.
Needless to say Mini Oil Well does not appear to be registered with the SEC.
Furthermore Mini Oil Well affiliates are paid a commission to recruit new affiliates who also buy into the scheme, which introduces a chain-recruitment layer.
Finally, within Mini Oil Well itself, no sales are being made to retail customers. Infact retail customers don't even exist, with all revenues paid in and out by the company sourced by affiliates.
Thus Mini Oil Well is a closed-loop opportunity, essentially rewarding affiliates who do the most recruiting and getting those recruits to purchase $7.50 positions.
Points for creativity Tim, but there are far more honest ways to promote your wife's candle business.