Mini Cash Pool Review: Adcredit Ponzi with cycler gifting

Mini Cash Pool provide no information on their website about who owns or runs the business.
The Mini Cash Pool website domain ("minicashpool.com") was privately registered on March 11th, 2017.
If you visit the Mini Cash Pool website without an affiliate referral, the site informs you that you've been "invited by MINI CASH POOL".
This is the Mini Cash Pool admin account. If you then click "sign up", the name of the Mini Cash Pool admin account is revealed to be Janet Qemunto.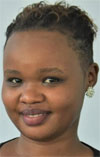 Janet Qemunto (right) is based in Kenya and, according to her Facebook and LinkedIn profiles, works for the Kenyan Ministry of Public Service, Youth and Gender Affairs.
In addition to launching Mini Cash Pool, is also an affiliate in the My Cash Pool gifting scheme.
A "buy script" link on the bottom of the Mini Cash Pool website points to Ashish Raja's Facebook profile.
Raja is the My Cash Pool admin and appears to have sold Qemunto a "scam in a box" business template.
Read on for a full review of the Mini Cash Pool MLM opportunity.
Mini Cash Pool Products
Mini Cash Pool has no retailable products or services, with affiliates only able to market Mini Cash Pool affiliate membership itself.
Once signed up, Mini Cash Pool affiliates can invest in AdPacks. Bundled with each AdPack investment are ad credits, which can be used to display advertising on the Mini Cash Pool website.
The Mini Cash Pool Compensation Plan
The Mini Cash Pool compensation plan combines AdPack investment with a 4×1 matrix cycler.
Bitcoin gambling services are also offered but don't appear to have anything to do with the Mini Cash Pool income opportunity (other than paying a 15% referral commission).
AdPack ROIs
Mini Cash Pool offer affiliates three "plans" to invest in, each paying an advertised 120% ROI at a rate of "up to 2%" a day.
Bronze Plan – $10 ($12 ROI)
Silver Plan – $50 ($60 ROI)
Gold Plan – $100 ($120 ROI)
A 5% referral commission is paid on funds invested by personally recruited affiliates.
Cycler Commissions
A 4×1 matrix is simple in nature, requiring only four positions to be filled before a "cycle" is triggered.
Positions in the a Mini Cash Pool cycler matrix are filled via 0.01 BTC position purchases by new and existing Mini Cash Pool affiliates.
A cycle generates a 0.03 BTC commission for the position at the top of a matrix.
The remaining 0.01 BTC is used to fund a new 4×1 matrix position purchase (thus the cycle process repeats).
Joining Mini Cash Pool
Mini Cash Pool affiliate membership is free, however affiliates must invest in an AdPack ($10 to $100) or purchase a 0.01 BTC cycler position to participate in the attached income opportunity.
Conclusion
Despite having made enough money to qualify as a My Cash Pool "representative" for Kenya, Janet Qemunto has obviously realized the real money in scams is running them.
And so we have the launch of Mini Cash Pool, combining Ponzi fraud with a gifting cycler
The Ad Pack component of Mini Cash Pool is pretty straight-forward. You invest, people who joined before you steal your money and then you steal money from people who join after you.
The use of newly invested funds to pay off existing Mini Cash Pool affiliates is Ponzi fraud.
The cycler sees Mini Cash Pool affiliates gift each other 0.01 BTC, effectively returning a 0.03 BTC ROI on a 0.01 BTC investment.
Again the source of the ROI is subsequently invested funds, double confirming Mini Cash Pool is a Ponzi scheme.
As with all Ponzi schemes, once affiliate recruitment dies down so too do new funds entering the system.
When that happens Mini Cash Pool will be unable to meet its AdPack ROI obligations.
Are there any refunds?

We do not offer any refunds from Matrix, Adpacks purchases etc.
The matrix cycler will also stall without new funds, the end result being widespread losses for most Mini Cash Pool affiliates.