Mind Capital Review: 1.8% daily ROI bitcoin Ponzi

Mind Capital operates in the cryptocurrency MLM niche.
The company fails to provide contact information on its website. In official Mind Capital marketing material though, the company states it was "opening offices in Madrid" in December 2019.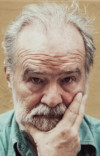 Heading up Mind Capital is Gonzalo Garcia-Pelayo (right).
Mind Capital's marketing material brands Garcia-Pelayo as being a gambling expert.
Garcia-Pelayo's claim to fame is "beating roulette", through study of roulette wheel flaws.
As far as I can tell, Garcia-Pelayo doesn't have an MLM or cryptocurrency history. Why he's heading up an MLM cryptocurrency company is unclear – but he's obviously not working alone.
Read on for a full review of Mind Capital's MLM opportunity.
Mind Capital's Products
Mind Capital has no retailable products or services, with affiliates only able to market Mind Capital affiliate membership itself.
Mind Capital's Compensation Plan
Mind Capital affiliates invest $100 to $100,000 on the promise of a 0.5% to 1.5% daily ROI.
Commissions are paid when they recruit others who do the same.
Residual Commissions
Mind Capital pays residual commissions via a unilevel compensation structure.
A unilevel compensation structure places an affiliate at the top of a unilevel team, with every personally recruited affiliate placed directly under them (level 1):

If any level 1 affiliates recruit new affiliates, they are placed on level 2 of the original affiliate's unilevel team.
If any level 2 affiliates recruit new affiliates, they are placed on level 3 and so on and so forth down a theoretical infinite number of levels.
Mind Capital caps payable unilevel team levels at ten.
Commissions are paid out as a percentage of returns paid across the unilevel team as follows:
level 1 (personally recruited affiliates) – 8%
level 2 – 4%
levels 3 and 4 (must generate $5000 in downline investment volume) – 3%
levels 5 and 6 (must generate $15,000 in downline investment volume) – 2%
levels 7 and 8 (must generate $50,000 in downline investment volume) – 2%
levels 9 and 10 (must generate $100,000 in downline investment volume) – 2%
Joining Mining Capital
Mining Capital affiliate membership is tied to a minimum $100 investment.
Although credit cards are permitted, funding of Mining Capital investment positions takes place in bitcoin.
As I understand it credit card payments are converted to bitcoin and then must be manually transferred by a new affiliate.
Mind Capital also pays withdrawal requests in bitcoin.
Conclusion
Mind Capital claims it generates external revenue through "AI algorithms developed to find buying/selling opportunities". Or in other words, the typical "trading bots" MLM crypto ruse.
I say ruse because there's no evidence of Mining Capital using external revenue to actually pay affiliates.
There is a "see the system in action" link on Mining Capital's website.
From your control panel at any time you can see in real-time how our Artificial Intelligence algorithms work finding investment opportunities and the profitability obtained in each operation performed.
Clicking the button however just redirect to the affiliate login page.
In any event, it doesn't take much to come up with some backoffice trading theater. Whatever is or isn't represented by Mind Capital in the backoffice is not proof of external revenue actually being used to pay affiliates.
Furthermore, Mining Capital's business model fails the Ponzi logic test.
The company claims on multiple occasions to have been developing its trading bots for years.
In one example, Mind Capital claims its bot is the result of "years of research and development (R&D) and the latest technology for the benefit of the investor".
In another example (FAQ), Mind Capital states;
We have been researching and developing our platform for a long tiem and although it is true that so far our results have been positive…
This raises the question that, if Mind Capital already has a successful trading bot capable of generating up to 1.5% a day, what do they need your money for?
If you had a bot you'd been testing for years and now it was successfully paying off, why would you whore it out over the internet for just $100?
Let it run and pocket 100% of the proceeds.
It makes absolutely no sense to share profit and only take 35% of generated profit.
Every day the profits obtained the previous day are distributed among the participants, of which mind.capital retains 35% in management and maintenance expenses.
Unless there is no bot. Or at the very least Mind Capital are overstating generated returns.
Which would mean newly invested funds are being paid out as returns – otherwise known as a Ponzi scheme.
In any event, despite clearly offering a passive investment opportunity, Mind Capital makes no representation it has registered with securities regulators.
In Spain, securities are regulated by the National Securities Market Commission (CNMV). Pretty much every country with an active financial market has a securities regulatory equivalent.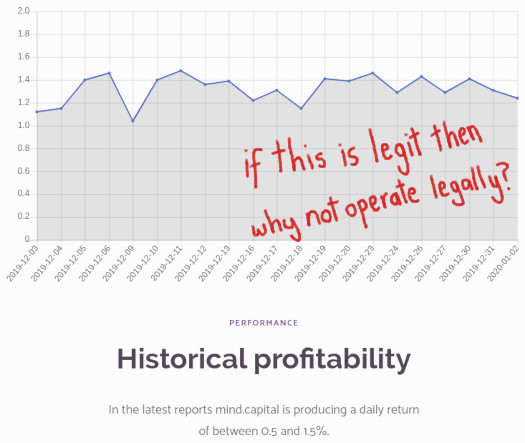 In addition to securities fraud, Mind Capital is also a pyramid scheme.
Nothing is marketed or sold to retail customers, meaning 100% of commissions are tied to recruitment.
As with all MLM Ponzi schemes, once affiliate recruitment dies down so too will new investment.
This will starve Mind Capital of ROI revenue, eventually prompting a collapse.
The math behind Ponzi schemes guarantees that when they collapse, the majority of participants lose money.
Update January 15th 2020 – The CNMV has confirmed Mind Capital is committing securities fraud in Spain.
Update 21st December 2020 – Rather than address securities fraud, Mind Capital is laying the groundwork for a shit token exit-scam.
Update 14th August 2021 – Mind Capital's exit-scam is complete, prompting the company to pull its website offline.