MetaStake Review: MSDT shit token staking Ponzi

MetaStake operates in the MLM cryptocurrency niche.
Without providing any specific addresses, MetaStake represents it is based out of the UK, Thailand and Seychelles.
MetaStake operates from two primary website domains:
metastakecoin.com – privately registered on October 2nd, 2022
metastakecoin.io – privately registered on October 16th, 2022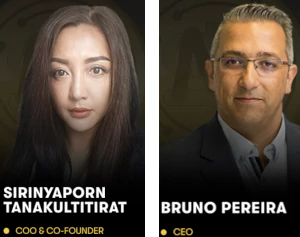 Heading up MetaStake we have co-founder and COO Sirinyaporn Tanakultitirat (aka Sirinya and Sinya Young), and CEO Bruno Pereira.
Sirinyaporn's name (all variations), doesn't appear anywhere on the internet other than MetaStake's website.
MetaStake provides the following MLM history for Pereira;
Starting as a business representative at ACN, he went on to become the Vice President of Portugal at Amarillas Internet, and subsequently the Country Manager at Gano Excel.
Amarillas Internet is better known as AI Yellow, a pyramid scheme BehindMLM reviewed back in 2012.
BehindMLM first came across Bruno Pereira in April 2022, as a suspected insider of the Gauss Global Ponzi scheme.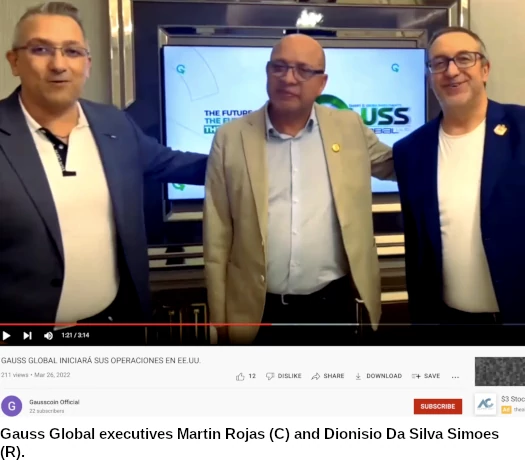 Gauss Global has long-since collapsed. A comment left by a BehindMLM reader on our Gauss Global review is of interest:
Bruno Pereira is a low life scammer trying to became a big scammer.

In the past he promoted the Ponzi scheme Forsage, Bizzcoin and other Bitcoin Ponzi scheme that he deleted all the proof.

He uses basically the same text and strategy as other Ponzi scammers. Fronts as Master Coach but he is one the beneficiaries of the scheme.
Oddly enough, MetaStake had a completely different CEO a few months ago: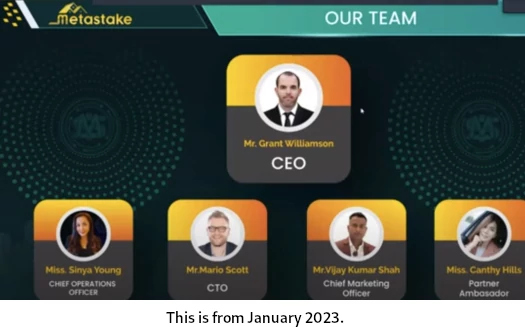 "Grant Williamson" appears to be some random guy's head photoshopped onto a suit template.
The Gauss Global screenshot above places Pereira in Dubai, suggesting he might have fled Portugal as his Ponzi career progressed.
BehindMLM's guidelines for Dubai are:
If someone lives in Dubai and approaches you about an MLM opportunity, they're trying to scam you.
If an MLM company is based out of or represents it has ties to Dubai, it's a scam.
If you want to know specifically how this applies to MetaStake, read on for a full review.
MetaStake's Products
MetaStake has no retailable products or services.
Affiliates are only able to market MetaStake affiliate membership itself.
MetaStake's Compensation Plan
MetaStake affiliates invest in MSDT token. These tokens are then parked with MetaStake on the promise of advertised returns:
Bronze Plan 100 – invest $100 in MSDT and receive 0.5% a day for 300 days
Bronze Plan 500 – invest $500 in MSDT and receive 0.55% a day for 300 days
Silver Plan 1000 – invest $1000 in MSDT and receive 0.6% a day for 300 days
Silver Plan 5000 – invest $5000 in MSDT and receive 0.65% a day for 300 days
Gold Plan 10000 – invest $10,000 in MSDT and receive 0.7% a day for 300 days
Gold Plan 25000 – invest $25,000 in MSDT and receive 0.75% a day for 300 days
Gold Plan 50000 – invest $50,000 in MSDT and receive 0.8% a day for 300 days
The MLM side of MetaStake pays commissions on funds invested by recruited affiliates.
MetaStake Affiliate Ranks
There are eight ranks within MetaStake's compensation plan.
Along with their respective qualification criteria, they are as follows:
Affiliate – sign up as a MetaStake affiliate and invest
Bronze – recruit five affiliates and generate $50,000 in downline investment volume
Silver – recruit seven affiliates and generate $100,000 in downline investment volume, or personally recruit two Bronze or higher ranked affiliates
Gold – recruit nine affiliates and generate $200,000 in downline investment volume, or personally recruit three Silver or higher ranked affiliates
VIP Premium – recruit twelve affiliates and generate $450,000 in downline investment volume, or personally recruit three Gold or higher ranked affiliates
VIP Platinum – recruit fifteen affiliates and generate $800,000 in downline investment volume, or personally recruit three VIP Premium or higher ranked affiliates
Ambassador – recruit seventeen affiliates and generate $2,500,000 in downline investment volume, or personally recruit three VIP Platinum or higher ranked affiliates
Director – recruit twenty affiliates and generate $5,000,000 in downline investment volume, or personally recruit three Ambassador or higher ranked affiliates
Referral Commissions
MetaStake pays referral commissions via a unilevel compensation structure.
A unilevel compensation structure places an affiliate at the top of a unilevel team, with every personally recruited affiliate placed directly under them (level 1):

If any level 1 affiliates recruit new affiliates, they are placed on level 2 of the original affiliate's unilevel team.
If any level 2 affiliates recruit new affiliates, they are placed on level 3 and so on and so forth down a theoretical infinite number of levels.
MetaStake caps payable unilevel team levels at twenty. Referral commissions are paid as a percentage of invested funds across these twenty levels as follows:
level 1 (personally recruited affiliates) – 7%
level 2 – 2%
level 3 – 1%
levels 4 to 7 – 0.5%
level 8 – 0.4%
levels 9 to 13 – 0.3%
levels 14 to 17 – 0.2%
levels 18 to 20 – 0.1%
ROI Match
MetaStake pays a ROI match on daily returns earned by downline affiliates.
The ROI Match pays down the same twenty unilevel team levels as referral commissions:
level 1 – 10%
level 2 – 7%
level 3 – 3%
levels 4 to 16 – 2%
levels 17 to 20 – 1%
Rank Achievement Bonus
MetaStake rewards affiliates for qualifying at Bronze and higher with the following one-time Rank Achievement Bonuses:
qualify at Bronze and receive a $500 or a "Dubai Trip"
qualify at Silver and receive $2500 or an iPhone
qualify at MacBook and receive $5000 or a MacBook
qualify at VIP Premium and receive $12,000 or a "family tour"
qualify at VIP Platinum and receive $20,000 or a Rolex watch
qualify at Ambassador and receive $75,000 or a "luxury car"
qualify at Director and receive $200,000 or a "house"
Joining MetaStake
MetaStake affiliate membership is free.
Full participation in the attached income opportunity requires a minimum $100 initial investment.
MetaStake solicits investment in various cryptocurrencies.
MetaStake Conclusion
MetaStake represents it generates external revenue via… something something real-estate.
Our company was designed with the goal of automating the real estate sales process.

By bringing the technology to enable fully online and self-driving real estate transactions on smart contracts.
This is purportedly facilitated through NFTs: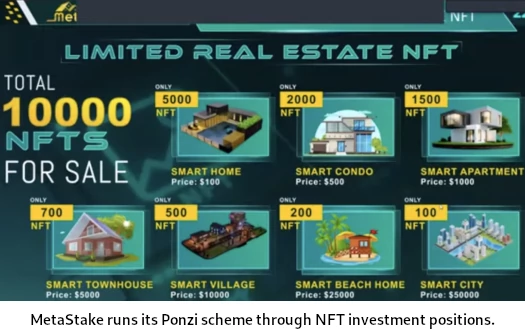 In reality, MetaStake has nothing to do with real-estate. NFTs are used to track investment positions. This could just as easily be done without NFTs but, y'know – buzzwords.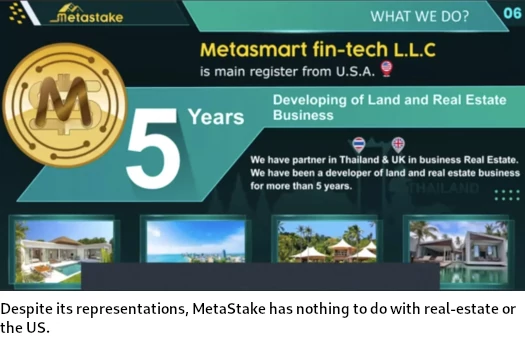 At the core of MetaStake's business model is a simple staking Ponzi. Affiliates sign up, invest in MSDT tokens, get paid more MSDT tokens and hope to cash out subsequently invested funds.
Attached to this is MetaStake's MLM compensation plan, adding an additional pyramid layer to the scheme.
As for MSDT (I've also seen MSDC referenced on MetaStake's website), these are simple BEP-20 shit tokens. BEP-20 tokens can be set up in a few minutes at little to no cost.
As with all MLM Ponzi schemes, once affiliate recruitment dries up so too will new investment.
This will starve MetaStake of ROI revenue, eventually prompting a collapse.
Being a shit token Ponzi, the first sign of a collapse will be any restriction on withdrawals. However long the exit-scam takes to play out, it will ultimately end with MetaStake affiliates bagholding yet another worthless Ponzi token.
The math behind Ponzi schemes guarantees that when they collapse, the majority of participants lose money.