Mainston Review 2.0: STON Ponzi points scheme

Mainston was first reviewed here on BehindMLM back in 2015.
The original business model was simple. Mainston was a four-tier pyramid scheme and it collapsed shortly after our review.
Like many MLM scams, Mainston has recently rebooted itself as a cryptocurrency opportunity.
In line with the 2015 launch, Mainston provides no information about who owns or runs the company on its website.
Mainston's Terms and Conditions states the company is
 incorporated in Dr. Mladen Stojanovikj num.10, 1300 Kumanovo, Macedonia, registration number: 7360762, Vat number: 4017019537409.
Macedonia isn't a fully fledged scam friendly jurisdiction, but it's not known for stringent regulation.
Curiously, there is also an address in Russia provided for Mainston International.
Russia is definitely a scam-friendly jurisdiction.
Mainston's compensation plan identifies Fabrice Kerherve as both founder and President of the company.
Kerherve recently featured on BehindMLM as a co-founder of the failed Flash4People Ponzi scheme.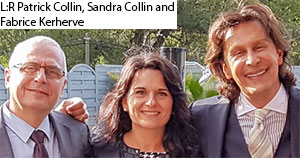 Kerherve had intended to launch Flash4People with Sandra and Patrick Collin, who are also credited as founders of Mainston.
In the wake of Flash4People's collapse, a company announcement stated
The coming weeks will allow us to select a new blockchain and its cryptocurrency responding to the public transparency requirements validated by the crypto community.
Mainston's reboot would appear to be Kerherve and the Colins' "selection" for a new scheme.
Read on for a full review of the Mainston MLM opportunity.
Mainston's Products
Mainston has no retailable products or services, with affiliates only able to market Mainston affiliate membership itself.
Mainston's Compensation Plan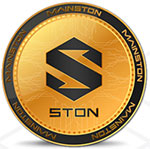 Mainston affiliates invest in StonPacks on the promise of a 1.25% monthly ROI.
A StonPack costs €152.21 EUR. There doesn't appear to be a limit as to how many StonPacks Mainston affiliate can invest in.
As of early July, one StonPack equates to 1229.928 STON.
STON is an ERC-20 token that holds no value outside of Mainston.
The 1.25% monthly ROI offered to Mainston affiliates is paid in STON tokens.
Residual Commissions
As of yet Mainston hasn't made their full compensation plan public.
What we do know is the company is tracking investment activity across at least six levels of recruitment: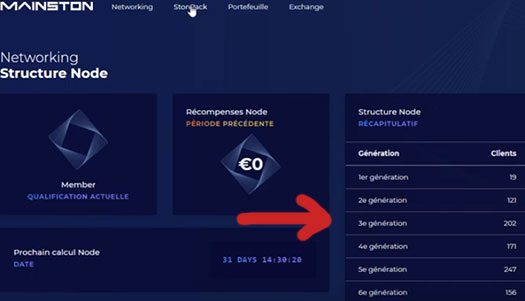 This suggests Mainston's compensation plan is unilevel based.
The other tidbit we know is that investment in one StonPack generates 90 CV across the network.
In their collapse announcement Flash4People stated that once they set up a new company;
the concept does not change (services and rewards), the pre-development phase can continue, while waiting for the launch of the proven, transparent and secure support.
Whether Mainston pays residual commissions on new investment or returns is unclear at the time of publication.
Joining Mainston
Mainston affiliate membership is free.
Participation in the attached income opportunity however requires investment in one or more StonPacks.
StonPacks are currently €152.21 EUR each. Whether this will change in the future is not known.
Conclusion
With their bid to run a Ponzi scheme through FlashMoni's OZTG altcoin having failed, Mainston has been repurposed as a continuation of those plans.
Said plans see Mainston and its affiliates pitch STON tokens on the usual MLM crypto promises of riches.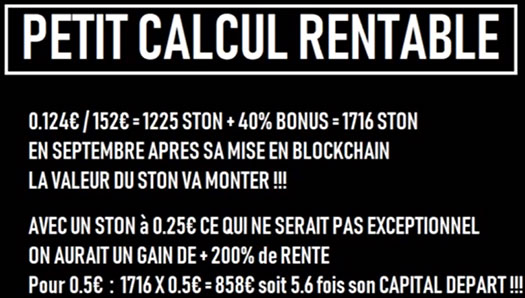 The first paragraph in the above example of actual Mainston marketing, states the value of STON will go up after September.
The second paragraph touts a potential 200% ROI.
Mainston meanwhile isn't the only company Fabrice Kerherve has repurposed.
At present Mainston is soliciting STON investment through two bank accounts: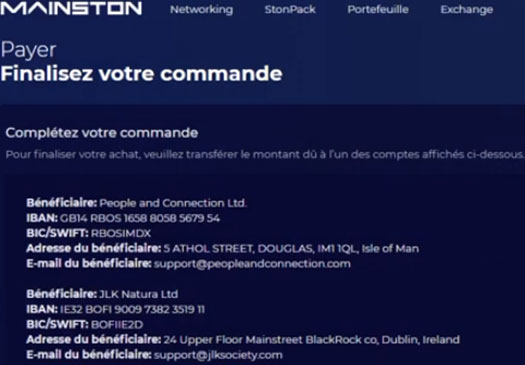 As above Mainston is using two bank accounts; one using People and Connection Ltd. and the other JLK Natura Ltd.
Both are shell companies, set up in the UK and Ireland respectively.
People and Connection is actually a collapsed pyramid scheme Kerherve launched in mid 2017.
JLK Natura probably has something to do with the company Kerherve was promoting hatching his Flash4People plans, Natura4Ever.
For academic reference, the People and Connection bank account Mainston is using is through the Royal Bank of Scotland.
The JLK Natura account is through the Bank of Ireland.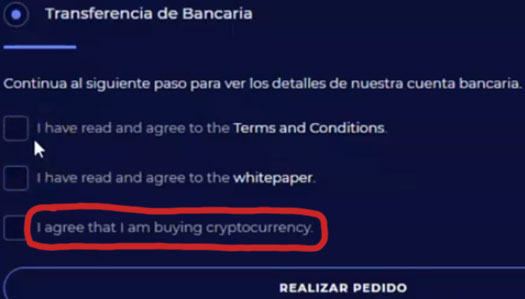 It is highly likely that neither bank has any idea Mainston is using two shell companies to solicit investment into a cryptocurrency scheme.
As far as Mainston's new cryptocurrency business model goes, STON is a simple ERC-20 shit token.
STON is not publicly tradeable, holds no value outside of Mainston and would have taken Kerherve and his partners minimal effort to set up.
And not only has Kerherve recycled People and Connection to launder invested funds through, he's also repurposed the ruse the company operated under.
This is from Mainston's whitepaper;
We believe blockchain has the enormous potential to help accelerate the adoption of cryptocurrencies around the world but more importantly, to accelerate the disruption of the sharing economy.

Our Marketplace is an invariable part of the Mainston ecosystem.

It will be the first integrated application to provide user-friendly access to all partners, clients and users
People and Connection operated as a pyramid scheme, behind the a property renting platform ruse.
Laughably, People and Connection saw itself as an AirBnB competitor.
Right now STON can only be withdrawn through an internal exchange, although it's unclear whether Mainston affiliate investors can actually cash out their STON tokens.
With a paper-thin premise and serial scammers running the show, Mainston is a prime candidate for the MLM crypto exit-scam model.
Once their secret ICO is over, or Kerherve and his partners are satisfied they've milked as much as they're going to get out of investors, attempts to get STON listed on some dodgy public exchanges will begin.
Once one or more suitable exchanges are found, STOR will set a public listing launch date.
This will hype the initial listing price, further allowing Kerherve and his partners to cash out at STON's pumped initial listing value.
Because STON is an utterly pointless shitcoin that brings absolutely nothing new to the table, it'll then start to dump.
The exit-scam plays out by way of angry affiliates realizing they've been cheated, only to be told Mainston upheld their part of the contract by providing them with a token.
Fabrice Kerherve and his co-conspirators make off invested funds, and if it's enough they'll never be seen again.
Cue Mainston desperate affiliates trying to sell worthless tokens to a market that doesn't care.
STON's public value plummets towards $0, sorry for your loss etc. etc. – the MLM crypto exit-scam has now played out too many times to count.
Yet no matter how many times investors in MLM crypto scams lose it all, it seems all you have to do is wait five minutes or so till another scheme pops up.
Kinda like Flash4People, which only collapsed early last month, and the Mainston reboot now.
For their part Mainston do warn their investors that STON
coins are not legal tender and are not required to be accepted as a means of payment.

Acquisition of (STON) coins may lead to complete loss of money.
But that's buried in the website's terms and conditions, which nobody reads.
No matter what ruse an MLM crypto Ponzi is attached to, the end result is the same.
In order for Fabrice Kerherve, his partners and top recruiters to earn money, the majority of Mainston affiliates have to lose it.
Update 30th April 2020 – Mainston has been rebooted as INBS International.