iTravel Party Review v2.0
iTravel Party launched just over a year ago. BehindMLM reviewed the opportunity in June 2015 and concluded it was a matrix cycler.
iTravel Party affiliates signed up for $299 and were paid $400 when they filled a 2×2 matrix via recruitment.
Our recent review of 2×2 Destiny, a feeder for iTravel Party, revealed the company has since changed its compensation plan.
Today we re-review iTravel Party's compensation plan and find out how the travel-based opportunity has changed.
The iTravel Party Compensation Plan
The iTravel Party compensation plan pays affiliates to sell retail memberships. The primary focus of the plan however is recruitment of new iTravel Party affiliates.
Retail Commissions
If an iTravel Party affiliate sells a retail iTravel Party membership ($299), they receive a one-time $59.70 commission.
A residual 10% commission is also paid if a personally recruited affiliate sells a retail iTravel Club membership.
Recruitment Commissions
An iTravel Party affiliate receives $30 a month per affiliate they've personally recruited.
A $15 a month commission is paid out on any affiliates recruited by personally recruited affiliates (level 2).
Matrix Cycler Commissions
Residual recruitment commissions in iTravel Party are paid out via a four-tier matrix cycler.
iTravel Party use a 2×2 matrix in their cycler, which requires six positions to be filled before a cycle commission is paid out: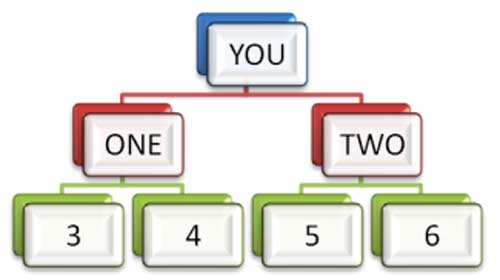 How much of a cycle commission is paid out is determined by which matrix cycler tier a cycle is generated on:
Tier 1 (positions cost $299) – $300 commission and cycles into Tier 2
Tier 2 – $700 commission, generates a new Tier 2 position and cycles into Tier 3
Tier 3 – $3500 commission, generates a new $3500 position and cycles into Tier 4
Tier 4 – $10,000 and generates a new Tier 4 matrix position
Joining iTravel Party
Affiliate membership with iTravel Party still costs $299 with a monthly $59.95 fee.
Conclusion
Whereas the original iTravel Party compensation plan combined a one-tier matrix cycler with residual unilevel commissions, there's now more focus on the cycler and less on monthly residuals.
Residual monthly commissions paid from affiliate fees are still there, however iTravel Party affiliates now only earn down two levels of recruitment.
The cycler meanwhile has been beefed up to four tiers and instead of just $400, now pays out thousands.
The problem however is it's still paying out on chain-recruitment. Retail sales and commissions do exist, but have nothing to do with the cycler side of the business.
If you want to earn cycler commissions, which dwarf the rest of the iTravel Party commission payouts, you need to focus on recruiting new affiliates.
The fees these affiliates pay are funneled into direct recruitment and cycler commissions, making the whole iTravel Party compensation plan a closed-loop system.
As with all cycler schemes, once new recruitment slows down so too will commissions paid out through the iTravel Party compensation plan.
This will first manifest itself by cycler commissions taking longer and longer to pay out, before the matrices stall altogether.
At that point anyone who hasn't recovered more than they've paid in fees loses out. Owing to the match behind cycler schemes, this is likely to be the majority of iTravel Party affiliates.
Update 5th June 2018 – iTravel Party has changed its compensation plan again, prompting BehindMLM to publish an updated The Travel Party review on May 28th, 2018.