iRaisers Review: $16 four-tier matrix cycler Ponzi

iRaisers provides no information on their website about who owns or runs the business.
The iRaisers website domain ("iraisers.com") was privately registered on January 9th, 2016. A corporate residential address in the US state of Georgia is provided by iRaisers but assumed to be bogus.
Despite the age of the domain, Alexa only registered measurable traffic to the iRaisers website from March 2018.
Currently Ghana (26%) and the US (24%) are the primary sources of traffic to the iRaisers website.
As always, if an MLM company is not openly upfront about who is running or owns it, think long and hard about joining and/or handing over any money.
iRaisers Products
iRaisers has no retailable products or services, with affiliates only able to market iRaisers affiliate membership itself.
The iRaisers Compensation Plan
iRaisers affiliates purchase $16 positions in a four-tier matrix cycler.
Matrix sizes used by iRaisers in their cycler are 3×3, 3×5 and 3×10.
A 3×3 matrix places an affiliate at the top of a matrix, with three positions directly under them: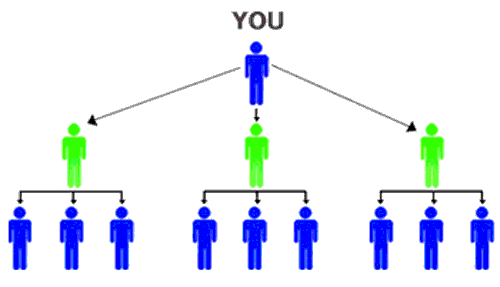 These three positions form the first level of the matrix. The second level of the matrix is generated by splitting these first three positions into another three positions each (9 positions).
The third level of the matrix is generated in the same manner and houses 27 positions.
A 3×5 and 3×10 matrix expands available levels in the matrix by two and eight levels respectively.
Each additional level in a 3×5 and 3×10 matrix is made up of three times as many positions as the previous level.
An iRaisers affiliate signs up and purchases a $16 Bronze Board cycler position.
A 3×3 matrix Bronze Board matrix has thirty-nine positions to fill.
Positions in the matrix are filled when new and existing iRaisers affiliates purchase cycler positions.
As positions in the matrix fill, commissions are paid out.
When all three levels of the Bronze Board are filled, a "cycle" commission is triggered and the position "cycles" into the next matrix tier.
Payments across all four iRaisers cycler tiers are as follows:
Bronze Board (3×3 matrix, positions cost $16) – $115 cycle commission and cycles into Silver Board
Silver (3×5 matrix) – $13,000 cycle commission and cycles into Gold Board
Gold Board (3×5 matrix) – $300,000 cycle commission and cycles into Diamond Board
Diamond Board (3×5 matrix) – $3,000,000 cycle commission and cycles into Board of Directors
Upon cycling out of Diamond Board, an affiliate is given a position in a 3×10 "Board of Directors" matrix.
5% of cycle commissions paid out on Silver Board to Diamond Board are paid out through the 3×10 matrix.
Further specifics of how the cycle commissions are distributed through the Board of Directors matrix are not provided.
Referral Bonus
When a personally recruited iRaisers affiliate cycles a position out of Bronze Board, the affiliate who recruited them receives a $12 Referral Bonus.
Cycle Incentives
In addition commissions, cycling from the Silver Board and higher also rewards iRaisers affiliates with the following incentives:
cycle out of Silver Board – a laptop, "all-in-one desktop" and paid trip to Dubai
cycle out of Gold Board – a "brand new car", International Investment and Loan Fund Membership Card with paid trip to all scheduled meetings" and access to an "interest and collateral FREE loan"
cycle out of Diamond Board – a "brand new SUV", $5 million dollar housing fund and slice of 2% of signups from the next country iRaisers migrates to.
Other incentives cited on the iRaisers website include a "global profit pool", $10,000 "monthly residual income for life" and "other benefits" to be decided by the company's anonymous owner(s).
Joining iRaisers
iRaisers affiliate membership is free.
Participation in the attached MLM opportunity however requires the purchase of at least one $16 cycler position.
Conclusion
iRaisers bills itself as an "easy way to generate passive income".
As an active Member of iRaisers, we give you access to make up –to US $100,000 within the next 180 days without working like a slave.
To achieve the above, iRaisers affiliates participate in a bog-standard four-tier cycler Ponzi.
An initial investment of $16 is required. Cycle commissions at each matrix level serve as ROI payments, entirely funded by subsequent $16 investments.
This use of newly invested funds to pay existing iRaisers affiliates a ROI makes iRaisers a Ponzi scheme.
Of note is iRaisers claim KIA/Hyundai Motors, Angel Investment, UNICEF, Success Factory, Suzuki motors, Hp (and) Dell as "official partners".

No evidence of partnership is provided. Furthermore, given the illegal nature of the business, if one were to contact any of the above companies chances are they'd have never heard of iRaisers.
As with all MLM Ponzi schemes, once affiliate recruitment dies out so too will new investment.
Being a cycler this will result in iRaisers' matrices stalling. Once enough matrices have stalled, an irreversible collapse is triggered.
Through iRaisers one $16 position pays a $3,313,115 ROI.
To put that into perspective, a minimum of 207,070 $16 investments are required for just one position to fully cycle out.
Needless to say the only positions getting anywhere near that will be those preloaded by the anonymous iRaisers admin(s).
Thus when iRaisers inevitably collapses, they make off with the majority of invested funds, included funds attached to uncycled positions in stalled matrices.
Everybody else (including you) loses money.