Infinity Reloaded Review: Luisa Menezes' scam downline builder

There is no information on the Infinity Reloaded website indicating who owns or runs the business.
The Infinity Reloaded website domain ("infinityreloaded.com") was registered on the 23rd of October, 2016. Luisa Menezes is listed as the owner, with a residential address in Langholme, Scotland also provided.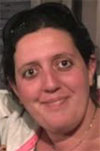 On Facebook Menezes (right) goes by "Lou Menezes Santos". Santos is also an affiliate with Skinny Body Care and seems have recruited some of her downline affiliates into Infinity Reloaded:
Just saw a post and comments in an SBC group saying that infinity reloaded is all hype lol.

Well let's just see who will be the last one laughing when we all reach platinum before all of you. And yes when this launches and you see BV spike in SBC.
Prior to launching late last year, Santos even went so far as to refer to Infinity Reloaded as SBC Infinity Reloaded:

Santos is also an affiliate of the Leased Ad Space cash gifting scheme.
Read on for a full review of the Infinity Reloaded MLM opportunity.
The Infinity Reloaded Product Line
Infinity Reloaded has no retailable products or services, with affiliates only able to market Infinity Reloaded affiliate membership itself.
Once signed up, Infinity Reloaded affiliates are given access to various internet marketing tools ("downloads, software, scripts, courses").
The Infinity Reloaded Compensation Plan
The infinity Reloaded compensation plan sees affiliates pay monthly membership fees. Commissions are paid when they recruit others who do the same.
Infinity Reloaded pays out down two levels of recruitment.
The first level (personally recruited affiliates) pays 80% of fees paid by those affiliates. The second level (affiliates recruited by your level 1 affiliates) pays 5%.
Corresponding commissions across Infinity Reloaded's seven affiliate membership levels are as follows:
Basic ($10 a month) – $8 on level 1 and 50 cents on level 2
Newbie ($50 a month) – $40 on level 1 and $2.50 on level 2
Warrior ($100 a month) – $80 on level 1 and $5 on level 2
Captain ($250 a month) – $200 on level 1 and $12.50 on level 2
Sheriff ($500 a month) – $400 on level 1 and $25 on level 2
Pro ($1000 a month) – $800 on level 1 and $50 on level 2
Pro Diamond ($2000 a month) – $1600 on level 1 and $100 on level 2
Note that the above levels are sequential. An Infinity Reloaded affiliate must maintain lower membership level payments if they upgrade to a higher level.
Joining Infinity Reloaded
Infinity Reloaded affiliate membership costs between $10 to $3910 a month.
The more an affiliate pays the higher their income potential through the Infinity Reloaded compensation plan.
Conclusion
Infinity Reloaded operates as a two-tier pyramid scheme.
100% of the company's revenue is derived from affiliate membership fees, 85% of which are used to pay recruitment commissions. Luisa Menezes presumably keeps the rest.
In addition to committing pyramid fraud, Menezes also uses Infinity Reloaded to feed affiliates into various MLM underbelly scams.
An Infinity Reloaded marketing video states the
system packed with multiple income streams that will run on autopilot, such as easy1up, coinbase, moneyline & much more!
Easy1Up is a cash gifting scheme. "Moneyline" refers to Global Moneyline, a pyramid scheme similar to Infinity Reloaded. Leased Ad Space is also probably in there somewhere.
Coinbase is a cryptocurrency exchange so I'm not sure what it's doing on Menezes' "income streams" list.
The same official marketing video also refers to Infinity Reloaded affiliate membership as an investment: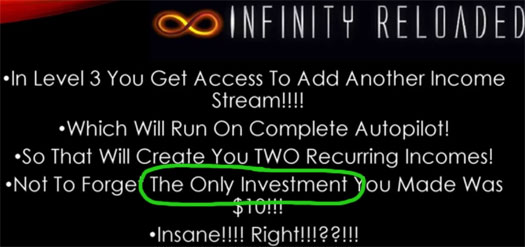 There is no indication in the video or on the Infinity Reloaded website that the company is registered with a securities regulator.
Each Infinity Reloaded affiliate membership level seems to correspond with an invite into Menezes' downline for a particular scheme.
Whether Skinny Body Care is part of the system is unclear, however Menezes' Facebook posts from late last year certainly seem to suggest so.
Also unclear is whether Skinny Body Care is aware of Menezes' conduct is unclear.
One would think pyramid recruiting to build a downline would have been against Skinny Body Care's affiliate terms and conditions, but here we are a few months into launch with nobody batting an eyelid.
As with all recruitment schemes, once affiliate recruitment dies off Infinity Reloaded will collapse. With monthly ongoing payments across all seven affiliate membership levels, once the scam collapses the majority of Infinity Reloaded affiliates will lose money.
That's on top of the money they'll lose if and when the various MLM underbelly scams attached to the affiliate membership levels collapse too.