InclusiveFX Review: 300% 150 day ROI forex Ponzi scheme

InclusiveFX operates in the forex trading MLM niche and claim to be based out of the UK.
The company provides laughably generic photos of their management.
Supposedly InclusiveFX is headed up by "Steve Murray", yet he and the rest of InclusiveFX management don't exist outside of staged photos provided on their website.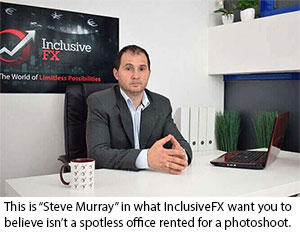 Pretty much all of the explanation and testimonial videos on the InclusiveFX website appear to be Fivver gigs.
As for the executive team, they are of university student age so I'm going to go with actors.
A corporate address provided on the InclusiveFX website belongs to Regus, a third-party virtual office provider.
The InclusiveFX website domain ("inclusivefx.com") was first registered in September, 2016.
The domain registration were last updated to reflect private registration on May 4th, 2018.
InclusiveFX provides two incorporation documents on their website, one for Ras Al Khaimah in the UAE and one for the UK.
Neither incorporation means anything from a legitimacy standpoint.
RAK International Companies incorporation costs about $1000. UK incorporation can be had for less than $100.
Neither jurisdiction is known for stringent regulation, with the UK in particular being a favorite of scammers.
As always, if an MLM company is not openly upfront about who is running or owns it, think long and hard about joining and/or handing over any money.
InclusiveFX Products
InclusiveFX has no retailable products or services, with affiliates only able to market InclusiveFX affiliate membership itself.
The InclusiveFX Compensation Plan
InclsuiveFX affiliate's invest funds on the promise of an advertised 1.6% to 2% daily ROI for 125 to 150 days.
Pro – invest $50 to $999 and receive a 1.6% daily ROI for 125 days (200%)
Mini – invest $1000 to $9999 and receive a 1.6% daily ROI for 130 days (214.5%)
Classic – invest $10,000 to $24,999 and receive a 1.75% daily ROI for 140 days (245%)
ECN – invest $25,000 to $100,000 and receive a 2% daily ROI fro 150 days (300%)
InclusiveFX charge a 5% on all ROI withdrawal requests. Commissions detailed below attract an 8% fee.
Referral Commissions
InclusiveFX affiliates receive a percentage of funds invested by personally recruited affiliates.
How much of a percentage is paid is determined by how much the referring affiliate has themselves invested:
Pro – 5%
Mini – 6%
Classic – 7%
ECN – 8%
Residual Commissions
InclusiveFX pays residual commissions via a binary compensation structure.
A binary compensation structure places an affiliate at the top of a binary team, split into two sides (left and right):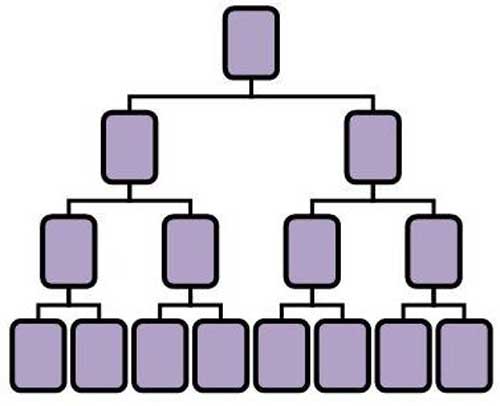 The first level of the binary team houses two positions. The second level of the binary team is generated by splitting these first two positions into another two positions each (4 positions).
Subsequent levels of the binary team are generated as required, with each new level housing twice as many positions as the previous level.
Positions in the binary team are filled via direct and indirect recruitment of affiliates. Note there is no limit to how deep a binary team can grow.
At the end of each day InclusiveFX tallies up new investment volume on both sides of the binary team.
An 8% residual commission is paid on funds invested on the weaker binary team side.
Note that daily residual commission rates are capped based on investment:
Pro affiliates are able to earn up to $500 a day
Mini affiliates are able to earn up to $1000 a day
Classic affiliates are able to earn up to $2500 a day
ECN affiliates are able to earn up to $5000 a day
Leftover volume on the stronger binary team side is carried over to the following day.
Note that to qualify for residual commissions, each InclusiveFX affiliate must recruit at least two investing affiliates (one placed on either side of the binary team).
Joining InclusiveFX
InclusiveFX affiliate membership is tied to a minimum $50 investment.
Conclusion
InclusiveFX claims to generate external ROI revenue via 'trading in forex and providing portfolio management services across the world'.
Naturally there's no evidence of external ROI revenue being used to pay affiliates provided.
InclusiveFX do provide some random forex trading account results, but these are meaningless without legally required regulatory disclosures.
Furthermore, InclusiveFX's business model fails the Ponzi logic test.
If InclusiveFX's actual owners were able to consistently generate a legitimate 300% return every 150 days (730% annually without compounding), they'd be quietly investing themselves.
They certainly wouldn't be soliciting $50 investments from randoms over the internet.
As it stands the only verifiable source of revenue entering InclusiveFX is new investment.
Using newly invested funds to pay existing affiliates a ROI makes InclusiveFX a Ponzi scheme.
Additional regulatory red flags include pyramid recruitment commissions and securities fraud.
Alexa currently cites Tanzania (26%), India (19%), Nigeria (16%) and Pakistan (11%) as the top four sources of traffic to the InclusiveFX website.
InclusiveFX provides no evidence it has registered with securities regulators in these jurisdictions, or any jurisdiction for that matter.
As with all Ponzi schemes, once affiliate recruitment dies out so so too will new investment.
This will see InclusiveFX starved of ROI revenue, eventually prompting a collapse.
The math behind Ponzi schemes guarantees that when they collapse, the majority of investors lose money.
Update 6th June 2019 – Inclusive Investments, the company purportedly behind InclusiveFX, has launched Inclusive Cryptos.
As per BehindMLM's published Inclusive Cryptos review, it's a near identical Ponzi scheme to InclusiveFX.