i-Fern Review: Pay to play affiliate autoship recruitment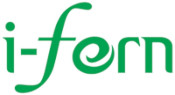 i-Fern operates in the health and nutrition MLM niche.
The company as it exists today launched in 2005 and is based of the Philippines.
Heading up i-Fern is co-founder, President and CEO, Tommanny Tan.

Tan's i-Fern corporate bio is light on details. It states;
For many years, Tan's family has been involved in trading and importing goods.

He practically grew up in a household where kids are told to study harder to be successful in the field of business.
Sounds like any south-east Asian household.
I was able to piece together a bit more from a bio published in Business World Online, quoted in a 2012 issue of "AIM Leader";
When Tan eventually took over the family's import and manufacturing business … (he) was able to implement operational changes that boosted productivity, immediately increasing production efficiency thirty-fold.

In 2003 … Tan joined a colleague in a business that distributed clothes, shoes, beauty products, and a "non-acidic" form of vitamin C.

The company, Filipino Entrepreneurs and Resources Network (or FERN), encountered financial difficulties in 2004.

Rather than leaving the company, Tommanny Tan saw this as an opportunity to take over.
The bio goes on to state Tan took "over as President and CEO in 2005".
Read on for a full review of i-Fern's MLM opportunity.
i-Fern's Products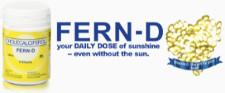 i-Fern market a range of health and nutrition themed products.
Aurora Beauty Bar – "for whiter skin and ageless beauty", retails at P300 for a 135 g bar
Fern-Activ – "packed with B-Vitamins needed for the energy surge ideal for peak performance", retails at P690 for 60 servings
Fern-D – "a brand name for the generic "cholecalciferol" or better known as Vitamin D3″, retails at P500 for 60 servings or P980 for 120 servings
MilkCa – bone health supplement, retails at P990 for 60 servings
Note that I have seen other products like coffee being marketed by i-Fern affiliates.
At the time of publication though the above products are what's listed on i-Fern's website.
i-Fern's Compensation Plan
i-Fern's compensation does pay on retail sales, however most of the plan is focused on affiliate recruitment and autoship commissions.
Note that as i-Fern is only available in the Philippines, commissions are presented in Philippine pesos.
MLM Commission Qualification
To qualify for MLM commissions, an i-Fern affiliate must be active.
To qualify as an active affiliate, a P2000 monthly product order must be maintained.
Commission Caps
i-Fern caps income potential based on how much an affiliate pays when they sign up.
sign up with a Standard Package and earn up to P672,000 a month
sign up with a Premium Package and earn up to P2,304,000 a month
sign up with a Premium Plus Package and earn up to P5,376,000 a month
i-Fern Affiliate Ranks
There are eight ranks within i-Fern's compensation plan.
Along with their respective qualification criteria, they are as follows:
Affiliate – sign up as an i-Fern affiliate and qualify as active (see MLM commission qualification above)
Associate – generate 11 residual commission cycles
Builder – generate 21 residual commission cycles
Team Builder – generate 100 residual commission cycles
Field Manager – generate 300 residual commission cycles
Field VP – generate 750 residual commission cycles
Senior FVP – generate 1500 residual commission cycles
Presidential Director – generate 5000 residual commission cycles
Business Volume
i-Fern's residual commissions are calculated based off of sales volume (BV).
Provided BV amounts corresponding with i-Fern products and affiliate membership packages are as follows:
Fern-D (60) – 320 BV
Fern-D (120) – 600 BV
MilkCa – 660 BV
Fern-Activ – 460 BV
Aurora products – 200 to 550 BV
Standard Package – 150 BV
Retail Commissions
i-Fern affiliates earn commissions on the sale of products to retail customers.
The stated retail commission rates vary from 55% to 104%. These figures are calculated as the difference between the wholesale and retail price of products ordered.
Recruitment Commissions
i-Fern affiliates are paid to recruit new affiliates.
Recruitment commission rates are determined by how much a recruited affiliate pays in affiliate membership fees.
recruit a Standard Package affiliate and earn P500
recruit a Premium Package affiliate and earn P1500
recruit a Premium Plus Package affiliate and earn P3500
Residual Commissions
i-Fern pays residual commissions via a binary compensation structure.
A binary compensation structure places an affiliate at the top of a binary team, split into two sides (left and right):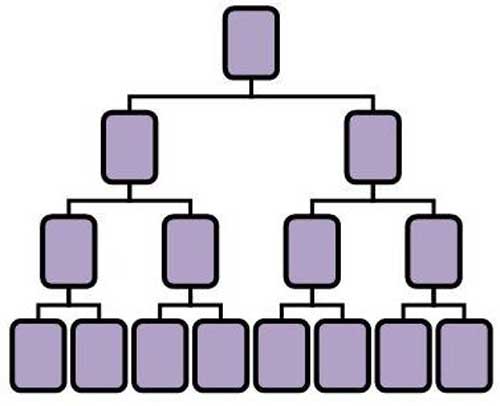 The first level of the binary team houses two positions. The second level of the binary team is generated by splitting these first two positions into another two positions each (4 positions).
Subsequent levels of the binary team are generated as required, with each new level housing twice as many positions as the previous level.
Positions in the binary team are filled via direct and indirect recruitment of affiliates. Note there is no limit to how deep a binary team can grow.
i-Fern affiliates are paid a residual commission for every 150 BV matched.
That is 150 BV on the left side matched with 150 BV on the right side.
Each 150 BV matched is referred to as a "cycle".
For the first ten cycles generated in a week, P1200 is paid out per cycle.
From eleven to twenty P1400 is paid out. And from twenty-one onward P1600 per cycle is paid out.
Note to qualify for residual commissions, an i-Fern affiliate must recruit two affiliates (placed on on each side of their binary team).
Autoship Commissions
In order to remain active and qualify for commissions, each i-Fern affiliate must maintain a monthly P2000 product order.
This can be a manual order or autoship. I've gone with autoship as that's likely how most affiliates will order.
i-Fern takes each P2000 monthly fee charged and uses it to pay commissions via a hybrid 5×12 matrix.
A standard 5×12 matrix places an affiliate at the top of a matrix, with five positions directly under them: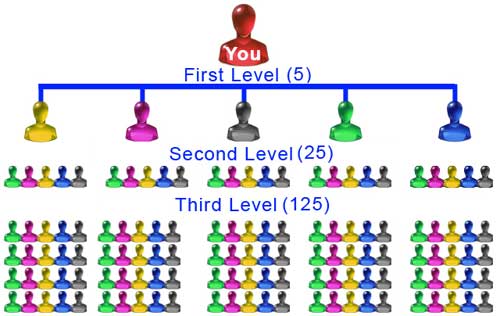 These five positions form the first level of the matrix. The second level of the matrix is generated by splitting these five positions into another five positions each (25 positions).
In i-Ferns hybrid matrix, levels three to eight are generated in the same manner – meaning each new level houses five times as many positions as the previous level.
From levels eight to twelve, only two positions are created at each level (as opposed to five).
i-Fern caps payable matrix levels based on rank as follows:
Affiliate to Team Builder earns 5% on level 1, 3% on level 2, 2.5% on level 3 and 2% on levels 4 to 8
Field Managers earn 5% on level 1, 3% on level 2, 2.5% on level 3, 2% on levels 4 to 8 and 2.5% on level 9
Field VPs earn 5% on level 1, 3% on level 2, 2.5% on level 3, 2% on levels 4 to 8, 2.5% on level 9 and 3% on level 10
Senior FVPs earn 5% on level 1, 3% on level 2, 2.5% on level 3, 2% on levels 4 to 8, 2.5% on level 9, 3% on level 10 and 3.5% on level 11
Presidential Directors earn 5% on level 1, 3% on level 2, 2.5% on level 3, 2% on levels 4 to 8, 2.5% on level 9, 3% on level 10, 3.5% on level 11 and 4% on level 12
Profit Sharing & Travel Incentives
i-Fern pays an undisclosed percentage of downline sales volume as an annual bonus.
Profit sharing is also tied to travel incentives, however no specifics are provided.
E-Points
On every seventh residual commission cycle generated, an i-Fern affiliate receives "epoints".
Epoints can be redeemed for i-Fern products and various voucher rewards.
Rank Achievement Bonus
i-Fern rewards affiliates for qualifying at Field Manager and higher ranks with the following Rank Achievement Bonuses:
qualify at Field Manager and receive P50,000
qualify at Field VP and receive P75,000
qualify at Senior FVP and receive P125,000
qualify at Presidential Director and receive P525,000
Joining i-Fern
i-Fern affiliate membership is tied to the purchase of an affiliate package:
Standard Package – P8500
Premium Package – P25,500
Premium Plus Package – P59,500
The differences between the packages are bundled products and income potential.
Conclusion
i-Fern is your typical affiliate autoship recruitment scheme.
You sign up, pay a fee, continue to pay a fee each month – and get paid to recruit others who do the same.
In light of this i-Fern's products don't matter. It should however be noted i-Fern has had issued with counterfeit products.
Although retail is possible within i-Fern, based on the compensation plan it's not a focus.
Signs of pyramid recruitment begin when a new affiliate signs up.
This is quoted directly from an official i-Fern marketing presentation:
Your income will depend on which package you choose.

The better the package, the higher your income potential will be.
How much an affiliate spends when they sign up should not be tied to income potential.
This is a hallmark of a product-based pyramid scheme.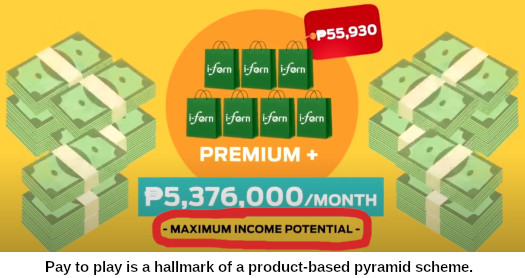 From there affiliates are required to purchase P2000 a month worth of product;
Be an active distributor by patronizing your i-Fern products at home worth 2000 pesos per month.
And that's pretty much the business.
A regulatory audit of i-Fern is highly likely to reveal the majority of company-wide revenue is affiliate purchases.
At the expense of retail, this would make i-Fern a pyramid scheme.
As with all pyramid schemes, once recruitment dries up those at the bottom of the pyramid stop earning.
They stop paying monthly fees and that sees those above them stop earning.
Once this trickles up far enough, the pyramid scheme collapses.
The math behind pyramid schemes guarantees that the majority of participants lose money.