HSCC Review: Crypto investment fraud from serial scammers

HSCC operates in the cryptocurrency MLM niche.
The company is headed up by CEO Rav Singh (aka Ravinder Singh Dhillon), Continent Coordinator Asia Naresh Kashyap, and CMO Daniel Schwartz (aka Dan Schwartz).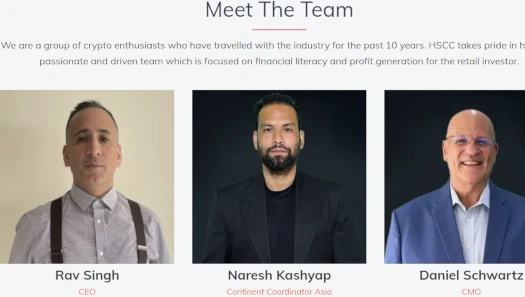 Singh and Kashyap I've never heard of but BehindMLM is familiar with Schwartz.
Schwartz's MLM Ponzi scamming goes back to at least 2016 as COO of YoCoin.
BehindMLM first came across Daniel Schwartz as CEO of 3T Networks in 2018.
3T Networks was an MLM crypto Ponzi scheme combined with travel.
By 2022 3T Networks had long-since collapsed. Early that same year Schwartz resurfaced as COO of Elef, an NFT grift Ponzi.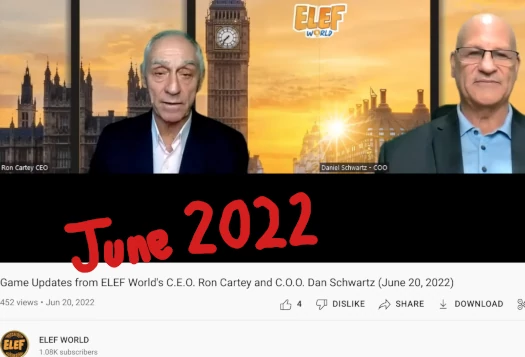 Elef collapsed by April 2022, prompting Schwartz and long time partner-in-crime Ron Cartey to launch BNB Robot.
BNB Robot, another MLM crypto Ponzi scheme, collapsed twice by July 2022. The second iteration of BNB Robot lasted just eight days.
Schwartz rebooted BNB Robot as QunoMine in August 2022. QunoMine collapsed in September 2022.
Prior to launching HSCC in 2022, Ravinder Singh Dhillon was running real-estate investment scams through UK Property Club, London Property Community Group and Parkmount Group.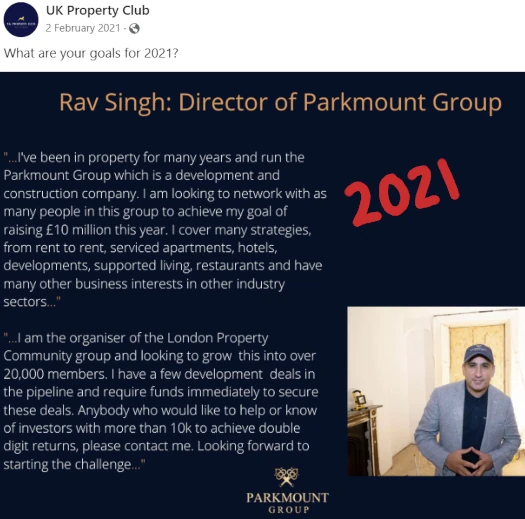 Naresh Kashyap was promoting Modicare until late 2022.
HSCC operates from the domain ("thehscc.co.uk"), privately registered on April 14th, 2022. The domain registration was last updated on April 14th, 2023.
Through the Wayback Machine we can see Dan Schwartz was added to HSCC's website on or around March 2023.
Cross-referencing with SimilarWeb, it appears the original iteration of HSCC collapsed in early 2022. It was rebooted after Schwartz was brought on circa April 2023.
HSCC represents it is based out of London, UK. This ties into Rav Singh also being based out of the UK.
Naresh Kashyap is based out of India and Dan Schwartz is believed to still be hiding out in Thailand.
Read on for a full review of HSCC's MLM opportunity.
HSCC's Products
HSCC has no retailable products or services.
Affiliates are only able to market HSCC affiliate membership itself.
HSCC's Compensation Plan
HSCC affiliates invest USD equivalents of cryptocurrency. This is done on the promise of advertised returns:
Standard – invest $50 to $4999 and receive 0.7% a day for 300 days
Pro – invest $5000 to $9999 and receive $5000 to $9999 for 263 days
Advanced – invest $10,000 to $24,999 and receive 0.9% a day for 234 days
HSCC VIP – invest $25,000 or more and receive 1% a day for 210 days
Note that if at any time a HSCC affiliate earns 10 times what they've invested through a combination of daily returns and MLM commissions, reinvestment is required to continue earning.
The MLM side of HSCC pays on recruitment of affiliate investors.
HSCC Affiliate Ranks
There are nine affiliate ranks within HSCC's compensation plan.
Along with their respective qualification criteria, they are as follows:
Noble – sign up as a HSCC affiliate and invest
Eques – generate $10,000 in downline investment volume on both sides of the binary team
Baron – generate $100,000 in downline investment volume on both sides of the binary team
Comes – generate $500,000 in downline investment volume on both sides of the binary team
Earl – generate $2,500,000 in downline investment volume on both sides of the binary team
Marchio – generate $7,500,000 in downline investment volume on both sides of the binary team
Prorex – generate $15,000,000 in downline investment volume on both sides of the binary team
Knight – generate $30,000,000 in downline investment volume on both sides of the binary team
Monarch – generate $50,000,000 in downline investment volume on both sides of the binary team
Withdrawal Restrictions
HSCC restricts how much an affiliate can withdraw based on their rank:
Nobles to Barons can only withdraw 2% of earned commissions a day
Comes to Marchios can only withdraw 1% of earned commissions a day
Prorexs to Monarchs can only withdraw 0.5% of earned commissions a day
Referral Commissions
HSCC affiliates earn 5% of cryptocurrency invested by personally recruited affiliates.
Residual Commissions
HSCC pays residual commissions via a binary compensation structure.
A binary compensation structure places an affiliate at the top of a binary team, split into two sides (left and right):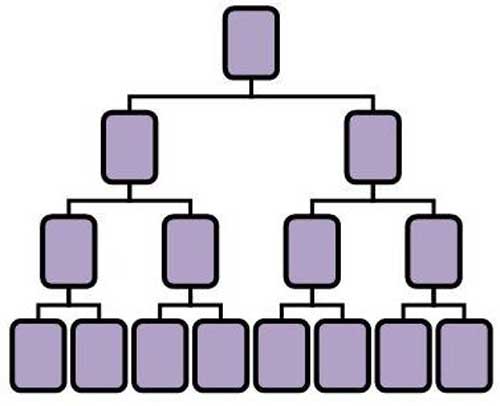 The first level of the binary team houses two positions. The second level of the binary team is generated by splitting these first two positions into another two positions each (4 positions).
Subsequent levels of the binary team are generated as required, with each new level housing twice as many positions as the previous level.
Positions in the binary team are filled via direct and indirect recruitment of affiliates. Note there is no limit to how deep a binary team can grow.
At the end of each day HSCC tallies up new investment volume on both sides of the binary team.
Residual commissions are paid as a percentage of new investment volume on the weaker binary team side.
Nobles earn a 10% residual commission rate
Eques' earn an 11% residual commission rate
Barons earn a 12% residual commission rate
Comes' earn a 13% residual commission rate
Earls earn a 14% residual commission rate
Marchios earn a 15% residual commission rate
Prorexs earn a 20% residual commission rate
Knights earn a 25% residual commission rate
Monarchs earn a 30% residual commission rate
Note that HSCC caps daily residual commissions at $25,000 regardless of rank.
Matching Bonus
HSCC pays a Matching Bonus on income earned by personally recruited affiliates.
recruit ten affiliates and earn a 5% Matching Bonus
recruit twenty affiliates and earn a 7% Matching Bonus
recruit fifty affiliates and earn a 10% Matching Bonus
Joining HSCC
HSCC affiliate membership is free.
Full participation in the attached income opportunity requires a minimum $50 investment.
HSCC solicits investment in various cryptocurrencies.
HSCC Conclusion
HSCC represents it generates external revenue via automated cryptocurrency arbitrage trading.
Generate risk free daily profits with 100% efficient and accurate HSCC trading bots.

HSCC has created an innovative yet simple global crypto arbitrage trading ecosystem that is available to everyone.
The notion that a failed real-estate investment schemer, a promoter of an Amway clone in India and serial Ponzi promoter woke up one day and had a trading bot capable of 1% a day, is laughable in and of itself.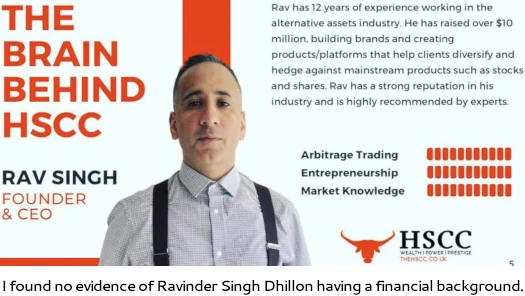 On the regulatory front, HSCC's passive investment opportunity clearly constitutes a securities offering.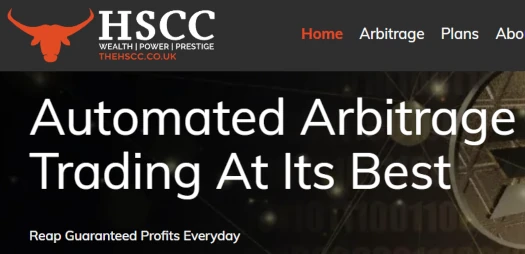 Ravinder Dhillon being based out of the UK requires both HSCC and himself to be registered with the FCA.
A search of the FCA's Financial Services Register reveals neither HSCC or Dhillon are registered with the FCA.
This means that, at a minimum, HSCC is committing securities fraud.
MLM and securities fraud goes hand in hand with HSCC operating as a Ponzi scheme.
HSCC's severe withdrawal restrictions, as high as 0.5% a day, further support HSCC operating a Ponzi scheme. The idea behind the restriction is clearly to prolong HSCC's inevitable collapse.
As with all MLM Ponzi schemes, once affiliate recruitment dries up so too will new investment.
This will starve HSCC of ROI revenue, eventually prompting a collapse.
The math behind Ponzi schemes guarantees that when they collapse, the majority of participants lose money.
Update 21st September 2023 – HSCC has collapsed.