HexClick Review: $25 to $25,000 Ponzi investment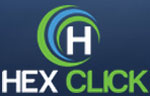 There is no information on the HexClick website indicating who owns or runs the business.
HexClick has a "Who we are?" page on their website, however only the following vague marketing copy is provided:
Hex Click is an Advertisement company running with a policy of sharing revenue to its members.
A HexClick marketing presentation uploaded to a YouTube account named "Hex Click" on February 4th, names three Board of Directors: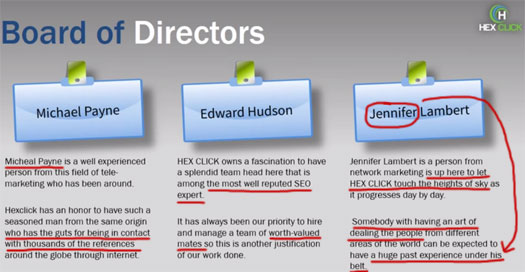 Call me cynical, but the English-level evident on those bios suggests that all three are fake.
This is further supported by the presence of "legal documents" on the HexClick website. On display to create the illusion of legitimacy, the documents uploaded pertain to "H&C Investments Limited".
The "Certification of incorporation of a private limited company" costs £15 and proves nothing more than someone paid a small fee to register a company name different to Hex Click.
And here's an example of terrible English taken from the Hex Click website:
Hex-click feels guilty for some un-expected delay in Payout during last week. In fact, Number of meetings and get to-gathers caused this to happen as all leaders and professionals were committed there.

Now to onward, we assure you that everything will go smooth and all the Payouts will be entertained timely. Live support would work too for all Hex members.

Hex Click affirms again it's (sic) members that we'll always be around where ever you are. They'll never feel them alone at any point of time.

We are highly honored and thankful to you for the patience and love that you've always been extending for Hex Click.
From my experience, the presence of these British certificates is almost always evidence of Indians running a scam either out of the UK or from India.
The broken-English and suspiciously vague corporate bios on names that don't have a traceable MLM history certainly support this being the case with HexClick.
As always, if a MLM company is not openly upfront about who is running or owns it, think long and hard about joining and/or handing over any money.
The HexClick Product Line
HexClick has no retailable products or services, with affiliates only able to market affiliate membership to the company itself (free).
One signed up, HexClick affiliates are expected to invest in one of twelve investment plans offered.
The HexClick Compensation Plan
The HexClick compensation plan revolves around investors investing in twelve offered plans, on the epectation of receiving an advertised ROI:
$25 Regular Plan – $1 a week ROI for 100 weeks ($100)
$50 Regular Plan – $2 a week ROI for 100 weeks ($200)
$100 Regular Plan – $4 a week ROI for 100 weeks ($400)
$100 Swift Plan – $10 a week ROI for 25 weeks ($250)
$300 Regular Plan – $12 a week ROI for 100 weeks ($1200)
$500 Swift Plan – $55 a week ROI for 55 weeks ($1375)
$1000 Regular Plan – $50 a week ROI for 100 weeks ($5000)
$2000 Swift Plan – $250 a week ROI for 25 weeks ($6250)
$3000 Regular Plan – $180 a week ROI for 100 weeks ($18,000)
$5000 Swift Plan – $625 a week ROI for 25 weeks ($15,625)
$10,000 Swift Plan – $1300 a week ROI for 25 weeks ($32,500)
$25,000 Swift Plan – $3500 a week ROI for 25 weeks ($87,500)
A 7% Referral commissions are also paid out on investments made by personally recruited affiliates.
Residual Binary Commissions
Residual commissions in HexClick are paid out using a binary compensation structure.
A binary compensation structure places an affiliate at the top of a two binary sides, left and right.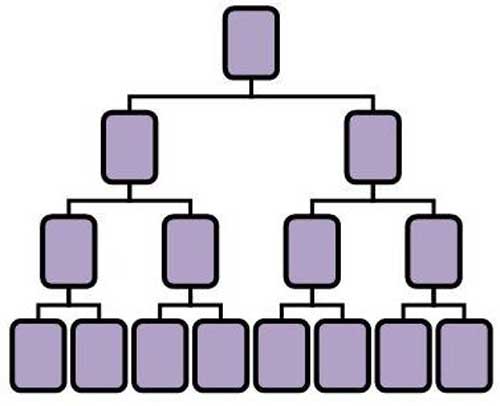 Each position in the binary represents a recruited investor (recruited either directly or indirectly), with investment volume tracked on each side.
Commissions are paid out on the investment volume of a HexClick affiliate's weaker binary side, paid out at a rate of 10%.
HexClick do not state how often binary commissions are paid out.
Joining HexClick
HexClick affiliate membership is free, however affiliates will need to invest if they wish to earn any commissions.
This pegs defacto HexClick affiliate membership at between $25 to $25,000.
Note that additional investment will add to the initial cost of affiliate membership.
Conclusion
With nothing being bought and sold to retail customers, it's obvious that HexClick are just taking new affiliate investment funds and using it to pay off existing investors.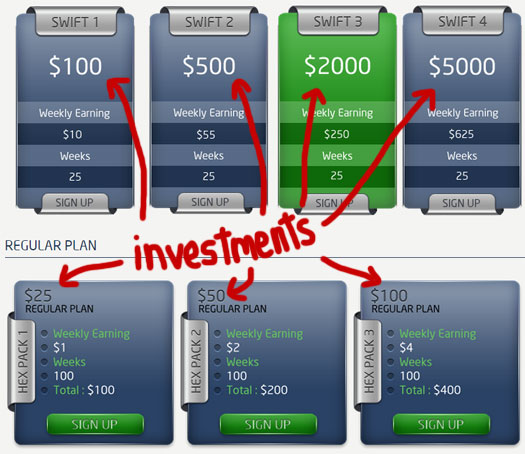 With investments maturing between at 25 or 100 weeks, the owner(s) of the scheme has/have ample time to do a runner when the inevitable collapse rolls around.
As with all Ponzi schemes, once the weekly ROI exceeds new funds coming in, HexClick will slip into negative revenue. As time goes on this only gets worse, with any reserve the scheme might have held being exhausted at an exponential rate.
The scheme comes to an end when eventually either the money runs out altogether, or the admin decides they've had enough and pulls the plug on withdrawals.
And $25,000? That's a bit rich isn't it. Who in their right mind is going to drop that much on people who can't even communicate properly…