Hegemon Group International Review: Insurance and ???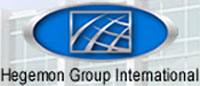 Hegemon Group International was founded by Hubert Humphrey in January 2012.
The company is based out of the US state of Georgia, with Humphrey serving as CEO (credited as such in his LinkedIn profile).
Somewhat curiously, this title is absent on the Hegemon Group International website, with Humphrey credited only as 'the Architect of the Leadership Format System'.

Following a stint as an Amway affiliate, Humphrey (right) went on to become one of the original members of A.L. Williams & Associates (today known as Primerica Financial Services).
According to Humphrey's Wikipedia bio, he
began to apply MLM techniques to his A.L. Williams sales organization, initially without the knowledge or consent of A.L. Williams founder Arthur L. Williams, Jr..

His methods became the foundation of the organization, and the growth of A.L. Williams to a sales force of 250,000 registered life agents when sold, and 44,000 registered stock brokers was attributed to Humphrey's use of leadership training and recruiting in the company.
In 1990 A.L. Williams merged with Primerica to form Primerica Financial Services, which saw Humphrey leave the company.
Humphrey then created Alexander, Inc., which was renamed World Marketing Alliance, Inc. (WMA). The new company was also in insurance and investments, however the product was different. The company concentrated on marketing variable universal life insurance (VUL) and became one of the largest, independent broker/dealers in the country.

Humphrey eventually sold select assets of World Marketing Alliance to Aegon in 2001, which is now known as World Financial Group.
Of World Marketing Alliance, Rod Cook of MLM Watchdog claims
WMA peddles costly and complex packages of insurance and mutual funds much the way Amway sells soap. But how WMA runs its pyramid-style sales structure (Humphrey prefers to call it "the magic of compound recruiting") is drew (sic) scrutiny from regulators and generating claims of fraud from investors.

Wen WMA insurance and securities went under (as WMA), and Aegon saved it by buying out Hubert Humphrey … they (WMA) were within days of being shut down by regulators.

That was the whole purpose of the Dot-Planet fiasco, as HH wanted to ensure that he had somewhere to move his "team," if regulators killed the securities side of the business.
After selling World Marketing Alliance to Aegon in 2001, Humphrey then went on to launch World Leadership Group.
Humphrey retained WMA Mortgage Services, Inc., from his sale of WMA, which became the foundation for World Leadership Group WLG.

The flagship mortgage product that was sold was the "Option ARM" – a type of adjustable-rate mortgage.

World Leadership Group and associated companies ceased business operations in December 2008 citing current market conditions in the mortgage and real estate industries.
Four years later, Hegemon Group International was launched.
HGI is the umbrella for Hegemon Financial Group ("HFG") and The Pella Group ("TPG"). Humphrey reused (the) WMA logo for the new venture.

HFG sells licensed products via Hegemon Financial Group.

TPG also offered non-licensed products in Land Banking, Mortgage Leads, Technology, 2nd Market Annuities, Merchant Services, P&C Referrals, and Debt Management.
Read on for a full review of the Hegemon Group International MLM business opportunity.
The Hegemon Group International Product Line
Hegemon Group International themselves don't appear to have any retailable products or services.
Rather the company markets third-party services, which they categorize into licensed and non-licensed products.
At HGI, we offer a wide variety of world-class products and solutions.

From Life Insurance and Property and Casualty Products to Market Linked CD's, In-Force Annuities, Land Banking, and much, much more, our goal is to provide quality, professional products that people need at a price they can afford.

While many of the HGI products require a license to sell, HGI also offers a wide variety of products that can be marketed without a license which provides opportunity for every individual.
No specific prices (retail or otherwise) are provided on the Hegemon Group International website.
The Hegemon Group International Compensation Plan
Despite full disclosure of the HGI compensation plan on their website, I'm at a loss to provide a detailed explanation of it.
The primary reason for that is a lack of disclosure of what exactly HGI sells and for how much.
The only commission was able to confirm, is that if you sign up a new HGI affiliate you are paid $50.
Nonetheless, commission levels cited in the single-page compensation plan document provided ("for more details, contact your HGI Associate"), range from 40% to 80%.
There is some sort of scholarship thing listed in the commission column, with two figures given: $1000 for Basic and $2000 for Advanced.
In the business presentations I watched these were cited as commission payouts, but on what was never explained. My guess is some sort of affiliate programs that cost more than $1000 and $2000 respectively.
Generational Overrides of up to 10% down six generations are available, but again without knowing on what don't mean much – ditto the Infinity Bonus.
I will point out that the HGI affiliate rank qualification requirements, of which there are ten, focus primarily on recruitment and group volume.
This is so even at the basic "Training Associate" rank, suggesting recruitment of new affiliates plays a big part in HGI.
Supporting this is the constant urging of prospective affiliates to get to the Regional Marketing Director rank as soon as possible (as witnessed across multiple HGI business presentations), which requires a minimum 20 personally recruited affiliates.
Joining Hegemon Group International
Affiliate membership with Hegemon Group International is $125 plus $29.95 a month.
Conclusion
Rod Cook describes Hegemon Group International's compensation plan as "the world's worst complan".
I don't know about that, but I will state that I cannot see how anyone can take HGI seriously in its current state.
Possible the result of Hubert Humphrey's long-time involvement in the MLM industry, HGI as a business feels largely out of date.
This stems from information control, which I feel is by design. An call-back to the pre-internet days, when a prospective affiliate might have been entirely at the mercy of their potential upline for disclosure.
These days that's simply just not good enough. Yet despite watching a combined five to six hours of HGI business presentations, going over their comp plan and visiting the company's website – I'd be at a complete loss to explain to you specifically what they sell – and more importantly for how much.
I mean I know I know it's got something to do with insurance… but beyond that? No idea on the specifics.
This renders any explanation of the compensation plan useless, leaving anyone considering HGI with not much to chew on.
One huge red flag that immediately stood out to me in one corporate business presentation (narrated by Hubert Humphrey himself), was mention of an "equity share credit program":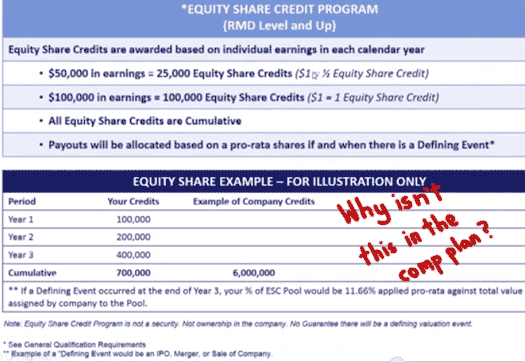 Available only to Regional Marketing Directors or higher (explains the "get to RMD as quick as you can!" sales pitches?), this clearly appears to be an offering of securities.
Based on how much an affiliate makes in a calendar year, HGI offer them "equity share credits".
Affiliates who earn $50,000 are awarded 0.5 equity share credits for every dollar earned. Affiliates who earn $100,000 or more are awarded one share.
These credits are used if HGI embark on a "defining event" that year, with such an event described as being "an IPO, merger or sale of the company".
Payouts will be allocated based on a pro-rata if and when there is a defining event.
Obviously aware of how that sounds, HGI include the following disclaimer:
Equity share program is not a security. Not ownership in the company. No guarantee there will be a defining event.
Personally I'm going to have to disagree. Clearly an offer of future income potential is being made, based on the passive efforts of others.
As Hubert Humphrey explains;
You've got to stay in the game, be in good standing… be there, and there's gotta be some type of… it says there at the bottom, an IPO, merger sale, some defining event of the company.

May not ever be, but we've done it in the past and we have plans to do it in the future.

You just need to be there and if and when there's money made, you'll get your share of it.
Typically we see affiliates buy securities from MLM companies directly, but in HGI equity shares form part of the commissions structure for RMD or higher-ranked affiliates.
Technically equity share credits make up 33% of an affiliate's commission payouts, with the other 66% paid out as cash.
The shares themselves are worthless, pending the efforts of others (a "defining event"), clearly making the credits a securities offering.
I suspect the reason this hasn't been picked up on is the fact that it was utterly buried in an hour-long business presentation, that I only caught by chance.
There is no mention of the equity share program in HGI's official compensation plan documentation or on their website.
Potential unregistered securities issues aside, my gut feeling is that HGI is an internal consumption focused opportunity, in which affiliates are earning primarily of purchases made by recruited affiliates.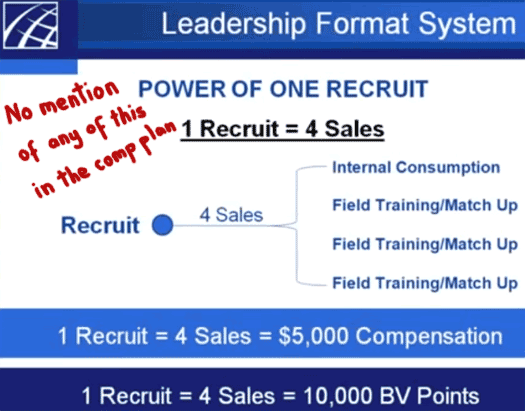 To verify that, I'd strongly encourage any prospective HGI affiliates to get any one pitching them the opportunity to explain it in five minutes or less.
Get them to explain what HGI sell (exactly), for how much and how affiliates get paid.
If they manage that, firstly get them to come on here and explain it to the rest of us – then get them to break down their retail customer business volume versus that of their downline.
I really don't see HGI in its current form being successfully pitched to retail customers, but I could just be missing something here (although I doubt it).
Approach with caution, and if you can't get your head around the business model – walk away.
Update 25th October 2020 – The Wikipedia entry for Hubert Humphrey, as referenced in this review, was deleted on October 18th, 2020.
The stated reason for the deletion is "there is sufficient coverage to say this person is notable."