Goodlife USA Review: Spend $918 a year to save on travel?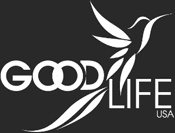 Goodlife USA operate in the travel MLM niche and are based out of Florida in the US.
Mark Seyforth and Edward Dovner are credited as founders of the company on the Goodlife USA website, serving as CEO and "Partner" respectively.
Mark Seyforth started off in MLM back in 1975 with 'Seyforth Laboratories' who marketed a diet shake.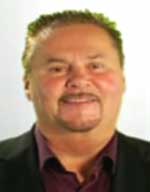 In 1980 Seyforth (right) aligned with Herbalife. He designed their compensation plan and manufactured the company's product line through 'Seyforth Manufacturing'.
One24 was an autoship recruitment opportunity that experimented with a queue based system to sign up new affiliates through.
In 2013, with One24 still operating, Seyforth launched Day 1.
From our BehindMLM review of Day 1;
Typically in MLM we see compensation plans built around products. With Day 1, after analysing the company it very much feels as if they've created a compensation plan around whatever products they were able to cobble together.
Like One24, retail sales were an afterthought in Day 1. Instead the focus was on recruiting affiliates and getting paid when they purchased products.
Today neither One24 or Day 1 are in business.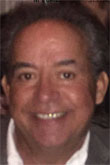 Edward Dovner's MLM history is less clear. According to Dovner's Goodlife USA corporate bio he's a "Founder, Inventor and CEO".
Ed Dovner started cultivating his entrepreneurial spirit at the tender age of 21 when he became an acclaimed sales agent at Metropolitan Life Insurance Company.

He then successfully created a niche market company within gourmet coffee industry and sold his business for a substantial profit.

In 1993, Ed launched First Choice Armor & Equipment and grew the company to over $90 million in sales. Again Ed sold the company for a substantial profit in 2010.
To what extent any of that pertains to MLM is unclear.
Of note is Dovner and his company First Choice Armor & Equipment were sued by the Department of Justice in 2009.
The United States has filed a False Claims Act lawsuit against First Choice Armor & Equipment Inc. and its founder, Edward Dovner, for submitting false claims for bullet-proof vests purchased by the United States for federal, state, local and tribal law enforcement agencies.

First Choice, which manufactured and sold bullet-proof vests containing Zylon fiber from 2000- 2005, marketed its vests to law enforcement agencies as a thinner and more lightweight alternative to other bullet-proof vests.

The United States alleges that at the same time First Choice was selling its Zylon bullet-proof vests, the company and its founder knew of significant manufacturing and degradation problems in the Zylon fiber that rendered the material unsafe for ballistic use.

In fact, when the Justice Department's National Institute of Justice tested eight of First Choice's bullet-proof vests in 2005, all failed.

The United States has also sued Mr. Dovner and Karen Herman, Mr. Dovner's wife and First Choice's president, for a fraudulent conveyance – a transfer of property that is made to swindle, hinder or delay a creditor, or to put such property beyond his or her reach – in violation of the Federal Debt Collection Procedures Act.

The government alleges that after learning of the investigation into Zylon bullet-proof vests, Mr. Dovner and Ms. Herman removed more than $5 million from First Choice. Mr. Dovner then purchased a Ferrari, a Maserati and a private jet through various shell companies.
As per his Goodlife USA corporate bio, a year later Dovner sold First Choice for a "substantial profit".
Read on for a full review of the Goodlife USA MLM opportunity.
The Goodlife USA Product Line
Goodlife USA claim to be a "wholesale discount club" and market travel memberships. The company claims these memberships enable members to 'take advantage of extraordinary opportunities to save on travel, retail and more'.
There are three tiers of Goodlife USA travel memberships as follows:
Silver membership is $11.95 a month
Gold membership is $99 and then $39.95 a month
Platinum membership is $199 and then $59.95 a month
The Goodlife USA Compensation Plan
Goodlife USA affiliates earn commissions for selling Goodlife USA membership to retail customers. They are also paid when they recruit new Goodlife USA affiliates.
Recruitment Commissions
Goodlife USA affiliates are paid to recruit new affiliates through three levels of recruitment (unilevel).
How many levels and how much of a commission is paid out is determined by how much they spend a month on their own travel membership, or the amount of travel memberships they've personally sold:
Silver membership affiliates earn on one level of recruitment
Gold membership affiliates earn on two levels of recruitment
Platinum membership affiliates earn on three levels of recruitment
Silver and Gold membership affiliates can qualify for three levels of recruitment by selling and maintaining at least twenty active travel memberships
How much of a recruitment commission is paid out over these tiers is determined by how much a newly recruited affiliate spends on their membership.
Silver membership affiliates
earn $25 for recruiting another Silver affiliate
earn $75 for recruiting a Gold or Platinum affiliate
Gold membership affiliates
earn $25 on levels 1 and 2 if a Silver affiliate is recruited
earn $75 on level 1 if a Gold affiliate is recruited and $25 on level 2
earn $75 on level 1 if a Platinum affiliate is recruited and $50 on level 2
Platinum membership affiliates (or an affiliate who has sold and maintained at least 20 active travel memberships)
earn $25 on levels 1 and 2 if a Silver affiliate is recruited
earn $75 on level 1 if a Gold affiliate is recruited and $25 on level 2
earn $75 on level 1 if a Platinum affiliate is recruited, $50 on level 2 and $25 on level 3
Goodlife USA also receive "Dream Dollars" when they and their downlines recruit new affiliates, which can be put towards purchasing travel services.
Travel Membership Commissions
Retail and affiliate travel membership commissions in Goodlife USA are paid out both directly and residually via a 2×20 matrix compensation structure.
A 2×20 matrix places an affiliate at the top of a matrix, with two positions directly under them: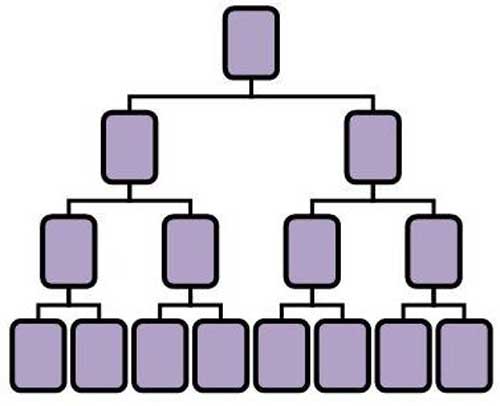 These initial two positions form the first level of the matrix, with the second level of the matrix generated by splitting each of the two positions into another two positions each.
A 2×20 matrix can have up to twenty levels, with subsequent levels of the matrix generated as required.
A complete 2×20 matrix houses 2,097,150 positions, with positions filled via affiliate recruitment.
In addition to being paid on CV generated by an affiliate's own sale of travel memberships, they also receive 5% of the CV generated by recruited affiliates in their matrix.
Commissions on travel memberships are paid monthly at a rate of 5% of CV generated on the first 15 levels of the matrix (including an affiliate's own membership sales to retail customers), and 2% paid on levels 16 to 20.
Silver memberships generate 4 CV a month (5% = 20 cents per retail customer, 2% = 8 cents)
Gold memberships generate 20 CV a month (5% = $1 per retail customer, 2% = 40 cents)
Platinum memberships generate 30 CV a month (5% = $1.50 per retail customer, 2% = 60 cents)
Commission sharing
During their first month, newly recruited Goodlife USA affiliates share commissions earned with the affiliate who recruited them.
the recruiting affiliate gets the first $60 a newly recruited affiliate generates in commissions
after $60 they earn 50% of the next $500 earned
after $560, commissions are split pro rata based on downline CV generation
Joining Goodlife USA
Basic affiliate membership with Goodlife USA is $79.
Full participation in the Goodlife MLM opportunity however also requires the purchase of a travel membership:
Silver affiliate membership = $129 and then $9 a month
Gold affiliate membership = $179 and then $39.95 a month
Platinum affiliate membership = $279 and then $59.95 a month
The primary difference between these memberships is income potential through the Goodlife USA compensation plan.
Conclusion
If you're trying to save money, shelling out $143 to $918 a year sounds counter-productive. Leave alone the fact that all you're really getting is access to third-party discounts.
Sure, someone who spends thousands upon thousands of dollars on services Goodlife USA provide access to discounts might make back their money, but for the average consumer I think it's otherwise going to be a net loss.
Enter the Goodlife USA compensation plan, which permits a member to make back their money via affiliate recruitment.
Chain recruitment is entirely possible within Goodlife USA, with there being no qualifiers to ensure affiliates focus on retail membership sales.
The whole commission sharing component of the compensation plan meanwhile seems a bit misplaced, effectively screwing new affiliates who do well out of commissions.
Pretty much a new Goodlife USA affiliate is looking at losing $60, then receiving 50% of $500 and then losing most of any more CV they generate in their first month.
I mean it's not like a new affiliate is going to be able to compete in generated CV versus that of the established affiliate who recruited them.
Punishing new affiliates for doing well in sales certainly seems entirely counter-productive to fostering company growth.
Pay to play is also an issue, with Goodlife USA affiliates who pay more for monthly membership given access to higher income potential.
In MLM an affiliate's income potential should always be tied to sales performance, not how much they spend each month.
The good news is establishing whether or not you might be getting into a chain-recruitment scheme is easy. Just ask your potential uplne for their personally generated CV over the past few months, split into retail membership sales and that of recruited affiliates.
What you want to see is a healthy mix, preferably tilted towards retail membership sales. If retail memberships are minimal and it's all recruited affiliate volume, that strongly suggests the operation of a product-based pyramid scheme.
Personally I'm not seeing the retail viability of Goodlife USA's discount memberships, so I'd definitely be surprised if the sale of retail memberships was prominent throughout the company.